---
Video clip by Jimmy Deguara of the giant hailstones thumping vehicle [43seconds - 3.84mb WMV]
Although March is still officially a part of the severe storm season in New South Wales, the frequency of severe weather experienced is normally lower - particularly supercell outbreaks of this nature!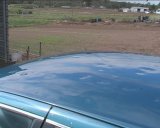 From reports filtering through, this outbreak and others this month have caused considerable damage in many less populated areas particularly along the coastline outside of Sydney. The most common damage has been to vehicles due to large hailstones. This particular event though produced some hail sizes into the giant category (diameters > 5cm) in some areas. By far the highlight of this month's storm structures was this HP supercell mothership captured further north later that afternoon by Michael Bath, Dave Ellem and Rodney Wallbridge:

by Dave Ellem.
Full report of HP beast available
The windshear profile of this outbreak was very impressive. With a southwest jet at 40-45knots at 500hpa and about 27knots at 700, storms were going to move generally northeast and north northeast if left movers. Combined with instability, sufficient heating, cold air aloft (temperatures down to -17C on the mid-north coast) and a good moisture profile, reasonably long lived supercells were likely. Hailstones of golf ball size and accumulated hail were likely as well as the usual strong winds. The cap was not the greatest and improved further north but the air was still sufficiently unstable to produce rapid development. On the lower mid-north coast, initiation was to occur earlier. The environment was sufficient in my opinion to even produce isolated tornadoes if conditions locally were ideal.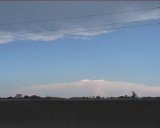 A wedding the previous evening did not dampen my enthusiasm for chasing this day. And after a quick final check of the usual models and variables, and knowing that others could not chase, I headed off solo to my target of the mid-north coast. The trip up to Taree was definitely enlightening as massive v-shaped backsheared anvils of storms brought a smile to my face.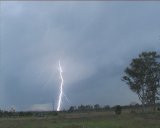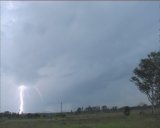 Storms were already developing on the ranges by late morning to the southwest of Taree and anvils were rapidly streaming northeast. It was encouraging to observe inflow winds from the east to northeast although not strong. Occasional staccato lightning bolts were observed as the storms intensified and approached. A couple of cumulus developed rapidly along the northern anvil - similar behaviour to what I had observed in Tornado Alley last year. The updraughts exhibited twisting structure or corkscrew effects. These remained rain free for some time as they continued to grow and became more organised.
Suddenly, at 1:10pm, whilst moving to a different position, I noticed what looked like a significant funnel cloud. I zoomed in immediately with the video camera. It was in the correct quadrant where the wall cloud was to be expected. This storm was definitely severe with hailshafts developing around the forward flank and the core region. This was not a HP supercell. It looked classic based on overall structure. I remained at this vantage point a little while longer, and moved north once drops of rain developed.
The trip north revealed more of the impressive activity well off the coast, the side anvil of the complex I was under and also the development of impressive structure of the two cells developing along the anvil mentioned above.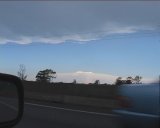 I was more interested in positioning with this particular storm outside of the rain. But with the rain around, I kept moving north to find a better position. With the rain, mountains and trees, the view was hopeless and in the end, I never stopped to observe at all. It would have been good to observe if not briefly the structure that had produced the funnel. Only glimpses of this region seemed to confirm classic structure. Lightning in this region seemed to be more frequent though nothing out of the ordinary.
I entered the core of the storms from the south side. Hail and mostly heavy rain made driving hazardous. Aquaplaning in some sections forced me to drive well below the normal speed. Passing the Port Macquarie turn off, sunshine could be seen so locating on the northern side was a good option. Then suddenly, "thump"!! These were larger stones from the sound though sporadic and isolated. It was inevitable. I was under the development area of the supercell core most likely the second cell that was moving left and in the same direction as I was. Radar shows this cell develop a main large core rapidly about this time.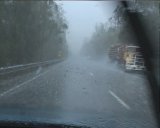 It was impossible to predict where the next pelting would occur and each time, there were isolated large thumps. No place to take cover, I continued on hoping to get onto the northern side. Passed the Telegraph Point turnoff though, I knew my car was in for a pounding. What I was not expecting was the hail to grow from 4 to 5cm diameter maximum hailsize to a barage of hailstones in the range 6cm to 7cm!! The vehicle was pounded so hard I was concerned windows were going to smash. I could feel the vibrations of the largest hailstones. And these were hard stones too - unlike anything I had observed previously on my Australian chases. The odd hailstone would splatter on the windscreen though. What was in my favour was that wind was from the south and I was heading generally north - with and not against the falling hailstones. The wind was not very strong either. Otherwise the damage would have been disastrous.
About 15km south of Kempsey, the heavens opened!! The frequency of the pounding from giant hailstones meant it was time to take shelter. Next road left, and I was quickly huddled near trees. Footage of the hailstones reveal dominant hail being golf ball with larger thumps from hail I believe to be up to 7cm in diameter (though not measured - more analysis later). The hail bounced to about a metre or more after impacting the ground whilst large splatters also occurred.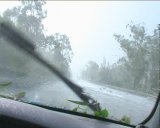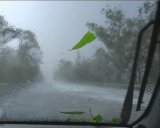 The hammering was now so violent from these hard stones that I huddled next to another tree hoping to minimise damage. My car became covered with leaf letter. This all lasted a matter of a few minutes.
Heading north once again to remain with and ahead of the storm was a good decision. Measuring hailstone size was at a lower priority as the odd stones were still falling and I was afraid of injury. A few smaller golf ball sized hailstones had fallen in the car whilst filming. The main core had moved off to the east of the main highway. What it left in its wake was a carpet of immense leaf litter. This was the first time I had observed a carpet of leaves all over the road (the Pacific Highway) since the Sydney hailstorm April 1999.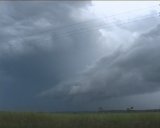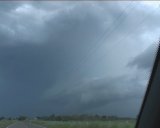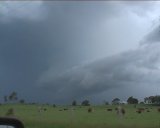 Due to being in the storm, one tends to lose track of time. So it was a surprise when I noted I was entering Kempsey 80km/h zone. In fact I was delighted as I knew this was the start of the river plain with excellent views for chasing. It would allow me the opportunity to observe the structure of this likely supercell. Once out of the main township, I was treated to an impressive structured classic supercell complete with wall cloud and inflow into the leaning main tower as well as rear flank hail shafts. It is important to note that this was a left mover and definitely the stronger of the two storms. This structure seemed to maintain for at least half of the trip to South West Rocks. The storm seemed to be weakening once nearer the coast though changing structure. I generally lost contact with the main cell at South West Rocks. The cascade of hail precipitation certainly had hidden the mesocyclone from view.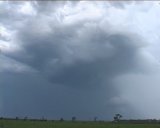 I had also entered another region of hail from a line of cumulonimbus that slowed down my progress. I needed fuel so stopped at the service station. This was the first chance I had to inspect the "dented mess" - see below.
Was the chase over?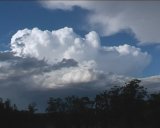 No chance of heading and catching the storms in areas north of Coffs Harbour which now had an overhsooting top (Anthony was on this storm I found out later). Well I would have headed home at this point being 3 to 4pm, but observed another strong storm to the west. I knew it had a chance of being more LP oriented. Generally though, despite being initially strong looking, I was not impressed by this storm. After moving to Scotts Head encountering another hail damage path of leaf litter and observing a storm to the north, I settled to taking some timelapse of the base structure of this LP storm. The storm weakened significantly after this point.
The chase was not a very long chase overall as was to be expected on this day with fast moving storms but definitely provided some intense moments. The following is an assessment of the hailsize based on video stills and leaf size from deposited in the same storms. This is important in trying to determine an acceptable range of hailsize limit since it was not measured. The damage as observed below was significant - more so than observed in The Oaks hailstorm event December 2001. Side panels have dents despite the lack of severe winds. Roof damage was the most severe followed by the bonet and then boot (consistent with the larger sheet metal area used). Please note the calipers have been opened in all pictures to 5cm spacing.
These pictures below are meant to illustrate the approximate view and distance of the haistones.
From my assessment of comparing the latter two pictures, it seems the hailstones were at least greater than 5cm. From the type of damage, I do believe hailstones of at least 6cm are responsible for the larger dents. Comments from those with a great knowledge in assessing hailsize from car dents are greatly appreciated.
Click here for all stills listed online of this event.
If you (or someone you know) have any photographs or video of this event or any other type of severe storm such as damage, the storm structure itself or hail, please feel free to contact Jimmy Deguara. Your contributions are very welcome. Please any photographs or video footage are important so don't discount anything.
---
Radar
From Bureau of Meteorology.