---
On Chase: Michael Bath, Dave Ellem and Rodney Wallbridge.
Video clip by Rodney Wallbridge of the HP mesocyclone at its peak intensity [1.00 min - 3.59mb WMV]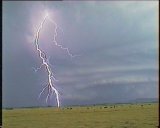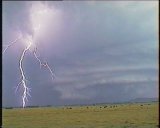 Saturday evening I received an SMS from Anthony Cornelius asking if I was going to be chasing the next day. Prior to this message, and an earlier message from Jimmy about a likely chase, I had not even checked the AVN forecasts for Sunday due to other commitments on the day. It got me thinking that something big was likely, so I made sure it was going to be ok to head out for at least part of the afternoon.
Sunday morning revealed the extent of the setup: a very cold -43 C at 300 hPa and -17 to -14 at 500 hPa across the Mid North Coast and Northern Rivers. It was a little warmer in the Northern Rivers than the Mid North Coast at 850 hPa, which would help inhibit convection occurring too early there, however the MNC looked certain to fire early. Lifted Index was about -4 to -6 and CAPE about 1500, but these values were not representative of the situation. Strong SW shear would enhance updrafts, a triple point from the surface trough was working its way up the coast, and reasonable turning was evident in the lower levels. Winds were pushing 30 knots at 700 hPa from the SW, and 45 knots by 500 hPa from the SW. Higher up, the winds were tending WSW at 80 knots. Morning satellite imagery revealed large thunderstorm clusters in the Tasman Sea, an axis for the SE - NW or perhaps SSE - NNW aligned trough across NE NSW. DPs were in the high teens along the coastal plains and mid teens on the Northern Tablelands. AVN plots of relative humidity revealed plenty of moisture till about 600 hPa, then dry above that - another indicator of strong updrafts, and likely hail. I forecast that storms would head NE today, with stronger cells moving NNE. This steering flow is ideal if strong storms form near the coast, but difficult if the only activity remains on the eastern slopes of the Great Divide.
Jimmy Deguara had headed out on chase from Sydney to the Mid North Coast, so I was checking observations out of interest. I suspected Anthony had headed south, but had not heard from him. My usual chase partners in the Northern Rivers Dave Ellem and Rodney Wallbridge were available for chasing, though at this stage I was unsure what time I could head out, and hoped activity in the Northern Rivers would be late.
By 1pm strong thunderstorm cells were active in the Mid North Coast district and a Bureau of Meteorology severe thunderstorm advice was current. An isolated cell had developed NE of Tenterfield and looked set to track northeast into Queensland. Elsewhere in the Northern Rivers it was fairly clear of cloud, which helped give a beautiful view of the storm to my northwest. It exhibited some strong features at times, with some solid anvil backshearing, but probably did not go much higher than about 11 or 12 kilometres into the atmosphere.
The next couple of hours were like torture for me, stuck at home and only being able to check radar and worry about missing the action. Very large cells were tracking generally NE and NNE on the Grafton radar and spreading into the Northern Rivers region from the south. A very obvious supercell with hook echo was just west of Coffs Harbour and Woolgoolga. I was hoping Anthony had headed down from west of Brisbane and would be observing its features. Another strong storm had developed SW of Grafton and there was another further SW behind it. Dave and Rodney headed off about 3.45pm. I was fortunately able to leave just 20 minutes behind them.
We met up at South Woodburn about 4.30pm. Rodney immediately said a report of 130km/h winds had been observed near Grafton. Two very large storm cells were to our south and south-southwest. The anvil from the westernmost cell was almost overhead and was incredibly high and thick, as well as being beautifully illuminated. Tops of this storm were quite obviously around the 15km mark, probably higher. The think anvil spread off towards the ENE with bubbles of mammatus. There was a little haze near the surface and a moderate inflow wind from the N or NE. We could not see any base features at this time, but some lightning and thunder was observed. It was a little unclear whether we were observing the Woolgoolga supercell mentioned earlier which had travelled up the coast, or another one or two cells which had come up from Grafton. I suggested that it was not a good day to encounter the weather this storm was producing ... the setup was likely to give large hail and violent winds, and the Pacific Highway south of Woodburn goes though a heavily forested area.
We obtained a radar update via UHF CB, then went to view it ourselves at one of Rodney's friend's house on the outskirts of Evans Head (about 6km SE of Woodburn). I took one look at the display and said we must go west to remain on the NW flank of the storm. We raced back to Woodburn then along the Coraki Road which heads generally northwest. As soon as we passed Woodburn the base of the westernmost cell came into view ! I can still hear the expletives and excited cries !! Unbelievably, this storm was able to be immediately classified as an HP supercell with "mother ship" type mesocyclone. It was just so obvious, beautiful curved base with multiple striations, lowerings, powerful lightning strokes, and thick massive anvil streaming overhead.
Video stills by Rodney Wallbridge: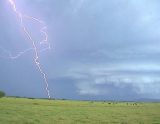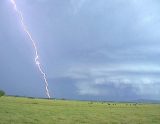 Video stills from Michael Bath (one sequence):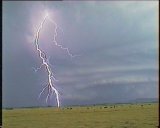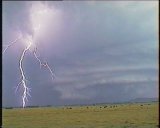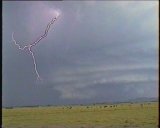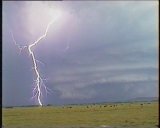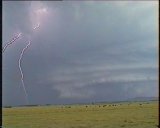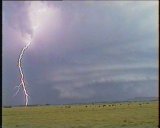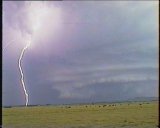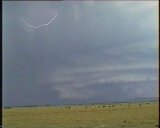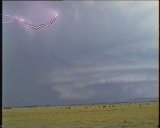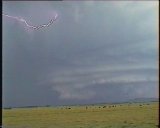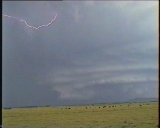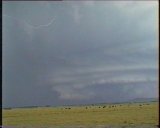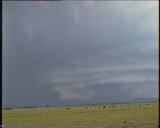 At our first vantage point stop for the two chase vehicles, we were only about 10 kilometres from the meso. It was incredible to watch this structure become clearer each minute as it advanced NNE at about 60 km/h. Dave and I were comparing it to the Casino supercell of 17th January 2001. The Casino one was larger overall, but this storm had such a well defined mesocyclone that in the end, it was hard to compare. The three of us watched in awe as the lightning punched through the lowered base and off towards the NE. There was still an inflow wind into the storm.
It was hard to get into the cars and move on, but I knew we had to otherwise we'd get slammed by the severe weather. The road briefly headed SW round a bend in the Richmond River at Swan Bay. This was rather freaky at the time as we were heading right towards the meso ! I knew the road would go nearly north shortly, so it was only a brief worry. We stopped again a couple of ks SE of the Bungawalbyn turn off. It was so close now, the motion, the evolving striations, the hail shafts, the thunder, and outflow spreading north to our west ... we could not stay long, but left it perhaps one minute too long. The scene was breathtaking, so beautiful, so photogenic, and a structure not witnessed before.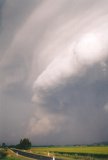 Video stills by Rodney Wallbridge: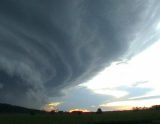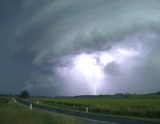 Some anvil structure taken from McLeans Ridges by Alison Bath:
Some photos taken from Wollongbar by Owen Ellem, first three looking SSW, last two looking NW.
The following photographs were taken by Ray Mullens from Goonellabah.
The following photographs were taken by Reg Yager from Goonellabah.
This photograph was taken at Tregeagle looking SE by James Whyte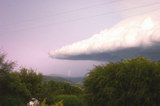 These 2 photographs was taken at Modanville looking SE towards Lismore by Dan Slattery
These 2 photographs was taken at Woodlawn looking SE by Jen James
Crunch time came and I yelled at the others - again :) - to get in the cars and go ! It was a race to get out of there now, the road headed NW then N towards Coraki. The gustfront caught up with us near Bungawalbyn. The winds whipped up dirt from nearby fields and drove it horizontally across the road. Trees were bending over. Bursts of rain and a few hailstones battered the cars. We had to briefly slow down as visibility became quite poor and the cars were buffeted from the south. It was almost a case of stop and ride it out, then the road veered from NW to N ... we floored it and just escaped the fury. It was a relief but it wasn't over - the storm was still powering up from the south and spreading towards the NW - complicated by another storm that had formed west of the high precipitation supercell.
I made a decision to go WNW towards Casino rather than north towards Lismore, even though more severe weather was approaching from the SSW. We managed to keep out of the storm, stopping near Tatham and ESE of Casino. Light was reducing as the sun was quite close to setting. Lightning was constant and base lowerings to our NE, E and SE exhibited features consistent with a very strong thunderstorm. The meso was now approaching the eastern parts of Lismore and the Alstonville Plateau. A wall cloud had formed on the new western cell to our S, and a lowering appeared like a tornado for a while, but unfortunately was not. We were in an excellent position if it had. ESE of Casino we stopped for a while to observe the show, the outflow winds were amazing, picking up dirt and reaching about 80 to 90 km/h - it was hard to stand, let alone hold the video steady !
After the winds abated, we quickly drove to Casino for fuel then back down the Coraki Woodburn Road to try and find any hail and damage. It was almost dark, though the constant lightning was keeping the entire storm structures ahead illuminated. We passed through some rain and debris from trees across the road, and then some low fog from the hail near Coraki. In the dark we found large quantities of 1 to 2 cm hail in the grass, but it was hard to see. It also looked like about 50 millimetres of rain had fallen as the fields and drains were awash.
We then proceeded to Broadwater national park to watch lightning out to sea for about 40 minutes. The storms were moving so quickly that the lightning soon became too distant to photograph. Lightning photos by Michael Bath.
Another small storm with a few cloud to air lightning bolts was active to the north when I got home to Mcleans Ridges:
The Bureau of Meteorology issued a special warning for this storm:

IDN28300
BUREAU OF METEOROLOGY
NSW REGIONAL OFFICE

TOP PRIORITY FOR IMMEDIATE BROADCAST 
NSW SEVERE THUNDERSTORM ADVICE 
 
Issued at 6:24 PM Sunday 30 March 2003.
 
The Bureau of Meteorology in SYDNEY has issued a Severe Thunderstorm Advice
for people in the following weather forecast districts: 
Northern Rivers and 
Northern Tablelands north of Glen Innes.
 
This advice is valid until 11 PM and should not be used after this time.
Thunderstorms are forecast within the advice area. Some of these are
expected to be severe, bringing large hailstones, destructive winds and
very heavy rainfall.
 
At 6:25pm, a number of particularly large thunderstorms are located near
Lismore and Casino. These storms are moving north to northeast and are
likely to affect townships including Mullumbimby, Byron Bay and Nimbin.
Hailstones large enough to damage car windscreens and damaging wind gusts
in excess of 100km/h have been reported with these storms.

Dave Ellem also took some pictures of the damage and hail the next morning in the Newrybar area.
Some aditional observations:
photo by Michael Bath

As the storm moved over the hill in this photo (about 8km south of Coraki), residents underneath began to experience wild conditions. Large amounts of hailstones generally around 2-3cm diameter fell, with residents finding some isolated stones bigger than golf balls (approx. 5cm diameter). In areas of the yard, the hail piled up to around 30 centimetres deep! The description of the winds is interesting. Initially they experienced very strong winds from a southerly direction, along with lots of hail and very heavy rain, but soon after all went quiet - the rain, hail and wind stopped. After this brief quiet period the winds swung around to a northerly direction and picked up in strength again, as did the rain and hail. The resident that described this experience to me said they received very little damage, and they were very surprised no windows were smashed given the conditions. In the Tucki area (15km N of Coraki), not too far from Tregeagle, houses experienced hail that smashed windows, a property had their bails completely destroyed and tossed down to the bottom of their property. Hail wasn't as significant in the Tucki area as it was near Coraki.

A resident of New Italy (about 18km south of Coraki) and experienced aviation weather observer reported 29mm in 10 minutes, and winds to 150km/h. Many trees in the heavily wooden property were pushed over towards the north, with others twisted off at the top.
Observations by Stuart MacDonald from Alstonville:
It would seem that March 30 was a typical summer's day without the extreme heat. The day started off cloudless up until mid morning then cumulus started to develop to the north with some towering peaks that seemed to dissipate quickly. Around noon there was around four octas of cumulus some of which were towering. Early afternoon saw a storm cell to the west where the thunderhead seemed to spread more to the north and so I was under the impression that this storm would miss us and pass to the NE - which it did. The eastern top edge to this cloud seemed sharp in places and a flanking line was obvious. I was looking out for any developments behind this cell but only found small cumulus.

What was coming from the SW would dominate the weather by late afternoon early evening. It was faint but visible a line of cirrus to the south. This line of cloud had several storm cells in it some of which were visible during the afternoon. This line of storms seemed to be coming in from an angle and it had the appearance that it would miss us altogether. The line of storms seemed to be coming in from a SSE angle but they were moving more in a NNE direction. By late afternoon a storm was visible to the SSE. It was sliding closer to us in a NNE direction. It was difficult to locate as to where the heart of the storm was. Judging by the regular thunder at around 5pm I felt this one was more to the south. However I have seen this happen before and it can give a false impression that the storm will pass. However just on dark it was obvious that there was more of this storm to come. The sunset was red in parts to the west. Then there was the shelf cloud that was to the S and soon curved to the SW. By dark the cloud was much closer made obvious by the regular lightning. I noticed there appeared to be some CGs - fortunately not too close. By 6pm the storm was in full force with plenty of rain and wind from the S. Lightning and thunder was every few seconds. As the storm was passing there came a brief period of small hail. However no damage was sustained here from the storm. Soon after 7pm much of the storm had weakened and passed more to the N. There was another brief storm that followed that one. We had 19mm of rain from the storm. Some had much more. It seemed that we didn't get the full brunt of the storm at home for it didn't warrant a severe storm report to the BOM despite the hail. It was obvious the next day that some damage in some areas had been done by the storm.
If you (or someone you know) have any photographs or video of this event, please feel free to contact Michael Bath. Your contributions are very welcome.
---
Media Reports
---
Video clips and stills