---
Please note hail footage can be downloaded further down the page.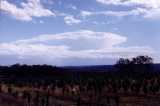 View of The Oaks Supercell in its mature stage from the north by Jeff Brislane
This day was not much of a surprise as there was cold upper air (-16C temperatures at 500hPa) expected to advance towards central eastern New South Wales. Yet another dynamic system of sorts was expected to produce supercells around the Sydney region. My target area of interest was the Camden area. Low level convergence was ideal and upper level winds were more ideal for dynamic supercells. Certainly not the best dynamic atmosphere but supported by an ideal moisture profile and increasing instability during the afternoon, this region was certain to take off later. Mid-level moisture would prove to be a problem further north.
I left work wondering what was going on. I had noted a supercell was already making a left move in the Wollemi National Park. It was obviously too late though tempting to head into that area. However, I decided to stick to my target - Camden.
Heading out to Luddenham, I was again reminded by Mario in a phone call of just how big the cell in the Wollemi had become dominating on radar - thanks Mario!!! The temptation was again there though I reminded Mario and myself that the Camden area was expected to take off late. However, as I parked at a vantage point and watched, the storm seemed almost weak with an anvil joining the mid-level cloud over the Sydney region with some rain and thunder. The inflow was encouraging and it seemed that there was some organisation occurring to the west. It was after 4:00pm and still no sign of severity.
Now I was starting to see that the cumulonimbus was sharper on the southern edge. Yes there was constant static but only a few isolated strikes were coming from my cells to the west. Low cloud continued to stream in maintaining my confidence in my forecast. An updraught revealed itself though weak, it was twisting into the anvil. I took note of this but my interest was maintained on the southern side. The suspense was all too much - I simply had to get closer in case this storm made a move.
I headed for a closer position near Wallacia but simply continued further. The storm remained featureless, but it was starting to organise. I also noticed that the static was starting to increase from this system. Nick Moir rang at this time to alert me that the storm to the west of me was in the green intensity on radar but maintained a nice shape. As I headed south towards The Oaks, it became apparent that the storm was starting to take off. Take off?? It was exploding. I assumed that since an updraught to the north of this cell (the left mover of the split pair) showed strong powerful updraughts, then this storm which was larger must be doing the same. And it was clearly the dominant and stronger of the two cells. As I neared within 10 kilometres of The Oaks township, large drops of rain pelted my vehicle. This was a familiar pattern - similar to what had happened in Horsley Park in 1996 during hailstorm there (LP supercell though) before the barage of giant hailstones. The drops were not only large and persistent, they were being drawn westwards indicating pretty good inflow into the main part of the cell to my west. This was also a sign that I had to be careful for any lowerings in the area. By the time I entered The Oaks township, the storm had finally revealed its secret - an extensive dark base with intense and upbrupt hailshafts; a true sign that the upper air cold pool was being utilised. The rain free base area extended from almost overhead, south and southwestwards - a relatively large rain free region.
This storm looked mean and what made it unique was that the rainfree base consisted of a thick stratocumulus layer.
As I passed through the small The Oaks township, I realised that I had to head south - fast!! It was like an optical illusion that the hail core looked distant to the west. But the hail began falling from above and they started with diameters of about 2cm. This storm certainly meant business. It was now a formality - no turning back - just find a place to take cover. This was open farming country with only scattered trees. Suddenly the occasional thumps on the roof was followed by a louder thump - a larger hailstone probably 3cm in diameter.
I finally parked under a tree to protect my vehicle. But it proved insufficient to protect this vehicle. The occasional hailstones suddenly gave way to a torrential hail battering with now even larger thumps. Most hailstones were 4cm in diameter though larger hailstones 4 to 5cm in diameter occasionally smashed against the windscreen or body work. I tried to get warnings out to the Bureau of Meteorology and take video out of the window simultaneously. You could make out some hail splatter of larger softer stones or fused together hailstones. However, some were larger harder stones bouncing above the ground higher than the other stones. You could also hear the hail pounding the tray of the ute parked behind me. I felt sorry for the cows and horses who were running around obviously not enjoying the pounding. The hail lasted about 8 minutes and decreased. The sun was edging through the rain. Time to move.
Here is some video footage of the hail

Large hail size of golf balls. (2.33mb)
It had already been hailing for a few minutes before this was taken. Unfortunately, the footage was dark and so had to be brightened digitally which made it more realistic.
More spectacular footage and well worth the download.
Hail becomes larger - giant hail observed also heard pounding vehicle behind. (4.70mb)
The hail at this time became large to giant hail with hail at least 5cm observed pounding the vehicles and splattering on the road. Hail lasted at least a few minutes after this footage was taken.
I headed south in the direction that would take me towards Picton. The lightning was fairly close followed by almost simultaneous booming thunder. The core was not far away. Rain started increasing as I entered the core and yes the rain eased. Suddenly I was back in hail. The hail was again falling prefusely with a dominance of 4cm hailstones. I parked around the corner after the T-junction of the road to Picton. Hail again fell prefusely for another few minutes. The storm was slowly moving away so I headed towards Picton. From here on though, the hail was large but more isolated and falling in bursts. Making it to Picton, the hailstorm had moved east and southeast. There had been hail at Picton but more on the northern side of town - most of the evidence of hail shown on the golf course. Grass helps preserve hail more than most other surfaces.
I moved to a hill near Razorback Mountain and took a breather. I also inspected the damage and was amazed at the amount of dents on all panels of the vehicle - though mostly on the roof, bonnet and boot. Some dents were larger and deeper - larger stones had hit the vehicle. One thing I noted was that the hail dents were significantly larger in this storm than the Booral storm a few weeks earlier. And there were 3cm hailstones reported at Booral.
Amongst the stratocumulus, there was another storm to the south but it was useless chasing it in such a dynamic atmosphere as storms were moving fast. After about an hour of stratocumulus cover, I watched yet another storm approach from the northwest but this was not as intense as the one I had encountered. It passed to my east and I initially gave chase though thinking of the probable traffic congestion, I let it go. In search for another location with a southern view, I ended up at Menangle. Another large cell had developed to the far south.
I met up with Nick Moir who was somewhat amazed of the "peppering" my vehicle had encountered. After a chat, we decided to both call it a day.
I still was under a cloud of shock and astonishment at what hail could do in such a short time. I organised to meet up with David Croan and we viewed each other's videos. He had chased some impressive high precipitation (HP) supercells in the lower Hunter with wall cloud observed.
If you (or someone you know) have any photographs or video of this storm or any other storm such as damage, the storm structure itself or hail, please feel free to contact Jimmy Deguara. Your contributions are very welcome. Please any photographs or video footage are important so don't discount anything.
Sydney 128km local scale loop 0050z to 0810z 01/01/2002 (11.50am to 7.10pm local)
---