Severe Thunder-
storm images of
the month:
February 2001
This months photos
by Michael Bath
and Dave Ellem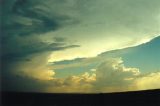 The 17th January 2001 was a day that was expected to produce another outbreak and chasers were not disappointed. But for Michael Bath and Dave Ellem in particular, it was the most incredible experience. Although the cap (atmospheric 'lid' holding down convection) was strong, it was a matter of time that the cap broke. During the afternoon, it did break and supercells exploded along the line from near Tamworth to the Northern Tablelands and also up and down the northern ranges, North Coast, Mid North coast, and even as far down as Sydney.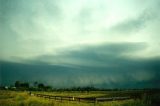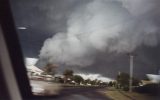 Michael and Dave were in position observing a spectacular LP (low precipitation) supercell to the north of Casino and an HP supercell to the south of Casino. But when the time came to move, it became a nightmare trying to outrun the supercell, mainly due to the road network. They found themselves in it. The supercell produced severe winds in the form of microbursts, large to giant hail and extremely heavy rain. A possible tornado also may have occurred.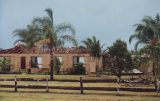 Casino was devasted by the storm with hundreds of building suffering major roof damage. Casino was declared a natural disaster area.