---
Welcome to the Thunder Down Under 2004 page. This section contains reports and photos from the Thunder Down Under chase holiday that took place between November 17th and December 5th. Thunder Down Under is a storm chasing holiday that a number of Australian storm chasers take part in during November and December each year. Some chasers go for a couple of days, others for a few weeks. It certainly is a great experience to see parts of Australia as well as experiencing some of the best of Australia's storms.
Day One - Wednesday 17th November
After months of waiting, Thunder Down Under 2004 was all set to begin today! Dave Sercombe was due to arrive by train at Casino at 6.30pm, so I had most of the day to get organised. After returning home from picking up some food for the trip, some nice convection had begun to take off on the Nightcap Ranges to my north.
It was some of the best convection on the ranges in a while, but despite some nice instability around the area, the very poor shear meant that the cells were very disorganised and began to clutter. Still, it was nice to see some good updrafts and hear some thunder on the first day of TDU 2004! I picked Dave up at Casino at 6.30pm and we headed up the Pacific Highway to Anthony Cornelius' house, ready to set off from his place the next morning.
Day Two - Thursday 18th November
We got up at around 6pm EST to have a look at the setup for today. There was a weak surface trough in central QLD that looked set to produce some storms around the Charleville area that afternoon. Shear was very weak unfortunately, so we didn't expect to see too much storm action, but set off for Charleville anyway, as it would position us well for the next day's activity. There was plenty of low level cumulus, along with some nice congestus on the trip out west, however it began to decrease the further west we trekked, indicating that it was getting fairly dry.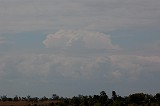 As we reached Morven we decided to head up the road to Augathella rather than heading towards Charleville as there was some shower activity NW of us. The trip was rather discouraging as the cells were very high based and low topped. About half way between Morven and Augathella, we pulled over to photograph some better looking convection to our west and northwest, however when we did, we discovered AC's car tyre had been punctured by a kangaroo bone and needed to be changed.
After that was done we shot a bit further up the road to the turnoff to Charleville and headed down that road. We stopped not too far into the journey to photograph the cells again and we were hoping that we may end up with a nice sunset. And that we did! But not only that, the cells nearby finally gave the first rumble of thunder for the day! We were rather annoyed when we began to get heavy rain falling over us just as the sunset was getting nice, but it eased off a bit for us to get some nice photos.
After sunset we decided to head back to Charleville, and as we set off, the cell nearby began to produce some visible lightning! It was rather exciting to drive with some lightning and heavy rain around, but this didn't last real long. We found some accommodation in Charleville and called it a night.
Day Three - Friday 19th November
After consulting the models in the morning, we decided to set off for Quilpie, about 2 hours west of Charleville. The setup looked better than the previous day, with stronger storms likely. We were also encouraged by a line of storms entering the far SW corner of QLD, which we thought would eventually move through our target area. We arrived at the beautiful town (well, as beautiful as outback towns get) of Quilpie at lunch time, grabbing a quick bite to eat at the local bakery. It felt extremely hot and humid, however there was only a tiny but of Cu around, along with some mid level cloud indicating the instability present. We decided to check out the local tourist information centre while we waited for development to take off. While we were looking around the historical museum they had, Tony came racing in to say that the Cu had exploded, as well as getting us to come see a huge dust devil in town. Unfortunately we missed the dust devil as it had died by the time we got outside, but the Cj development was nothing short of amazing. In about 20 mins the sky had gone from all but clear to being filled with developing storms!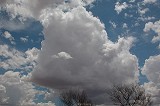 We headed off to the western side of town and stopped at an opal fossicking area to see if we could find some opals while we waited for the storms to get organised. We all managed to find a stones with bits of opal in them which was cool! By around 2pm, the first CG of the day appeared out of a cell to our NW, giving off a lovely cracking sound that we all enjoy so much! It continued to produce some nice CGs, however poor Sercy Boy would turn away from the storm to say something every time a CG appeared! It was very funny for the rest of us! The initial storm began to weaken and the sky started to look cluttered with weak Cbs.
We decided to climb a nearby lookout, sheltering in a cave at the lookout while some heavy rain moved through the area. When we were finally able to climb out on top, the view was amazing. We could see quite a long way, and it was a bit like feeling on top of the world! We all spent a bit of time watching the nearby storms and enjoying the view before deciding to get a radar update to see what the activity SW of us was doing.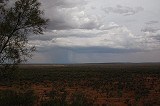 The update revealed the line of storms was weakening, and that the initial development we had encountered near Quilpie was developing into the main line. So we decided to head back to Charleville, hoping to cross through the line on the trip back and get ahead of it. We managed to do this, encountering heavy rain and strong winds as we passed through the storms to get ahead. Fortunately they were slow moving, allowing us to get ahead of them! We arrived at Charleville around 6pm and decided to refuel. The storms were now producing some spectacular CGs and very strong outflow winds.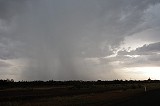 After refueling we stopped at the edge of town to watch the line. It was becoming very lightning active, with some bolts of lighting ripping overhead and leaving a burning smell in the air!! With CGs striking less than a kilometre away, it was decided we would press NE towards Augathella and stay ahead of the line. The journey from here was very exciting, with pulsating CGs dropping in front of a dark grey-green rain curtain. It soon become apparent that a high based gustfront was developing, so we soon stopped for photos.
We continued NE once the line had caught up to us again. We had a good laugh watching Anthony try and drive in front of us while obviously watching the lightning display in his rear-view mirror. His car was all over the place! Dave and I were also getting excited watching the amazing pulsating CGs ahead of the very dark rain curtain in the rear-view mirror. The scene looked so evil! We soon pulled over again for some more photos of the storm.

As we continued further NE, there was some concern about finding a place to pull up for more photos of the gustfront. We wanted to get some ASAP as it was starting to get dark, so we ended up finding our own spots to pull up. We basically setup the tripods in the middle of the road! Gotta love the amount of traffic out there! After a few more photos we were off again! What an adrenalin rush!
As the sky darkened, attention now turned to lightning photo potential. Both cars were on the lookout for a good spot to photograph the lightning. We eventually come across a gate that led into a fairly open paddock. So AC and Tony ventured in while Dave and I parked White Dot on the side of the road and jumped the fence. We were soon setup and attempting to get the first decent lightning shots of the trip! Although the storm had weakened and the amount of CG lightning had reduced dramatically, we were still about to get some nice photos.
Sercy Boy was VERY excited when he managed to get his first proper CG on camera – and rightly so!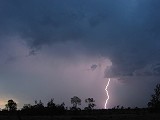 We continued to take photos of the lightning for around 30 mins before we called it quits and headed for Augathella for the night.
Day Four - Saturday 20th November
After a thorough model run in the morning, the TDU crew set off for our initial target area of Blackall. We arrived around lunchtime, so grabbed a quick feed before Tony suggested we go for a swim at the Blackall Aquatic Centre. It was pretty warm and sticky so a swim sounded like a great idea! We all piled into the pool for about 40 minutes, mucking around with a frisbee, ball and pool noodle, until Anthony got told by the pool owner "do not slap the noodle". After that little incident, the congesting cumulus overhead convinced us to get out and see what was happening. We drove just N of the town to observe the development. It was so hot in the sun, so we had to shade the car windscreens with towels to make sitting in the car bearable. There was plenty of development to our NW and SW, with a couple of CGs spotted, so we went back into town to refuel so we'd be all ready to head out on chase.
After refueling we came back to our original spot and watched a little more. There was plenty of development but nothing that really looked all that good. We eventually decided to head further N to Barcaldine, stopping periodically to watch the development to our NW and SW.
It seemed the further N we went, the better the stuff to our SW looked, with some nice updrafts and pileus evident on the storms. After reaching Barcaldine and looking at radar, we realised the storm that was now west of us was decaying, so we shot back S to intercept the better looking storms from where we came.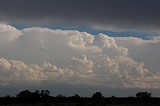 Initially as we headed back S the storms looked quite nice, however they seemed to weaken as we approached them. Things just weren't going to plan today! After stopping about halfway between Blackall and Barcaldine for a few photos, we headed back N to Barcaldine. There was a surprisingly photogenic swamp just outside of town which reflected the storms to our S quite nicely!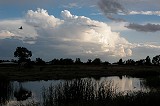 The line to our S seemed to be extending further W, so we figured we would head towards Longreach and hope the line would push through later with some lightning, plus I had wanted to cross the Tropic of Capricorn since we were so close, just so I could say I'd been to the tropics! So we set off again, stopping briefly along the way to get some photos of the abandoned major highway from Central QLD to Darwin. Gotta love that!!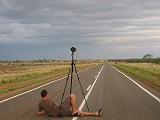 We saw some nice, but very distant lightning on the line S of us as we got towards Longreach, but it seemed to be becoming less frequent as it got later. We found some accommodation at Longreach and then grabbed some dinner, thinking that stuff may end up being all over for the night. After we got back to the motel, we spent a bit of time on the net looking at weather models and the weather forum, so we didn't pay too much attention to the weather. Probably around 11pm I went outside and had a bit of a yarn with Tony while we watched the infrequent lightning to our SW. However it seemed to be more frequent then before, and soon enough, we could see regular bright flashes! So we ran back into the motel room and jumped on AC, who was asleep, to get him to come get some lightning photos. Surprisingly he took a bit of coaxing to get out of bed and come chasing…he must have been really sick after all!! We headed out of town a bit and pulled up on the side of the road to enjoy the show. Lightning was distant, but we were still able to capture some nice CGs!!
Around 1am the lightning died off a bit, so we called it a night. Apparently a storm moved over our motel during the early hours of the morning, but Dave and I slept right through it! An obvious sign of just how tired we were!
Day Five - Sunday 21st November
An upper trough pushing into NW NSW and SW QLD, dropping 500hPa temps down to -15C, looked set to provide us with some pretty decent storms, so there was a mood of excitement on this Sunday morning! Shear, moisture and instability figures were all pretty good for severe storms around the Charleville area, extending northwards during the afternoon. Lightning was already occurring in NW NSW as we left the motel, indicating how active things were that early. We drove all the way from Longreach to Augathella, watching the rather nice looking line that was occurring to our SW.
After refueling at Augathella we decided to head down the road towards Charleville, as radar indicated we'd meet up with the line somewhere down that road. Not too far along the road we stopped to get a photo of the anvil structure, which was looking pretty nice. Dave and I were starting to get excited by the structure and the very dark sky that lay ahead of us.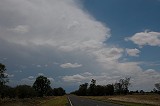 Some nice mammatus began to appear on the underside of the anvil, and it wasn't long before we could start to see some base features appearing. This is always one of the most exciting moments for me on a chase – waiting to see what evil looking structure may appear out of the darkness! Soon a nice gustfront was visible on the horizon, so we pulled over on the side of the road to watch it as it approached us. It was a pretty amazing scene with the mammatus, amazing green tinge and dark gustfront!
As it got quite close, I felt uncomfortable about waiting too much longer before pushing further ahead of it, so Dave and I took off a couple of minutes before Anthony and Tony. We stopped up the road again, with the scene still quite nice, but the line appeared to become more outflow dominated than earlier, and was losing its nice structure as a result. Very cold outflow winds pushed through the area just as we were about to take off again.
We pushed up the road again when the cell got too close, emerging back into the warm and humid air ahead of the storm's outflow. We jumped the fence into some paddock that had really red coloured soil – this created a spectacular contrast with the dark grey/green of the approaching storm, and made for some nice photos!
As the cold outflow overtook us again, we decided to head further up the road to the intersection where you can turn off to Morven or Augathella. We decided to head S towards Morven and intercept the line, hoping for some bursts of small hail (the storm did not look particularly severe anymore).

We got some very heavy rain and close CGs, but no hail! So we turned around and shot N again towards Augathella. We eventually emerged ahead of the line again, managing to stop for some more gustfront photos! One again, Dave was looking pretty excited...
We continued N ahead of the line towards Blackall, and it wasn't too long before a much larger and nastier looking guster began to appear to our far NW. We raced along the road trying to get in front of it for some photos, but it was some distance away still. Everyone in both cars were pretty pumped I think, as we were expecting something quite nasty to appear.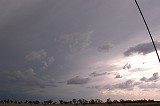 As we got closer, the largest part of the gustfront seemed push well ahead of the rest of the line – a sign that the winds must have been very strong! We stopped again for some photos and watched as the nice guster pushed over the road ahead of us and began to fall apart. Many nice CGs were occurring all around the place, so we jumped back in the cars and thought we'd head into the storm as we had to get further N.
As we entered the storm we were blasted with some pretty strong wind gusts, around 70-80km/hr, along with a short burst of tiny hail!! We were pretty stoked to finally get some hail!! There were also some branches on the road that were brought down by the strong winds! Driving was tough with the torrential rain and all the water over the road, but White Dot managed to catch up with the others eventually. We pressed on further N towards Barcaldine, however when we finally made it through to the front of the line again, it was decaying. We stopped for some sunset photos at the local swamp again before grabbing some dinner and enjoying the remanets of the line as it came over while we ate.
We had spent almost 6 hours chasing the one line, and after our effort we were rather spent!!
Day Six - Monday 22nd November
A small area of instability around Bourke enticed us down towards Cunumulla, however when we arrived there was nothing noteworthy in sight! While all seemed lost, we did manage to see some lightning from a cell to our ESE as we pulled into St. George for the night. So technically not a bust day, but nothing exciting either.
Day Seven and Eight - Tuesday 23rd and Wednesday 24th November
We deiced to make the most of what was set to be a few days of stormless weather by heading to Canarvon Gorge National Park! The two days spent bush walking were just awesome, as we explored this really amazing work of nature! It was certainly the next best thing to storm chasing, and we all thoroughly enjoyed the many hours spent in the park.
Day Nine - Thursday 25th November
On a sad note, we had to head back to Brisbane to drop one of the TDU crew off at the airport as he began the next leg of his journey to Darwin! So it was basically a travel day back to Brisbane, meeting up with a few of the Brisbane storm chaser crew for dinner (meeting the elusive Ben Quinn!!!!!!!) and then saying goodbye to Tony. The next few days looked very boring weather wise, so I set off home, while Sercy and Anthony stayed at Anthony's place in wait for the next storm system.
Dave Sercombe takes over the reporting from here!
Day Ten - Monday 29th November
Anthony and I headed out to Tenterfield, where we met up with Clyve Herbert and Jane O'Neill in the early afternoon mid-way to Glen Innes. From this point we observed a few weak storms that the ranges pushed up, which headed towards Tenterfield. They continued into QLD and we said goodbye to Clyve and Jane in Tenterfield as they were going to head back to Victoria, while we went to Stanthorpe. As they weakened into the late afternoon, we observed some hail falling from the weakening storm and a few nice rainbows.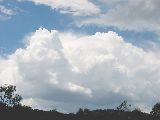 Day Eleven - Tuesday 30th November
After staying in the night in Glen Innes, we ventured towards Armidale in the hope of some more storms being pushed up by the ranges, and after lunch we observed some light convection around the Dorrigo area. We headed about 50km East of Armidale and were greeted by a bushfire and a rapidly developing Pyrocumulus cloud! (pic) The convection that wasn't influenced by the bushfire soon ceased, and we headed to Tamworth for the night in preparation for the next day's potential in Central Eastern NSW.
Day Twelve - Wednesday 1st December
This day I was favouring the Upper Hunter risking the fact that it could go ballistic in the Central Tablelands and Sydney. Anthony and I eventually agreed on heading towards Mudgee, with the option of heading back to the Upper Hunter (damn National Parks!) This was without doubt the hottest day on TDU this year, with temps ahead of the trough in the high 30's and low 40's, and reasonably low dewpoints! We were really thinking this would be one of the worst busts of all time (it was soooo hot!), but as we were filling up in Merriwa, we received updates that there was a storm developing to the north of Dubbo and heading straight towards us! We quickly headed towards it and paused at Cassilis for a few pics, however the storm was moving so quickly it chased us all the way back to Denman, where we headed towards Muswellbrook to get out of the way as it was quickly becoming non-photogenic at sunset, with little lightning. The small complex of storms that it became was a lot more lightning active in the hours after, which we noticed while having dinner at Scone. Ah well.

Day Thirteen -Thursday 2nd December
After another night in Tamworth, we headed off early towards SE QLD for what looked like a potential Supercell day! Early afternoon at Warwick presented us with some quickly exploding Congestus towers, where one quickly developed into a strong storm between Warwick and Toowoomba. Afterwards we watched a rather average storm appear to develop out of some mid-level convection just west of Toowoomba. All of a sudden the northern side developed rapidly and started moving towards the north! As we raced to Oakey, a nice RFB formed which had developed into a nicely rotating mesocyclone when we got out of the car! Gusters and wall clouds both appeared as the storm went through different phases on its left-moving northerly track. Our attention quickly moved to a strong-looking storm to our north, which began to dominate the one we had been watching to its south-west. Just north of Nanango, we managed to get to a vantage spot as a lovely wall cloud appeared complete with TWO inflow bands! It wouldn't have surprised us at this stage if a tornado dropped out of this wall cloud, as it shot out countless lowerings and various scuds very close to the ground. As dusk approached, a nice guster developed and Anthony and myself attempted to get some CG's at dusk with little success - but a CG almost had success at striking us as one struck 40-50m away!!! Two incredibly scared chasers literally threw their cameras and tripods into the car as over the next minute 5 more very close flangs hammered the area around our car! These CG's were WAY in front of the main line of CG's at the time - we probably missed the development of an updraft above our heads that we should've noticed! Right into the evening we kept ahead of this storm, taking lightning photos every 15kms or so. A great and very tiring day :)
Day Fourteen - Friday 3rd December
This day looked to have similar potential as the day before, however a little less instability. We headed north from Gayndah towards Monto, where two storms developed in succession to our south, and seemed to disappear very quickly when they began to look strong! Throughout the day there was plentiful Congesting cumulus around, which provided nice photography opportunities at the day and evening. One congestus was particularly powerful and developed into a curious storm as we headed south in preparation for the next day. This developed a rotating mesocyclone similar to the day before, however didn't have the very strong rain/hail behind it - it ALSO had some sort of inflow feature streaming in from its NE which lasted for a considerable amount of time. However this storm didn't look quite right to pull out the 'S word', as it didn't have the incredibly strong updrafts and crisp anvils that were apparent the day before. So along with a weak storm to its west, we were provided with some very nice photo opportunities into the evening.
Day Fifteen - Saturday 4th December
After the night in Chinchilla, we met up with Ben Quinn in Roma. After a check of things in Mitchell, we saw a storm develop to our south-west, which if it became strong/supercellular would head towards us on the Warrego Highway. Because of the road network, this was our only option - and hope, and were lucky enough for it to head towards us with frequently pulsing CG's! The three of us managed to capture many CG's on video and on stills - I was lucky enough to capture probably my best daytime CG that I will for a very long time! Pity that the guster behind it was hard to see, as was most of the storm - which showed the high moisture throughout the area as it soon became a rainband afterwards.
Day Sixteen - Sunday 5th December
The last day of my trip with Anthony began with a similar target area as the day before, in the Roma/Charleville/Cunnamulla/St George area. Sadly the cap failed to break and our first "real" bust occurred (ie: without seeing any lightning or storms at all) as similarly happened when we were in the St George area a week before. But at least there actually was a few flashes of lightning in the distance the last time!
So ends this main section of TDU 2004. I would like to thank Anthony, Dave and Tony (and Ben for a couple of days!) for putting up with me and my questions for various times throughout the first two weeks, as it was an honour to be with such a great bunch of people who I was able to learn a great deal with!
---