---
Introduction
A few days prior to the chase a trough had formed over Far Western NSW. By Monday the 6th a cut off surface low had developed and retreated a little westward. The models were forecasting an almost unbelievable setup: the cut off low to remain almost stationary over western NSW for the next four days, great moisture and excellent shear for supercells. LIs were forecast to be around -8 and CAPE around the 3000 mark till the end of the week over inland NSW and inland Southern Queensland. The only concern at this stage was that too much moisture may be dragged into NSW resulting in more shower or rain activity than storms.
Work would normally prevent me from taking a few days off mid week to chase, but the setup was getting to me big time. Watching large storms in western NSW fire up on the 4th and 5th and knowing the rest of the week could be huge was just too tempting. After speaking to Dave Ellem Monday morning I decided that I would join him and Dave Sercombe for a few days chasing in Western NSW for the final part of Thunder Down Under for 2004. It was apparent later on Monday 6th that just about every East Coast based chaser would be taking some time off to be out there for as many days as possible. Even the convective outlook on the Weatherzone suggested tornadoes were possible. That afternoon widespread severe storm activity spread across the Far West of the State....
Tuesday 7th December
We headed off at 6am from the Lismore area, knowing it could take 9 to 10 hours to reach our target area around Coonamble. It rained lightly from Tenterfield to Glen Innes then remained partly cloudy to Tamworth. We could see cumulonimbus tops to the far west during this part of the journey, from early storms that kicked off in northwest NSW around dawn. The early activity was a little worrying at first but I strongly suspected a new line would form in the trough line west of this. Just after Gunnedah we passed through the thundery rain remnants of the early activity.
We pressed on to Coonabarabran then Baradine where it had largely cleared. To the west we knew large storms had already developed so it was a fast drive to Coonamble to try and intercept ! Fields of cumulus and some congestus spread ahead of the activity before storm anvil cloud moved over. We knew we had to get as far west as possible so took the road to Quambone which is 50km west of Coonamble.
Just before 4pm the storm base came into view. The features immediately indicated supercell with a lovely rounded rain free base on the northern side, a wall cloud with lowerings almost on the ground and a nice prong just to the left. From our distance it looked like a tornado was on the ground !
Some close ups of the wall cloud at 15:59:46, 16:00:03 and 16:00:12:
Video stills of this storm's wall cloud
We arrived at Quambone about 4.05pm with the storm about 20km to the west. Unfortunately there are no all weather road options so we had to observe from a distance, but we were all very happy to have found a strong storm after such a long drive. The storm edged towards the SSE while more activity advanced into the area from the NW.
We called in on a friend at Quambone to check some weather data, but the phone lines were dead. Unfortunately when we tried to leave, some rain had made the dirt driveway difficult to navigate and the vehicle got bogged. We were towed out after about 20 mins, just as the next storm was bearing down. We headed back east. The whole sky was rather gloomy and dull but some base features could be made out to the north as the storm approached Coonamble. Just as we stopped for fuel in the town it struck with torrential rain and CGs all around. It was probably a bit silly to be filling up with fuel at the time !
After this passed we met up with James Harris (who had been chasing with Matt Smith earlier) about 5km north of town. It had become quite cold and we were all feeling it very much. The storm that had just passed Coonamble was drawing in a quite fresh surface inflow and had a nice curved structure.
James had also been observing the same storm near Quambone so we compared stories and photos while waiting for sunset.
By dusk some weak cells were giving off occasional lightning to the SW. After a meal at the bowling club we decided to move to a position about 35km SW of Coonamble as the lightning had increased. We were treated to a beautiful display from a strong storm passing west of Quambone towards the SSE. The base structure was very interesting and the consensus was that a shelf cloud had formed.
Wednesday 8th December
Wednesday 8th December dawned with overcast skies and a fresh wind from the NNE. A sky of stratocumulus would normally be a very bad sign in our usual coastal chasing area but this was very different. It indicated an excellent low level flow of moisture and a active trough to the west. The target area for the day remained Coonamble to Walgett. Shear was progged to be increasing in the NW of the State so we headed for Walgett. Storms would most likely head SE or perhaps ESE form stronger cells. The cloud cover soon began to break up and the temperature pushed into the high 20s.
We fuelled up at Walgett then decided to keep heading west on the Brewarrina road. I was travelling with Dave Ellem, and Dave Sercombe had joined James in his vehicle.
It was surprising how many trees were on this highway but we soon found a nice clearing adjacent to a wheat field and stopped for a quick lunch about 1pm. A field of cumulus dominated the sky and it appeared some larger clouds were developing to our NW. The surface flow remained ideal.
We decided to continue west as a storm was obviously developing to the northwest and would likely cross the road ahead. Base features soon came into view and a think anvil of mammatus spread out towards the southeast. It was a fast drive on an almost perfect road.
Just after 2pm we could see a wall cloud had formed on the northern flank of the thunderstorm. It was a fairly compact storm at first but already looked to be quite severe.
At 2.08pm while racing towards the structure we were amazed to see what appeared to be a tornado ! It was right beneath the wall cloud in the rain free area where one would be expected. The lower parts had a "collar" of cloud around it. We were initially too far away to observe rotation but after stopping a little closer we did observe this, though mainly the wall cloud remained.
Some close ups of the wall cloud and funnel at 14:07:31, 14:08:09, 14:08:12, 14:08:30, 14:09:47 and 14:11:12:
The inflow and base structure were awesome to watch. The outflow of mammatus had spread overhead and at least 50 kilometres downstream. Over the next 30 minutes or so the storm continued to grow and appeared to veer towards the ESE from its original SE heading. An extensive rain free base with large towers above formed just to our north but we had not noticed it all that much due to the excitement just to the west. A couple of very close CGs reinforced the decision to head east a little !
The storm appeared to be moving quite slowly but I think this was move to do with the evolving and growing nature of the base area. The inflow was quite strong into the storm at times, then it would ease and appear to be outflow, then soon returned to inflow domination. Spectacular base features coincided with the inflow pulses.
At 3pm we found an awesome clearing to observe the storm at a safe distance. The base was clearly rotating at this time. CGs punched through the lowerings which were almost on the ground - the up-motion into the leading edge of this was incredible. Microbursts were apparent on the northern edge of the precipitation curtain and large hail was quite likely to be falling across the road to our west. New updrafts continued to form along the northern flank.
We continued east and let the storm pass to our south after 3.20pm. There were not really any road options to stay on this storm, and other activity was forming nearby. We all enjoyed incredible supercell structure displays from cells to our east, southeast and south.
Shortly after 4pm new storm activity has spread down from the Queensland border and was now close enough to be of interest. Some smaller towers shot up just to the west but the main event was to the north. A lovely rain free base with wall cloud came into view. It had a much stronger inflow than the earlier storm and we could see the dust being sucked into it. Our vantage point was not as good as earlier and the contrast was not ideal at this stage.
We left this storm at 4.45pm due to the poor contrast and headed back to Walgett then onto Coonamble where the first storm had headed.
A lovely isolated cumulonimbus developed in the largely clear air to the NW while the main line of storms receded to the SE. The cloud tops were around the 18km mark in height and reminded us of the anvil structure of the Coraki Mothership Supercell on 30th March 2003.
We got close to this storm during the trip back to Coonamble and enjoyed some lightning from the back end of it. The contrast with the very green countryside was stunning.
James had to return to Sydney so we parted company and then returned to the motel at Coonamble and to get some dinner.
Around 8pm a lightning active cell lured us out again to take some more photos. We set up just south of town and enjoyed the show till about 9pm. Of course the best CA lightning occurred when we weren't ready for taking photos ! More lightning occurred to the east well into the evening, but it was a little too distant to be bothered with.
Thursday 9th December
The target area for Thursday 9th December was Dubbo to Nyngan. The surface low had edged a bit further west but model guidance suggested some more big storms and supercells would form today.
We headed to Dubbo which is a 2 hour drive south from Coonamble. A weak storm cell was dumping a lot of rain on the Warrumbungle Ranges and soon after some nice altocumulus castellanus formed. We stopped at Dubbo for lunch then decided to head NW to Nyngan.
It was a long drive and it was disappointing to see very little activity developing. We stopped along the way a couple of times to find out what was developing and it appeared activity was much further west than what was really achievable for us to get.
Several large towers went out to the W and NW and this enticed us all the way to Nyngan then just out onto the Cobar road. But it was all too far away.
At 4pm we decided to call it quits and take up an offer of dinner at friends at Quambone. We arrived there at 6 and left about 8.15pm to drive onto Coonabarabran for the night. We had to return home to the North Coast Friday.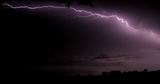 On the drive between Coonamble and Baradine we were shocked to hit two causeways flooded with water. When had all this rain fallen ? The warning signs ahead of the causeways were useless but fortunately not problems arose. We got to Coonabarabran about 10.30pm and caught some lighting to the east before rain mucked up the show.
It rained the whole way home on Friday and there was evidence of very heavy falls of rain between Coonabarabran, Gunnedah and Tamworth.
---
Satellite Images
From Weatherzone
---
Analysis Charts
From Bureau of Meteorology ---
GFS Model Analysis
From NOAA 07/12/2004 06z analysis run