---
Today was yet another case of not paying enough attention to the setup. After seeing the possibility of storms on the forecast I quickly loaded LIs, which were forecast around -1. Not really enough for anything decent. However, as was the case earlier in the season, AVN was under-forecasting again. The other problem was that I just assumed that shear would be weak. Not really sure why, but I did. Turns out it was quite strong from 700hpa and up! Certainly enough for severe storms. The moisture profile was just about perfect too! So as it turned out, severe storms were certainly a chance along the coastal strip of the Northern Rivers. Nice storms started developing in SE QLD during the early afternoon and were visible from my house which was cool. There were a few weak, low topped storms that moved through the Northern Rivers, but nothing photogenic. Eventually a nice cluster of cells started developing SW of my location, pointed out to me by Ray Mullens. When I looked outside it was quite dark to the SW and S, with a weak guster visible. Convection was also still visible to the N in SE QLD.
Radar seemed to indicate two dominant cells developing in the messy cluster - one heading for Ballina, the other towards my area. The guster on the Ballina cell looked kinda nice at this point (considering I wasn't expecting much), while it looked disorganised on its western end. What was really interesting at this point was a substantial lowering behind the trees to my SW (seen in the third photo here). Scuds were racing up the side of the lowering into the updraft region. Scott Hills from Goonellabah reported a significant lowering at this time near Wyrallah. Hopefully his pics will be available soon!
I continued to watch both ends of the line while checking radar intermittently, which began to indicate the cell to my SW was getting larger while the Ballina cell was weakening. Visually it appeared that the cell to my SW was starting to suck the guster from the Ballina cell towards itself, and as such the guster started to look weaker and more disorganised.
The mid level cloud ahead of the gustfront feature to my SW started to look quite nice, with a ripply effect present! My Dad and brother were on the roof watching the storm so I snapped this last shot of the guster before climbing onto the roof with them to watch.
The view from the roof ended up being rather impressive! As the leftovers of the gustfront began to blow ahead of the storm, some nice structure was revealed behind it. These pics show a lowering behind the trees which had scuds racing up its left side with incredible pace - the movement was very dramatic! A green tinge was also starting to become evident above this updraft region, which is always nice to see!
I took another panorama as the storm got a little closer and the bottom of the lowering was visible. A gustfront looking feature extended towards the right from where the scuds were racing upwards. I figured it might be worth getting ahead of the cell to see if it continued to produce nice structure, and my brother was keen for a chase, so we started to climb off the roof. Just as we were, I spotted some small scale rotation in the area of cloud on the right hand side of the picture below. It was pretty dramatic, but I didn't watch it for very long as we had to get off the roof.

We shot ahead of the storm towards Eltham. When we arrived the view wasn't all that great, but it was still kinda mean looking. Some great CGs were now popping out of the area just left of the lowered area in the first picture below, with one pulsing several times quite nicely! It wasn't long before outflow winds pushed over our area and brought some light rain with it, so we decided to head back towards home, which would take us close to the storm's core.
We initially encountered bursts of heavy rain with some nice CGs flashing nearby, but it didn't get too bad until we got to the turnoff for the road to my house. All of a sudden we were buffeted with severe winds and torrential rain. I could not see out the windscreen even when we were stationary! I pulled up in a clearing of trees just as the power lines in front of the car came crashing down, sending sparks flying in the paddock next to me. Then a huge palm tree fell down just down from us, followed by a gum tree behind us!!! Branches and debris were flying everywhere…it was a pretty crazy scene! Then the hail started, but it was just pea sized fortunately, and it didn't last too long. The wind and rain continued for some time, perhaps 10 minutes in total, but finally eased. When it did we headed back home, encountering many downed trees – some quite large. Winds appeared to be over the 90km/hr mark in the location we were stopped in. My weather station recorded its highest gust ever of 63.4km/hr, which is significant because it underestimates wind gusts by up to 50 per cent at times. The rest of my family at home said it was on par with the strongest wind they have encountered at our home since moving in during 1990. 18mm was also recorded during the storm. Below are a couple of smaller trees that had come down on the way home - we couldn't drive to where the big ones were as I didn't feel really safe driving over downed power lines. The other thing to cop damage was my poor chook house! Fortunately the chooks were in another pen at the time, but it must have taken a decent gust to blow it over given it sits flush against our large shed and is very heavy. It's been there since 1996 and has never moved a bit!
As we got close to home I spotted some anticrepuscular rays that were creating a rainbow - a sight I hadn't seen before! The storm was also now visible as it passed out to sea near Byron Bay, with a nice line of cumulus towers feeding into the base of the storm.
Not a bad storm given that I hadn't expected much today. I should have known better though with shear being pretty strong over the district.
---
Radar
Grafton local scale loop 0100z to 0800z 12/12/2004 (noon to 7pm local)
---
Satellite Images
From Weatherzone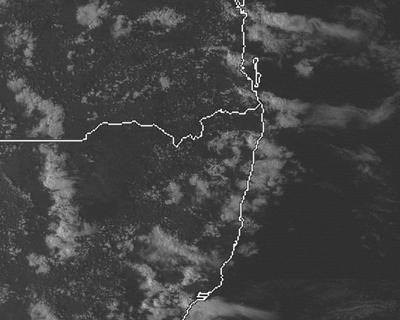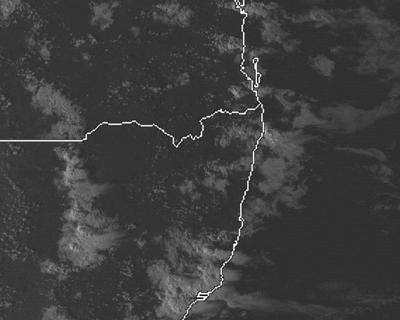 ---
Analysis Chart
From Bureau of Meteorology ---
GFS Model Analysis
From NOAA 12/12/2004 06z analysis run
Winds (knots) 300 hPa
---