---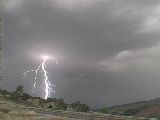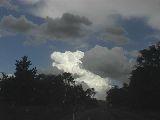 This day was anticipated to provide an ideal environment in southern NSW. A strong upper level jet was expected to rapidly approach the region by late afternoon and with high CAPE anticipated it was an incentive for possible supercells. The only negative though was the anticipated veering of winds from the northwest limiting any backing. Despite this, Matthew Piper and I were pumped for a good day's chasing ­ target region north of Albury.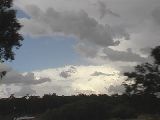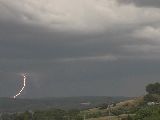 Our journey tracked the Blue Mountains through Bathurst and Cowra and down to Young. Further south though, we were not impressed by the dust haze to our west ­ the dreaded northwester was pushing through. Some distance south of Wagga Wagga, it was obvious the cumulus field would struggle despite the rich moisture atmosphere. One cumulus in particular seemed more organised so we followed it east. This turned out to be a crucial decision and by the time we neared Tumburrumba, the storm had organised. Lightning bolts observed out of the main tower. Moving left of the steering wind field, the storm showed supercellular characteristics. Large hail was apparently reported at Jindabyne from this storm.
Realising there were no sufficient roads for an intercept, we parked on a hillside and watched this storm and other storms making their way into the ranges. What became interesting is the interaction taking place as winds in the region turned more northerly. Near Batlow, one of a couple of major cells organized and became severe feeding on the moist north-northeasterly inflow. The lightning became more frequent and persistent. Matt and I looked on as multiple bolts pulsed below the rippled rain free base. Awesome contrast bases blended well with the mountainous countryside. I must admit I enjoyed exploring new territory with a severe storm entertaining us.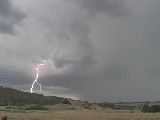 With the storm slowly advancing and threatening our view, Matt and I decided to investigate the storm's interior. What a shock it was as our vehicle was buffeted by intense wind gusts. There was hail reported in the township apparently and there were reports of damage from the winds. With limited visibility in the blinding rain, we parked just north of town in open surroundings. Bright lightning bolts flashed around us within the rain core adding to the eerie scene. I filmed some of the action although noting I was running our of tape. "Matt could you please do me a favour? Pass a new video tape from the bag." Video rolling ­ Matt scratching around in the bag. He couldn't find it ­ of course he couldn't - I had left the bag of tapes at home! Good one Jimmy! The core illuminated with lightning edged further east. With no roads, and wanting to get home by midnight , these hungry chasers called it quits.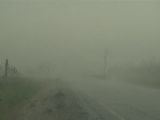 Now the approach to Goulbourn MacDonalds was interesting ­ and not only due to the lightning and storm activity.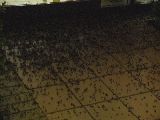 I was hit on the hand and on the face by a stone I thought - the windscreen as well got occasional hits ­ but what were they? At the service station, we were greeted by a plague of insects. I had never seen such a plague and apparently it had affected business there. I could see why. MacDonalds was not spared with the insects attempting to enter under the doors stuffed with wet rags. No wonder the light was turned off. Certainly an unforgettable experience.

Click here for all stills listed online of this event.

If you (or someone you know) have any photographs or video of this event or any other type of severe storm such as damage, the storm structure itself or hail, please feel free to contact Jimmy Deguara. Your contributions are very welcome. Please any photographs or video footage are important so don't discount anything.

Phone: 0408 020468 (International 408 020468)

---