---
12 January 2004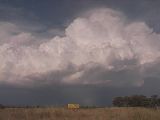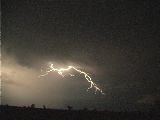 Not again. Another high CAPE setup in moderate windshear though the lower level wind shear was expected to increase. The target called for a return trip meaning the previous day's journey home was wasted time. After some indecision, I convinced myself the risk was worth it, packed the gear headed out once more. Destination Gilgandra.
As usual, early activity meant a deviation from the original target. But there was time to kill since activity was anticipated to be late. Passing the time with some time-lapse videography, I became anxious as to why all the activity seemed to be collapsing just prior to sunset. Storms to the west and distant southwest did not look that impressive. Booking a motel at Coonabarabran was a mistake for this chase and became the limitation factor. Despite this, I followed the storms down to Gilgandra where frequent lightning activity had developed cells in back-building southwest. Another storm had developed further south and headed southeast!! This had tapped the upper atmosphere with more ideal wind shear in this region. This storm with colder air aloft became electrically active. It was too distant from my motel. It was also getting quite late so I called it a night.
Click here for all stills listed online of this event.
13 January 2004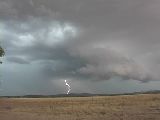 With an impressive wind shear profile supported by high CAPE , it was safe to assume that at least initially supercells were possible though becoming outflow dominant and blending into a squall line complex. Excellent convergence would focus storm development and encourage rapid development by early afternoon. Unidirectional shear though was the limitation factor to force storms to become linear. Destination the region between Forbes and West Wyalong . High dew points were widespread across the target region.
Leaving Coonabarabran by 9am allowed ample time to be in contention with developing storms in the target area. Beyond Parkes, storms were already developing in a line to the southwest. Rather than swelter in the sultry conditions, it seemed a better alternative was to hide under a storm's anvil.
Finally south of Forbes, I turned in the direction of Grenfell where the newest and largest cells were developing. Almost in a favourable chaseable position, I noted two columns of dust. "Just tractors", I thought. But these were so natural ­ tightly confined. I was almost in disbelief as the eastern-most column was reaching reasonable heights. Rounding a bend, there was no doubt "Dust devil". I had to stop. Perhaps a little closer. It may not last. This dust devil had lasted several minutes and the weaker one had diminished.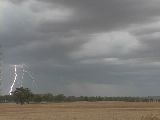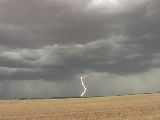 Finally I slammed the brakes near a gate, quickly got out and began filming. The tight rotation of this column churning the country dust was incredible ­ the multi-vorticies, and the storm in the background. Bonus action before the storm. Just as soon as it had appeared, it vanished as it ventured over vegetation.
The storms were initially linear and high based ­ its lightning activity scarce and erratic. It was a waiting game with filming timelapse a good option. Gradually the storm line neared and outflow began to invade the pre- storm environment. It was interesting watching the battle between the warm moist northwesterly air and cooler southwesterly outflow. A brief gustnado formed in the same field I observed the dust devil. But it was the rain- free base that began to evolve that rendered my attention. As if to script, a barrage of lightning pierced the barren plains below this rain- free base ­ the awesome show captured on video. This incredible lightning display made my trip. Time lapse clearly illustrates the cool outflow creating a lowered stratus layer gradually hiding the major cell's features.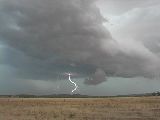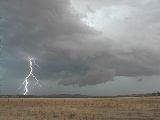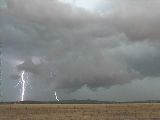 Dust suddenly plumed as outflow claimed new territory ­ the storm so outflow dominant that there was little chance for recovery towards a more organised system. Outflow extended even a few kilometers from the main line creating an environment for the development of numerous cells rather than organised discrete more dominant cells.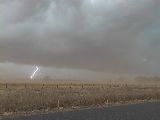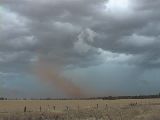 Based on the expected region of more favourable windshear profile, the main rain free base observed earlier belonged to one of a couple of major discrete cells that drifted towards the Illawarra Coast creating damage along its path.
Click here for all stills listed online of this event.
If you (or someone you know) have any photographs or video of this event or any other type of severe storm such as damage, the storm structure itself or hail, please feel free to contact Jimmy Deguara. Your contributions are very welcome. Please any photographs or video footage are important so don't discount anything.
Phone: 0408 020468 (International 408 020468)

---