---
All pictures from the 21st Nov 2003 are on this page
Two things were in the plans for this day, chase storms but also meet up with David Croan, Darren Cooper and David Hatfield. Checking models seemed to indicate that several areas would fire across central New South Wales. After some deliberation, we targeted the region near West Wyalong where favourable wind shear was to develop.
Heading north of Wagga Wagga though, we noted storms were already ongoing to our west. Just south of Temora, we passed through a localised development area of cumulus development but also noted the storms to the west in a whole band. This storm band was heading generally southeast.
On the radar and lightning tracker, it was going ballistic! I took an interest to an isolated cell moving slightly left of the steering wind shear. It also had a red core near Leeton and the region just north of Narrandera were devastated by a hailstorm at this time. But what we had in front of us seemed embedded rubbish. But then like a curtain opening at a stage show, what came into view was an impressive green sculptured storm. "Hey look what we have here!", I yelled pointing at the green beast.
2nd this was a large storm too. What encouraged me was there was increasing inflow from a northeaster feeding ample moisture into the central part of the storm. We made a quick dash on the local roads to get closer but with little luck in finding the good viewing points. We ended up going straight back to where we had started. The northern part of other developing storms had merged into a squall line complex. I began to realise though that the region to the southwest seemed be an indentation in the line and possible embedded supercell (timelapse reveals clockwise rotation of the whole base). There was an inflow tail feeding into this circular wall cloud.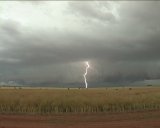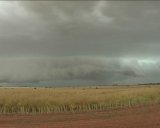 Lightning strobed repeatedly in several sections of the storm with some strikes lasting up to 2 seconds. This storm had tapped a deep atmosphere. The storms may have been moving at a reasonable pace but we had observed them for some time. But with the main band and a serious base to the north and no road options east beyond Temora, it was time to head north.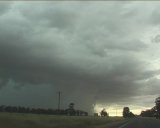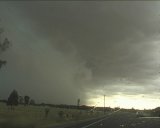 With Temora only 10 kilometres away, a menacing thick dark rain core revealed itself with the familiar green tinge. This was a scene from hell. The contrast and pure density of this core was a clear warning "Do not enter". It was a race against the clock. We had to make to Temora and head east now that wasn't too much to ask for. But what would you expect; the road turned northwest toward the township. Lightning strobed and hit a tree in the field. Lightning was flashing in the core. The microburst had just unleashed onto the township. We made it to the main intersection, rounded the round-a-bout and headed on the east road option. Strong winds and rain were accompanied by the squall. Lightning, captured on video, pulsed ahead. But the scene we were about to face was one of chaos. Several trees had already been toppled over the road.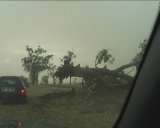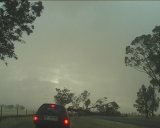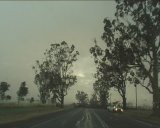 This was dangerous chasing. I drove over the side of the road on the northern side of the trees.
Another four trees lay over the road. We continued on the grass. Finally some clear. Nick was somewhere behind and in contact. But there was little time for communication - this was dangerous. A haze appeared further down in the fields. More debri and branches on the road. Suddenly we were blasted by ferocious winds and horizontal precipitation. Trees were swaying violently. Debri in the form of leaves and twigs, some small branches flew past - visibility almost zero. More branches to swerve around. Tiny hail sand blasted our vehicle. Stopping now was basically too late and dangerous.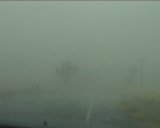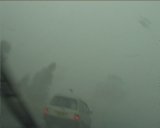 We cautiously maneuvered further. The whole scene was eerie and seemed like a sound barrier within the roar of the winds and rain. A quick call from Nick - he would catch up later (what Nick did not tell us is that within the 100 metre spacing of our vehicle a large branch had fallen onto the road in between us!!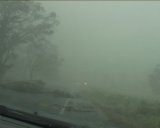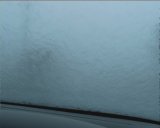 This shut his chase for a little while).
It was a wild ride and one I would never forget. Seldom have I experienced so much surface water on the road so quickly to cause such dangerous driving conditions. By the time we entered the second core, we were aqua-planing. At times the rain was heavy that visibility was reduced significantly! Remaining ahead of the storm was not a problem but the gust front progressed at a rapid pace. After several slightly weaker cores but still strong winds and violent rain, we were out.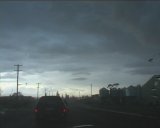 Rarely is it possible to beat such a fast moving storm front once it overtakes. It did take us a distance of 50 kilometres to exit the storm front. The structure of the shelf cloud had become rather ragged so a northern route was taken. Finally, we made it to Cowra allowing the storm line to pass.
A message from Matt Piper and Jeff Brislane indicated a storm had developed just to the west of West Wyalong. This was the target region finally breaking the cap. Waiting for David and crew took a little while to join us our next destination the region north of West Wyalong.
By the time we were half way across and just pass Grenfell, the anvil came into view. It was obvious the storm was not moving east or east southeast but more east northeast. Missing the opportunity to head north to Forbes, we tried another minor road. The crisp side anvil indicated a very large menacing storm most likely a supercell based on the structure. There seemed to be inflow streaming from the east-northeast into the main updraft region. Flashes of lightning began to appear as we neared. Though it was the wrong turn offs made that put us out of contention. Too much of a westerly component in our route. The storm also seemed to split off a weaker component that gusted out and slowed us down. We had one last chance to get into line with the menacing storm to the north but the chasers were generally tired and wanted to call it quits. Phone call from Matt and Jeff, alerted us that it was still going though our move north was fruitless. We enjoyed a night out at Dubbo teaming up with Jeff and Matt.
---