---
Introduction
Our 2003 US trip was something both David Croan and I looked forward to but unfortunately, timing was not the best. The first week and half of May produced countless tornadoes and 2 tornado outbreaks. Then the aussies arrived - good bye tornadoes!
Nevertheless, this trip provided its own surprises that only Tornado Alley can offer. I hope you can feel a part of the journey as David Croan and I saw it. For those who prefer articles in brief, David has done an excellent job in providing a picture essay of the events on David Croan's site.
15 May 2003 Texas panhandle High Risk supercell outbreak
All pictures from the 15th May 2003 are on this page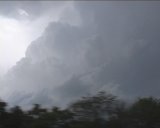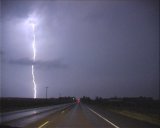 David Croan and I had waited for a chance like this from the time we arrived. Unfortunately we had missed the first week of outbreaks when so many tornadoes were sited. We were located in Childress that morning when we were alerted that a High Risk had been issued for the panhandle. For us, this vigorous extreme wind shear profile made for an extremely potent situation. Tornadoes were almost a certainty and this was to be the third outbreak of severe tornadic storms. Any tornadoes that did develop had the potential of being violent. The forecast of long tracked supercells and tornadoes was realistic. Winds were already blowing moist air near Childress and it was being advected into the panhandle. The decider on this day was the strong cap which was certain to break but when? A sharp upper trough was anticipated to pass over the region allowing for rapid destabilisation and obviously explosive development of supercells.
With much time before initiation, we headed further northwest towards our target region of Dumas. First stop Amarillo. And what a costly mistake - twenty minute internet limit. In the rush, we did see the first storms firing further northwest and the pattern would have it that the storms would develop further south. The lack of time on the internet threw us, so we headed to the National Weather Service Office in Amarillo to observe the latest satellite picture. Being so busy, rather than let us in, the meteorologist told us to ignore the storm to the north as better storms were on standby to explode just southwest of Amarillo. (The indecision and trust in this statement practically killed our chase this day).
We headed southwest to Canyon and waited here. It didn't seem right so we headed back to the north-western side of Amarillo. Here we watched an anvil that did not look impressive amongst the haze. We heard the severe warning get upgraded to a tornado warning. By now it was too late – we had to hope for something local to develop. Cumulus were struggling to break the cap and it seems the drier air was pushing through. Large tornadoes were being reported further north.
We headed southeast in the direction of Childress as cumulus had broken the cap. So we thought – it collapsed. Southeasterlies were racing towards those storms to the north but our region would not budge. Time was getting critical in terms of daylight. We were approaching another cluster of development with showers falling from it. It looked garbage.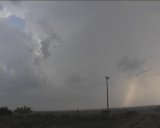 It was near Mclean when we past under it and believe it or not, something weird was happening. We stopped and looked. Amazingly this storm had begun to rapidly organise with inflow streaming in. The rate of development was incredible and as it drifted north initially, the real structure was revealed. Even in such its mature stage, the storm was rotating tilting at 45 degrees but still rising with ever pulse. The wind shear and high CAPE in this area were being utilised. This was an amzing miracle that in some sense saved the day. We knew that this storm was going to go all the way. It was not long before the storm became tornado warned as we paralleled the storm. It had a cow catcher formation and visibly one could see the inflow feeding in rapidly. Precipitation began to drop from the anvil. We found out the hard way how large those hailstones were but luckily escaped with a few thumps. Lightning from the anvil pierced the earth. The formation was so rapid David's updates were changing by the minute, I used what little opportunity I had to enjoy this developing beast. We eventually had moved north to I-40 and east to Clinton. The road network was not ideal for this storm. We tracked north watching as lightning flashes illuminated its structure. We weren't taking any chances so finally at Wheeler we turned east. Low cloud made viewing difficult - southeast winds buffeting our vehicle. Tornado warnings were aired for this storm and yet another storm following its path. This other storm was headed for Clinton and was very large. Lightning activity was very active. After some movement around and nearing the wall cloud region David noted that it was starting to bow out. It was time to call it a night. The squall line passed through the region near Weatherford with very powerful winds.
We should have followed our own advice and target. Had we gone to Dumas, we would certainly have been in position for the tornadic storm that went through Dalhart.
19 May 2003 Southern Oklahoma tornado warned supercell
All pictures from the 19th May 2003 are on this page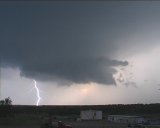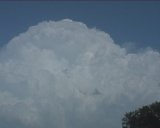 This was a surprise event in that there was a triple point anticipated in southwestern Oklahoma coinciding with a high CAPE environment and moderate westerly flow aloft providing some hope.
David and I headed for southwest Oklahoma and stopped when we intercepted the high dew point air. A cumulus field existed to the southwest into Texas but it was the cumulus struggling to the southeast just south of Lawton that had us interested. Repositioning just west of this field we experienced southwesterly winds. One cumulus began to bulge upwards and although it struggled it went all the way. It was very powerful and a severe warning was issued. We headed east only to head back north along the toll to Lawton. And I must say I was overawed as the tower powered overhead – you could see the updraft from base all the way to the top including part of the overshooting bulge. Exiting the tollway near Lawton we could see two cells the most powerful on the south side. The storms had split!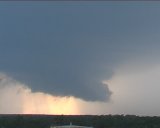 The warnings seemed to be focused on the northern cell as the southern cell seemed to have maintained its precipitation. The road network was not the most ideal and we found ourselves on a frustrating detour around the northern cell and wanting to get to the southern cell. Finally we intercepted this beast east of Loco near Healdton. And what a wall cloud! We stopped for a timelapse opportunity. Occasional lightning bolts pulsed from the region near and through the wall cloud. It was an awesome feeling – tornado warning already issued on this storm! You could see visible rotation too and excellent upmotion! Yes supercells may have been on the wish list but to have it with tornado possibility was something else!!
Unfortunately, although it was still rotating, outflow began to descend interrupting the low level organisation. After about 20 minutes the storm was in a declining stage. We headed back home towards Dallas.
3 June 2003 Sculptured HP supercell near Levelland West Texas
All pictures from the 3rd June 2003 are on this page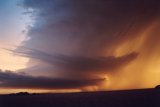 The target on this day was the expected triple point region NW of Lubbock. Though once near Earth (yes that is the town's name) we headed south for a convective tower that began to develop rapidly. This showed signs of organisation with some more substantial multicells and a HP supercell embedded in the complex near Lubbock. It was disappointing that this cell ideally placed gradually began to weaken. The whole complex had become a mess though we did see hail drifts probably dumped by the severe HP supercell.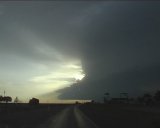 Not liking our chances of isolated activity, we made our way west of Post. Then word came in that a beautiful rotating storm had developed northwest of our region near Levelland and was heading south. The triple point had worked its magic!! Heading north, out of the haze and bright sunshine appeared an anvil, then outlined structure, followed by the base and wall cloud. The tornado and base ball sized hail warnings on the NOAA radio just added to the whole atmosphere - fasten the seat belts - the chase was on!
And what a storm!! It was a dryline triple point supercell - one magnificent, rotating, sculptured beast - beavertail and multiple inflow bands streaming in adding to the spectacle. There was so much happening it was difficult to comprehend. The contrast sensational and could only improve as we drew closer. The disappointments of a couple of weeks of insignificant action became a thing of the past. This type of structure was something you found in text-books. But I was seeing it live! I could not hold out my excitement photographing and filming at any opportunity! And that inflow! Seriously, you had to hang on to your tripod not only to keep it steady, but for fear that it would fall over! With a treeless landscape, you could see the interaction of the outflow and inflow below the expansive, rain free base. Brief weak tornadoes had already been sited.
Stopping to the west of Levelland provided sufficient photographic and timelapse opportunities. We paralleled this storm south making several stops. Base ball hail and tornado warnings were issued with this storm through til nightfall. The transformation of colours with the setting sun was simply awesome making for spectacular photography! Lightning became increasingly common from the vault region with flickering cloud to cloud lightning exposing its magnificent structure in the fading light.
Nature had turned on a show. The Great Plains had become alive once more. Reflecting on the day's action little did I know what was in store the next day!
---
Chase in Tornado Alley 2003 - Special Report: Part 2
---