---
Video time lapse of LP supercell clearly showing rotation and motion. Truly awesome - well worth downloading. [2.39mb WMV]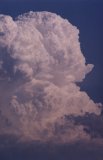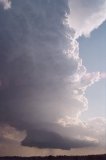 This storm chase goes down as one of the most spectacular chases in the Sydney metropolitan area. I have not from memory chased such an extensive distance in the Sydney region. Three storms in an afternoon: one of them definite LP (low precipitation) supercell and another probable LP supercell was a certainly phenomenal effort. The first cell was also interesting and perhaps it would have been ideal had I remained ahead of this storm.
The models had pointed out a reasonable wind shear profile but good turning of winds from lower levels upwards. There was to be deep moisture profile and dry air aloft making conditions favourable for severe storms particularly conducive to hail. Dew points on the day were higher than normal but nothing out of the ordinary for February (the most humid month).
It was after work 2:30pm finish, though I was prepared for the chase. No updates required, I headed to the M4 Motorway and west to Penrith. The storms looked unimpressive but I chose one particular cell on the northern side of a merged region of storms since it was the cell that would most likely break the cap. There was heavy precipitation to the west of that from another mature cell. Of course, you could see the cells in the vicinity of the Putty district had begun to strengthen.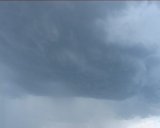 There was really no time to stop. By the time I got to Penrith the weak looking disorganised storms were taking shape so I positioned to the north heading towards Agnes Banks. A few bolts and large drops with some localised rain was the beginning of the intensification process. Ohhh and I saw the anvil through a gap whilst passing the Olympic lakes site near Penrith confirming this intensification process. Certainly not powerful but encouraging.