---
As the unsettled weather continued, it was obvious from sunrise that we were in for action in Sydney once again. The lifted index values continued to be favourable for possible severe weather. There was an abundance of moisture and the wind was expected to remain north to northeast.

I monitored the clouds as they developed throughout the morning. I had things to do and wanted the action to save itself for the afternoon period. But the more I hoped, the more cumulus developed into storms along the ranges. This day was different in that the storms showed signs of drifting due south or southeast, consistent with the models.

A major cell began to develop which was not photogenic through the haze but I know it was pure ignorance that I simply did not take the opportunity and head off to Richmond where I was within striking distance. After all, I was busy writing other reports delayed by previous days of action. I received a phone call around just after midday from James Harris. We discussed the situation and I told him that storms were already in progress. I also told him I was busy, and would head out there soon. But after some self light-arm twisting and such an adrenalin rush, I just said "Bugger it. I'm going." We were to meet at Richmond.

I got there around 2pm and immediately took photographs of some of the cells. The earlier cell had progressed further south with more storms developing. In fact I lost count as to how many storms I could see.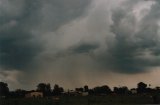 When James arrived, we entered the drive into the Western Sydney University Richmond Campus. We took a few shots and video. Then James suggested he was out of film. After some problems with Fuji colour, I told him he could risk using the spares I had but I wouldn't recommend it. In fact, he could get me some Kodak 100 ASA. Well, a cell had begun to develop northwest of Richmond and whilst he was away, I counted at least 4 severe bolts from this storm.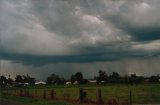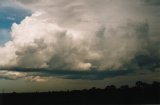 After a little while he came back. His face seemed a little confused.
"You wouldn't believe what happened", he said.
"Err. You observed the lightning bolts?"
"I had to get money out of the teller-machine. So I put the card in and fed in the codes - and bang. There was a black out!!"
The machine had swallowed his card!!! I couldn't help laughing. "Oh well. You will have to use Fuji colour now. It produces great photos."
Anyway, we got back into business. I could see the cells making their way southeast but more cells had encompassed us. Our decision was to head through the storm to experience some of the heavy rain and possible light hail.
On the way to Castlereagh, we passed through some torrential rain and areas where rain was still developing - updraught areas. We observed a lightning bolt strike a few hundred metres down the road and an immediate crackling thunder. Out of the storm, we could see cells to the southeast. My decision was to catch those but then as we headed around the corner, I decided we should head east instead.
Pot luck!!! We got into a clearing after passing through Werrington and then on to St Marys. (I pretended to be a taxi driver - as if I knew where exactly we were heading). It was now about 3:45pm.
We observed the flanking line of a cell develop rapidly sending some impressive bolts. However, the storm that had been mentioned by Halden Boyd (the cell was red on the radar) began to reveal itself. This storm was massive compared to others. We watched in awe wondering what we should do. Both Matt Smith and Nick Moir rang to report an impressive lowering. We then decided that since it was heading southeast, we would make one last dash to get closer. First stop - Rooty Hill!!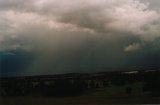 The more we approached, the more impressive the base structure. And not to mention the lightning bolts. We ran up the hill and took photos and video footage of the impressive green tinged mass. Then, perhaps within 15 minutes on the hill, it began to rain!!! It was causing concern so we had to shelter in the car.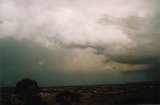 The best thing I thought was to head further southeast towards Horsley Park. At least at that lookout, you could remain in the car if need be and still take video footage and photographs.
Initially, a few impressive bolts gave us hope of a possible lightning show, But the storm had lost intensity with most of the activity heading southeast.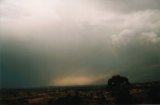 More thunderstorms had developed to the west and although moving southeast also, the whole band was indicating a slow movement towards us. Unfortunately there was no lightning show that night. So we parted company at dusk.
This was the second significant hailstorm since the 22nd September event. It was remarkable how this storm could remain so active and build to such a size with such widespread activity. I suppose there was nothing to the east to interfere with the updraught. It was a satisfying day.
Thanks to Halden Boyd for his up to date radar reports.
Satellite Images
These images from Bureau of Meteorology
GMS-5 Infrared animation 99100100z - 99100113z (10am to 11pm 01/10/99 local) [763Kb]
MSL Analysis Charts
This image obtained from Bureau of Meteorology.
1pm local 1st October 1999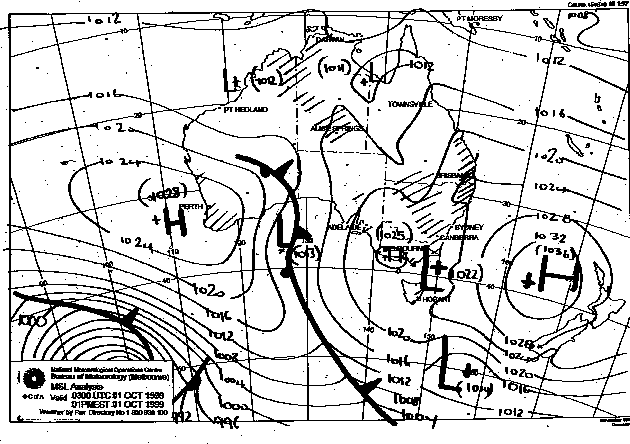 ---