---
The morning was cloudy and humid. However, I expected this stratocumulus cloud to dissipate and clear very quickly. This clearing effect occurred around mid-morning. The morning prognosis was for thunderstorms later but the conditions from the previous days indicated there would be more than just thunderstorms. (Just a few days earlier, it had been dry with relative humidities of around 25%. Late Saturday saw stratus racing in from the east indicating a change in the moisture conditions around Sydney. Cirrostratus during late Sunday indicated that a trough was developing).

The clearing of the low cloud normally allows for observation of the developing cumulus over the mountains. However, I was cursing the fact that I was located in an area where you could barely see the sky let alone the mountains!! Around midday, I received a message from Michael that the forecast had been upgraded to a severe storm advice for hail including the Sydney area. We immediately made arrangements for a storm chase as soon as I could get out of school.

At 3:07 p.m. I picked up Michael from Mt Druitt Station, drove to his house to get his photographic equipment, and headed straight for Rooty Hill. A storm had developed around 1 hour earlier near Wisemens Ferry and was already affecting the Gosford region. This was the centre of attention for the next hour or so since very little was happening to our west. One interesting feature of the Gosford storm was lowered clouds at the rear end although it was difficult to make out what we were actually seeing. This storm gradually became hidden amongst the anvils of storms approaching from the rear, in particular a larger storm. We took both video and photos of the interesting features of this storm.

A storm had developed to the west, but looked weak and disappointing. The glare of the sun made it difficult to observe any structures. With the situation in the west showing no signs of continued development and the fact that the sun was blinding our view, we decided to head back to Michael's house to recover from our sunburnt experience.

But, as is the case with the weather, the fact that we were moving put us in a shadow created by the anvil of this storm and things were looking different. "Let's head out towards Richmond'' said Michael almost in desperation. We bought a thick shake from McDonalds, and then headed towards Richmond. This was to be the turning point of the afternoon.

As we headed along Richmond Road just past the Riverstone turnoff, I began to notice structure in the storm indicative of a hailstorm structure and prompted Michael about the good possibility of hail. But since you are always on the move, the features of the storm observed change and from just outside the Hawkesbury Campus of the University of Western Sydney, the storm did not look as spectacular.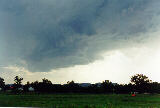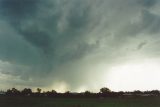 A lowered base develops near Richmond, NSW 5:30 pm.
We took several photos as well as video of the rapid development of the precipitation cascade. Michael indicated that we should head towards Penrith because it seemed to be making progress in that direction. After observing the motions of the various cloud layers and the fact that the development was occurring on the southwestern portion of the storm, I decided we should head towards Penrith. But which road should we take? There were trees along both roads to Penrith. Then it occurred to me like light shining through a tunnel. I was almost going to make the SAME MISTAKE as I had in the supercell storm chase discussed in the previous issue. You must head forwards and gradually towards the storm rather than straight towards the storm. I indicated this to Michael and we both agreed to head back to the Rooty Hill region.
Back at the Marsden Park area (Riverstone turnoff), we encountered isolated but very large drops of rain. And this seemed to be falling out of the anvil although passing through this band revealed that a dense precipitation cascade was developing. However, the main section of precipitation was still to our southwest. We had easily out run the storm and arrived at Rooty Hill with large drops still falling. We took further video and photos as best we could with umbrella protection. A localised lowered base had developed ahead of the precipitation cascade. Since the storm direction was to our right, the advance of the storm was relatively slow but eventually bearing down on us. With a gradual increase in rain, I decided to head towards Horsley Park to observe and get footage of the next development area in the southwestern portion of the storm. Another lowered base had developed below this section of the storm and showed signs of circulation. At this time it was 6:10 p.m.
Heavy rain and hail is now falling between Penrith and Plumpton. View from Rooty Hill at 6.05pm facing WSW.
As we crossed the Great Western Highway along Wallgrove Road, the road was dry. The cloud base was still showing signs of circulation but because we were moving we could not tell if the cloud was rotating, the best indication of a wall cloud. Under these circumstances, you should never stop but for me it was inevitable: car problems. I had lost acceleration. I stopped along the side of the road and inspected what I could do. I was sure that the accelerator cable had disconnected from the linkage but I couldn't get to it. Noticing that the car was revved, I then decided that I could make it to a friends place where we could safely get the problem fixed. We had barely arrived and the rain had developed and increased. Within five minutes, I heard a thump on the roof of the house and then observed 3-4 cm hail beginning to fall. Occasionally, larger thumps indicated larger stones of up to 5 cm. The hail fell profusely for around 7 to 8 minutes with a brief period where smaller hail of around 2-3 cm fell. The last part of the storm seemed to produce the most hail as well as cause the most damage. The hail made a constant thumping sound on my car. It was a wonder that the windows on the car didn't break. Since my car is a 74 model, the metal was sufficiently thick to take pounding of most of the hailstones. However, on close examination, we observed isolated shallow dents. The hail had ceased quicker than it had begun. The storm moved away towards the east.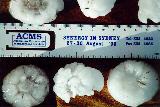 Hailstones gathered at Horsley Park. Some melting had occurred but the stones were still 4 to 5 cm diameter.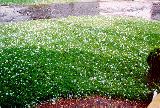 Large hailstones lying on grass immediately after the storm.
It was amazing to inspect the crop damage. In the 10 minute fury, the hailstones had destroyed a whole tomato crop and damaged a crop of cabbage. Other crops would be able to recover. Skylights had also been smashed in the area. As we headed back home, the road was littered with leaves and twigs from gum trees on the side of the road. However, as we headed down Wallgrove Road, it seemed that we had been on the edge of a hail swathe of the storm. No more stripped leaves were observed beyond Horsley Park. The hail swathe was reported to have affected Emu Plains through to Bossley Park. At Emu Plains, however, hailstones from 5-8 cm were reported.
Reports from the western parts of Horsley Park indicate that most of the hail was small with large hail occurring during the last minute of the storm. We experienced a mixture of 3-5cm hail earlier followed by 2-3 cm hail and then finally the burst of hail measuring at least 5 cm and possibly larger. A few kilometres away at Bossley Park, there were indications of hail larger than 6 cm (orange-sized hail) that smashed windows and mounds of hail against walls and fences. Damage to cars was common to all areas. All these areas received hail from the same section of the storm, the circulatory cloud we had decided to chase.
Residents in Horsley Park suggested that they had never experienced hail of that size in the 25 years that they have lived in the area.
Three radar images of the storm
Storm Spotter Reports
Hunter Events:
15:50 05/02/96 MANGROVE MT HUN 60kt gust
15:50 05/02/96 NARARA HUN 2.8cm hail, 50kt gust. Trees down at Ourimbah - 6km to the
north. Golf ball sized hail at Kariong, Tuggerah, Ourimbah, West Gosford and Wyong. Some
flash flooding.
16:00 05/02/96 FOUNTAINDALE HUN 2.5cm hail, 24mm in 30mins. Hail damaged garden and tin
roof
16:30 05/02/96 NORAVILLE HUN 2cm hail, 27mm in 30mins
16:55 05/02/96 WILLIAMTOWN HUN 4.2cm hail
17:30 05/02/96 STOCKTON HUN 6cm hail, 40kt gust, 44.6mm in 2hrs
05/02/96 CLARENCTOWN HUN 34.6mm in 1 hr
Lower Blue Mountains & Metropolitan Event:
17:40 05/02/96 SPRINGWOOD CT 4cm hail, 15mm in 10 mins. Hail damage to car. Spotter "hit
on head by hail". Spotter also reported that the storm formed in this area.
17:55 05/02/96 VALLEY HEIGHTS CT 2.2cm hail, 8mm in 8mins. Some damage to car
18:00 05/02/96 FAULCONBRIDGE CT 3cm hail. Hail damaged cars and stripped trees. Some
flash flooding.
05/02/96 EMU PLAINS MET 5-8cm hail
18:15 05/02/96 OAKHURST MET 2cm hail. Hail to 2cm also observed at Mt Druitt and St Marys
18:30 05/02/96 HORSLEY PARK MET 5cm hail, 10mm in 10 mins. Hail measured. Severe damage
to local crops, damage to skylights and panel damage to cars. Hail the size of oranges
(7-8cm) fell at Bossley Park (2km to the SE) causing severe damage to vehicles and gardens.
Other:
13:30 05/02/96 CUTTABRI (near PILLIGA) NWP 129mm in 1 hr, 185mm in 3hrs
19:00 05/02/96 INVERELL NT (10km south of) 4.2cm hail
Synoptic Charts
Synoptic Charts provided by the Bureau of Meteorology
MSL Analysis 7 am Eastern Standard Time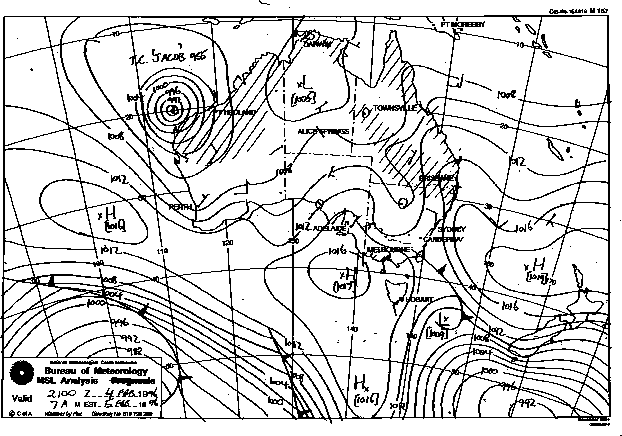 MSL Analysis 1 pm Eastern Standard Time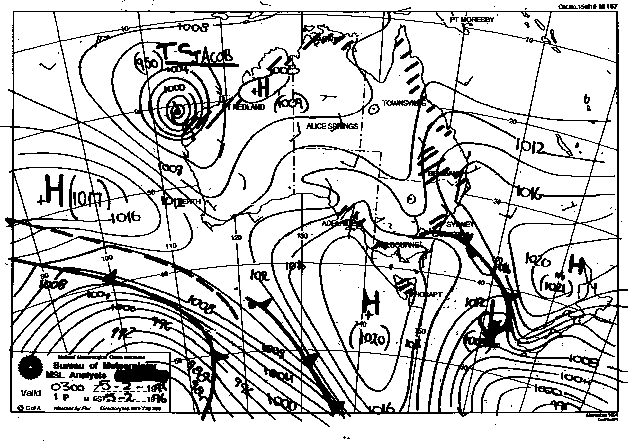 MSL Analysis 4 pm Eastern Standard Time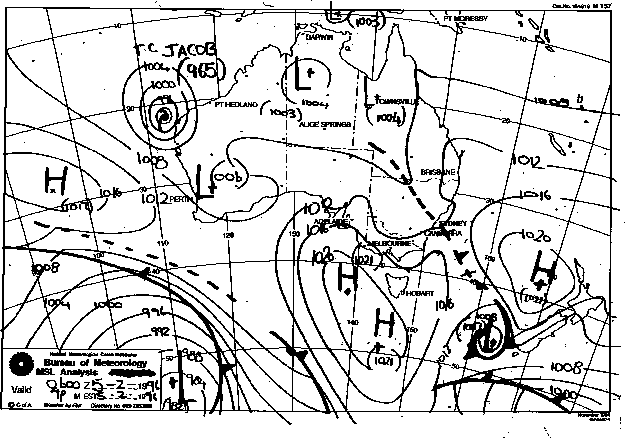 ---