---
Wednesday 7th December 2005 - A solid storm day that surprised with a couple of supercellular presents!
Looking at the models didn't suggest to us that it was going to be an awesome day - 500 temps of -5/-6 isn't very exciting at all. However all the other 'storm numbers' were quite sound, even including some decent wind shear, with 15-20kt NW @ 850, 20-25kt WNW @ 700, 30-40kt W @ 500 and a reasonable jet of 50-70 knots.
The timing of work for Bryan and Mike didn't work out well with another day's chasing for them, so we said our farewells and they headed back to the coast, while Anthony and I drove to Toowoomba with the option of going to Gundy for the North West Slopes, or Warwick for the Northern Tablelands.
Another funny decision (and very important as we later discovered) occurred at Toowoomba: ready to go with lunch I was asked "where do you think we should go? I honestly don't know where I would go!" I was really split between the two areas myself, but I had a bit of a gut feeling for the NT's so off to Warwick we went! We crossed the border in quick time as we knew storm development would start in a few hours and we wanted to get to the Glen Innes/Inverell area in time for the action.
On our approach to Glen Innes we realised we left our timing about as late as possible, as a couple of isolated storms had developed on the slopes, and were heading towards our target area! There looked to be good low level moisture with cumulus all over the place and a couple of anvils covering a large portion of the sky! After quick refuel in preparation for the rest of the afternoon we continued down the New England Hwy as there were two storms looking to cross the highway. The first was going to cross about 20km S of Glen Innes and the more southern one down towards Guyra.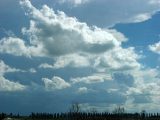 After finding a good view just to the east of the quaint celtic town of Glencoe, we sat and watched the wide gustfront of the southern storm on the horizon, and the strong anvil of the storm directly approaching us.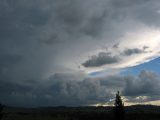 Then a key change for the afternoon occurred - the southern storm died fairly swiftly and turned to rain, and what was the gustfront 10 minutes earlier had become an inflow band for the storm to our west! On radar the storm was now looking much stronger on its N flank in recent images, and began to move more NE than due E.
And we also made a key decision, remembering the mistake I made the other day at Calliope when we were left on the wrong side of the storm, I was in equal agreeance with Anthony that we needed to get on the N side of the storm, and fast!
We were also a little worried that it would turn NE enough to straight over Glen Innes, and if it was a supercell like we were wondering, that would not be good news for the town! So racing through the streets 10 minutes later, well…however much racing you can do in 50 zones - we finally got to the open section of the Gwydir Hwy and roared out of town to get to a good vantage point. Occasional glimpses of the structure on this side of the storm were looking very promising!
All of a sudden we burst out onto a wide paddock with a great view - and what an awesome view it was! It looked to me like we caught the end of a large mesocyclone starting to lose its structure with a seriously chunky inflow band (the one we saw 20 minutes earlier) pouring straight into it! A number of expletives were issued by my chase partner which I think was a good gauge of how good things looked!
I jumped the fence and ventured straight into the paddock to get some photos - where I captured some traditional TDU photos with cows in them! Pity they weren't enjoying the show as much as I was, with just a quick glance at me and back to whatever they were doing! The storm was swiftly gusting out at this point, and we kept taking photos until we needed to retreat and drive to the eastern side of town.
Since the storm was gusting out and weakening, it didn't keep on its NE course long enough to get too close to Glen Innes - lucky for the people! While still taking a few photos we also monitored closely another storm following behind the current storm, which was moving NE as well, but positioned about 20km north of the current storm. The most interesting thing about this storm is that it looked stronger on radar than the now decaying supercell in front of us had ever looked! (and this second storm was further away from the radar too) So we decided to let the storm in front of us go, and drive back through town again and jump on the road to Emmaville that goes NW of Glen Innes to intercept this new intriguing storm!
Viewing opportunities were few and far between, and we really had to get going to get in front of this second storm, so there were no stops for photos and only some videoing while in the car.
It was heading in the general direction of Deepwater so we took a dirt road short cut that misses Emmaville and luckily enough we came across a wide open area where we could actually see the storm properly. It had weakened a fair bit from its supercell-like signature on radar and glimpses of it while driving, but still was quite photogenic! There was also a nice view of the sun beaming through the clouds and reflecting off a small pond.
We took the road that loops from Emmaville back to Deepwater that heads east, and rejoined the New England where we paused again for a few minutes. The storm was still fairly strong, and while being really outflow dominated with rain beginning everywhere, it felt like it was nearly hailing at one point! We kept heading north towards Tenterfield. After about 10 minutes the intensity picked up again and the storm became more organised, and started to spit out some very nice CG lightning!
We also paused for 5 minutes at the only decent view we could get on the approach to Tenterfield and I grabbed some photos:
The storm was now likely to pass Tenterfield to the south, and continue on its course to the NE and it was now a line of storms all producing a long but fragmented gustfront. We drove to the east of Tenterfield for some more photos, and I saw this twisting little updraft just out of town: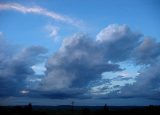 I got this photo in our attempts to get some daytime CG's just before things got too dark and the storm died completely: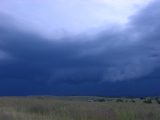 We finished up for the evening in Tenterfield - with the possibility of catching up with one of our favourite TDU partners, Tony Middleton, the next morning!
Thursday 8th December 2005 - Squall line forms on the ranges, and moves through SE QLD with a massive shelf cloud!
After the regular morning investigation of the models, we reckoned that the area we were in and further north towards Toowoomba looked good for the afternoon. In fact there was already storms in the Moree area which were moving slowly but steadily towards our area! All of a sudden we were interrupted by someone bursting through the door - it was that bugger Tony!
After a lazy morning catching up with Tony, and viewing a lot of his ace photography, time passed quickly and before we knew it, it was time to vacate the hotel and get some lunch (that's what lots of fantastic photos does for you!). By now the line of storms were less than an hour away, while still being comprised of isolated storms, which was a good sign.
The anvils became more and more visible, and the sky very quickly changed from scattered unexciting cumulus, to some very energetic congesting cumulus everywhere! We quickly got in the cars and moved swiftly north over the border and set up just west of Stanthorpe at a place Anthony and I stopped at during TDU 2004.
By the time we arrived there was a lot less energy in the Cu, but a lot more energy in the storm approaching as it really was starting to dominate the environment! At this point the isolated storms merged into a rough line, with a very strong isolated storm out west near Texas at one point, though it eventually came a part of the system. As the gustfront approached we grabbed a few pics of it and then kept moving north.
After driving through Warwick, we got ourselves a view near the intersection of the Cunningham Hwy, to give us the option of going north or north-east. It was here that the now forming squall line began to move into top gear. It increased in depth on radar and its echoes got stronger, visually we could see these strengthening signs too. There was a strong showing of mammatus, and the edge of the anvil now casting a shadow over the Brisbane valley was very solid!
We decided to keep going north and keep on the northern edge as much as possible as it should give the best photo opportunities, as well as keep us out of harms way! We paused near Allora for a quick photo, and while the gustfront still didn't look incredibly strong, it was virtually stretching from the north to south horizon! We also observed the outflow picking up a fair bit of dust off the ground. Radar was also suggesting that the squall line was moving a bit faster and we really needed to get going if it wasn't going to beat us to Toowoomba.
It was at this point that things got interesting. The problem was that Toowoomba was north, and to stay in front of it we really needed to head NE (I forget why we didn't take the back road to Gatton - possibly because it goes down the escarpment and we needed to go quickly). So I got out the video camera and filmed the approaching gustfront complete with raised dust, saying on camera "wow, how cool is that" etc etc. Eventually the guster crossed the road, and the dust along with it. I'll let the video clip below help explain the rest - it is very much worth the download! (there is a bit of swearing too so apologies for that in advance!)
The 'duster guster' with 120km/h winds [1.21 mins - 5.65mb WMV]
Things changed very quickly as soon as the first areas of dust came over us, we were buffeted with winds easily above 80km/h in the early stages, which then pushed solidly over 100km/h into the 120km/h region with debris flying around everywhere in the stronger bursts (not gusts!) every 20-30 seconds! The pair of us were a little worried during each of the stronger bursts of wind and debris, and it was a particularly eerie feeling as areas of thicker dust moved over, was almost claustrophobic in a way!
After a couple of minutes of this incredible dust storm, things calmed down a bit and most of the dust disappeared, but no more debris flying around or 120km/h winds! We made a quick call to the BoM storm spotters number and told them of our experience - they were very interested to hear our info!
The aim at this point was still to drive through Toowoomba and head east on the Warrego and get back in front of it as we knew there was going to be an incredibly good gustfront on it as it passed through greater Brisbane. So after snailing our way through the streets of Toowoomba, we finally began to catch up with the squall line in the Gatton area. The problem now was that it was raining so heavily, that we couldn't drive fast enough to get back in front of it! So we let our dreams of awesome guster photos go, and admitted that round one went to the squall line.
A northerly drive up the Brisbane Valley Hwy was the new decision, and after Esk we headed NE with the aim of getting to the Sunshine Coast before the squall line did. On the way to Kilcoy we entered the squall line again, this time with some close flangs! While there was a fair amount of heavy rain and a bit of hail, the close lightning definitely kept us entertained. We finally got out in front of the line at Kilcoy, but it nearly caught up with us again as we were now heading due east as opposed to the NE we were heading before. I remember looking at the radar at one point and saying "well according to the radar the leading edge of it is right on top of us…so its probably 500m down the road eating it up!". We then took the shortcut to the Sunshine Coast down another escarpment, but before we went down there we gained some time on the squall line as we were now heading NE again!
Now we really didn't want the squall line to catch up with us on the windy road down the hill - so down the hill we went at a very quick speed. I had to hold onto the laptop rather tightly around the corners! We were very surprised to see a big tow truck keeping up with us down the hill, obviously the locals know how to drive down this twisty road at ridiculous speeds!
We rejoined the Bruce Hwy at Beerwah and now tried to find a good view to try and take some lightning photos, which became very hard to do! We kept driving for a while but tried the exit for the Yandina Ginger Factory, with no luck. Eventually we found a long driveway that allowed us to get a few pics of the now decaying squall line.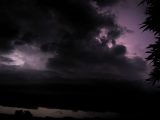 After that we tried another viewing spot that Anthony remembered about 10km SE of Gympie but there was a lot of other cloud around and the lightning was becoming infrequent, so we called it a night in Gympie.
Friday 9th December 2005 - TDU 2005 goes out with a bang in Wide Bay: Mothership-like structure on a menacing storm that crosses Tin Can Bay!
The decaying squall line gave a fair amount of rain to Gympie as well as a few more showers overnight, and we woke up to a clear and very humid final day of TDU! After looking at the models we decided that we really didn't need to go anywhere for a while as Gympie was quite a good target.
However we did take a drive down to Maroochydore as Channel 7 took some interest in our dust storm footage from the previous day. After showing them the footage (and being cornered by a keen reporter - they love interviewing storm chasers!) we noticed that the sky was quickly developing with some very chunky towering cumulus. This was not just development on the ranges, but on the coast right on top of us! So we drove up north again and paused at the ginger factory at Yandina again, this time actually finding a view - its amazing what daylight does for you!
The congestus towers were building up quite solidly, and then precipitating on the Sunshine Coast, and all in all was quite a good start to the day! There also was some development on the ranges getting together as well, and since it looked very quiet down towards Brisbane, we decided to keep going to the north.
We wound our way back towards Gympie to the place we stopped at the night before. Some of the development just to our west had developed into a nice little storm, while the stuff right on the coast was still bubbling away but not getting organised, and the development on the ranges was drying out, some semi-worrying signs for later.
As this storm approached, it developed a strong updraft region and rain curtain, and within a few minutes had developed a nice little wall cloud!
It was getting a little too close for comfort so we drove quickly to Gympie and set ourselves up at one of the local ovals. We knew it was probably going to pass well east of Gympie, but there were no road options out there so this was our closest option. At this point we nearly bailed on the day and headed back to Brisbane, as the storm really began to fall to pieces once it came off the Sunshine Coast hills. The radar was showing some nicer development back down at the Sunshine Coast, and visually the small part of its base/updrafts that we could see looked quite good! But that became quickly obscured and soon died, and the storm in front of us seemed to keep going, but only just, every 10 minutes that we checked the radar and decided to look at it! I also saw a weird swirl of stratocumulus above my head so I took a photo of that as well.
So perhaps it was out of sheer respect to the storm that it was still going, we headed NE and continued the chase, as the storm was now roughly due east of Gympie. The road that heads towards Tin Can Bay is well treed in for the most part, and our occasional glimpses of it and the latest radar suggested that it was healthier than before, but definitely not exciting just yet.
By the time that we neared the turnoff to Rainbow Beach (which gave us more options to the north and east than just driving to the township of Tin Can Bay) the storm was showing signs of strengthening and the updraft and anvil structure was improving. Perhaps it had hit the seabreeze front! So we took the plunge and kept driving, took the right hand turn to Rainbow Beach and looked for a place to view the storm again. We stopped at just about the only place along the 25km road that has a view and noticed that it was really starting to take on some interesting structure, as the photos below will demonstrate. It was developing a wide base and gustfront, and even an inflow-like feature from the northern most updraft into the main core.
Radar was also suggesting that it was definitely not struggling any more, and was also picking up speed and heading straight for Rainbow Beach and Fraser Island. We continued on the last 15km of the road, through fairly thick gum trees which made our chances at views virtually nil. Anthony remembered a spot right up the end of the road past Rainbow Beach that had awesome views across the bay to the south, so we aimed for that.
Picking up the 3pm observations at Rainbow Bay, I yelped when I saw the air temp was of 30 with a dewpoint of 26! It certainly was a very humid day, but if it really was 26 it was going to make for some lovely base features as the storm reached the coast! We all could easily see that the anvil was getting stronger by the minute, and this storm was really kicking into the top gears! I got some *very* occasional glimpses of the base features, and from the sounds I was making when describing the banding-like features that I could see, we all got quite excited by the time we arrived at Rainbow Beach!
We made our way as far north as we could, right up to Hook Point, and got our camera gear out and walked to the beach. I actually ran to the beach while the other two were dawdling along - and this is what I could see emerging on the southern horizon: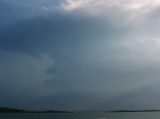 I after snapping that I gesticulated wildly to the others to get going and have a look! Not that there really was any hurry - I was just incredibly excited! A quick check of the radar as we left the car suggested that the main core was going to miss Rainbow Beach just to its west, heading straight for us. So after setting up tripods and camera bags, we just stood there and soaked up the scene: a beautiful beach with a couple of camping groups, scattered mangroves, calmed waters, and a storm approaching that looked like a real beast! Even a small blue boat was anchored there which made for some nice photos.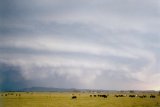 At this point I turned to Anthony and said "remember the photos from March 30th? I wonder if these ones will come close to that!" A big call I know but at this point in my mind I had visions of the emerging mothership supercell that the Lismore guys spotted coming up from Grafton on 30th March 2003.
What had been thwarting our attempts for good photos so far was that the sun was still shining between us and the storm! All of a sudden the sun was pushed behind the advancing storm. I didn't think to look where it had just been blocked until I heard some loud swearing from Anthony (a rare event!) commanding us to look to our right! And what a sight it was! The complete structure had become visible - a multi layered gustfront, which looked suspiciously like a mothership mesocyclone! Where previously there was a good hint of an inflow band coming in from the east, it now looked like a full blooded multi level inflow highway!
By this time, Tony had completely disappeared and neither of us knew where he was ("he's probably off getting the photo of the century" I said at the time) and we were all completely engrossed with what was in front of us, and I ran a fair distance in order to get those mangroves out of my way for photos! I kept shooting photo after photo after photo - thank goodness the storm wasn't moving really quickly or I would've spent too much time taking photos and not enough time standing there and admiring the sight!
Some funny things happen when you have a scene like this. It got to the stage where I was seeing CG's in my LCD screen, not even flinching and just kept on firing the camera. I haven't even mentioned these CG's yet, probably because I was completely tuned out to them! Anyway it was producing some big CG's right out the front of it! Perhaps some were from the anvil? Either way there were CG's striking a few km ahead of the massive cloud feature. It wasn't until there were not one, but two big CG's BEHIND me that I snapped out of my trance and realised what a dangerous situation I was in. So I quite literally sprinted back along the beach to where Anthony was and we both agreed it was high time we got back in the car! During the run I could see everyone frantically running back to their campsites, and battening down the hatches as they could see this monster bearing down upon them!
Since we had cornered ourselves up the end of this dead end road, it was time to find the safest place to ride out the impending storm. We settled on a place which was least likely to have trees fall on us, as well as staying on the sealed road since we would NOT like to get bogged in the silty sands! While the winds picked up a lot and there was a lot of heavy rain, it wasn't quite the monster core punch that we were expecting. Perhaps this was because we were a few kilometres east of the main core. Nonetheless, there were some smaller trees blown over here and there with a number of small to medium branches snapped off trees. We got in contact with Tony on the radio and decided to drive back around the bay and move north and watch the backend of the storm.
We grabbed a few photos of the backend on the drive around, including a stop halfway along the road where we had stopped an hour and a half ago. The tops were so brilliantly white! They looked so pure standing high above the bronzed sky.
We continued on the way we came until the turn to Maryborough and we headed north. I grabbed a couple of more photos of some convection trying to get going to the west while we were driving.
Another storm had formed on the NE side of the first storm and we got caught under it during the drive through the near-endless pine plantations. Some very heavy rain was put out by this one and after many bursts of heavy rain along the sizeable drive to Maryborough we finally came out of it just as we got into town. Still in search of a good lightshow on this TDU we headed to Hervey Bay as the original beast was still charging hard over Fraser Island, but losing some of its intensity on radar. By now it was fully dark and we could see occasional sparks of lightning in it, but by the time we took an easterly road to the coast it had nearly stopped completely. So we ended our TDU with dinner on the beachfront at Hervey Bay.
A very high quality trip, which has been compared with the 2001 TDU as possibly the best ever. Either way there were storms on every day and not just one, but two or more supercells on a number of days! The only thing stopping it being a near-perfect chase holiday was the major lack of good lightning shows - maybe next year. See you out there at the end of 2006!
---