---
Saturday 3rd December 2005 - A long trip to Capricornia results in a storm after a very long wait!
An early rise this morning was needed as we had to get into Wide Bay by early afternoon to be in time for any storms … all the way from Goondiwindi!
A quick pack up of our gear and drive-thru-grease for breakfast (*cough* McDonalds) we were on our way to Dalby with a target time of 10am. One driver change and a refuel later we journeyed on to Gayndah for lunch…and what timing it was! We had lunch at the same place in Gayndah as we did exactly one year ago on TDU - the one year anniversary of my favourite storm chase ever on December 2 2004. Happy memories!
We then drove down off the ranges and into the Burnett valley towards the coast and filled up again with fuel at Gin Gin. After moving into coastal areas we discovered that while there was some quite decent towering Cu development occurring, but they were fairly high based, and died before they could take the next step! We kept driving north towards the Gladstone area, where after a few more hours observing this development trying to get going in the ridiculous humidity (dewpoints's of 23-25 everywhere!) we decided to get ourselves lodgings for the night in Mt Larcom.
The TCu development continued into the evening while we sat inside the comfort of air-con in the cabin, until one of us swore that we heard thunder and checked out the radar to see a very small storm to our W! So deciding to brave the humidity and the mosquitoes for 5 mins we went outside to watch the occasional flashes of lightning and one or two CG's that it produced. At least we got a storm for the day - and kept the TDU storm run intact again!
Sunday 4th December 2005 - Tropical moisture in Capricornia produces a pair of very strong storms with interesting structures!
After soaking up as much of the air-con as we could while perusing the models, we decided that we didn't need to drive anywhere for today as we were already in the target area! We decided to dawdle our way south a bit to Calliope. Discovering a great lookout just near the local council chambers, we observed some nice TCu going up, and this was well before midday! Amazing what the oppressive tropical moisture can do! In contrast to the TCu of the day before, these ones were much chunkier and showed little sign of dying.
There seemed to be some stronger action down south about 50-70km away (was a bit hard to see amongst all the TCu about) so we drove to the coast to get a better look at a storm that had developed. Turkey Beach was the name of the sleepy coastal village we came upon and we observed the storm from the local boat ramp.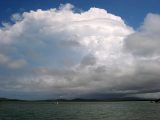 Back to the Bruce Hwy and we drove up some of the steep hills adjoining the highway to hopefully get closer to the base and see what was going on. The crisp anvil visible in the last photo was still going strong, and boy was it big, courtesy of the 70-80kt jet at 300-200hpa and lots of moisture! The first photo below is the anvil streaming off to the east of the storm, with lower level Cu moving in towards the base. It took three photos stitched together to fit it all in! Also below is a shot of the updrafts on the western side, with the base yet to come over the hills - it was seriously low and dragging on the hilltops with the low LCL's of the day!
Five minutes later (it was now 2pm) the base appeared over the hills with quite a meaty looking gustfront! It was getting fairly close to us now so after another quick pan of the anvil to the east (now complete with rather thick low level Cu pouring into the updraft region) we drove north to stay ahead of it.
We set up in a field halfway between Turkey Beach and Calliope and observed some interesting goings on around the base. In the first photo you can see the makings of a wall cloud about to come over the hills, directly under the very strong updraft base region! There may even have been a small funnel on the right hand side of the second photo!
Nonetheless, we had to keep moving and decided to drive to the town of Tannum Sands on the coast as the storm was heading straight for it. The problem here was that there were no views at ALL, as the locals had built houses on every vantage point that wasn't covered in bush! Lucky for us, the storm looked exciting for a little while but the nice base features (looked like a huge shelf cloud for a while) died quickly and we drove through the weakening storm on our way back to the highway and back to our morning lookout at Calliope.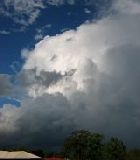 When arriving at the lookout there was a storm in its early phases on the ranges to our SW, this soon began to look a bit interesting when it developed a nice rain free base, even with a bit of scud floating around underneath! While a quick glance over my shoulder showed the first storm still putting up a few nice updrafts as it continued its journey east.
After watching this new storm for 15 minutes (and while someone was still on the phone and sitting in the car!) I noticed an interesting feature on the left hand side (eastern side) of the base that looked suspiciously like a nicely shaped inflow band, but sadly this was only visible for two minutes. Perhaps it continued amongst the rain but we couldn't tell. This feature convinced Anthony to drive the car up to where I was standing to get a better view of the storm (and to get off the phone!)
We continued to watch it develop and begin to mature into what looked like quite a powerful thunderstorm, and soon developed a nice line of Cu flowing in from the north which became a reasonable looking inflow band as it approached the main updraft. This is where I made my biggest mistake of the whole trip - instead of looking at the map to remind myself of where the highway goes (it goes roughly due east to west for 30km in this area) and comparing this with radar I stupidly thought that the storm was heading near parallel to the highway, when in fact it was heading straight towards it! So I suggested we stay put a little longer than we should, which put ourselves in an interesting position 20 minutes later. The storm also began to look less exciting from this side (we were now looking from the east) and I forgot the exciting structure was going to be on the N or NW side of the storm!
Eventually I came to a bit of a revelation and agreed that we really needed to get going and we moved swiftly WEST on the highway back towards Mt Larcom. Within five minutes of driving we realised that we were going to have to core punch the storm in order to get in front of it…so we took the plunge and entered it as it was crossing the road (still quite a strong storm on radar at this stage). We came across heavy rain, and then hail soon began to fall as well. Later we reckon that roughly 3cm hail was falling going by some of the larger thuds on the car - while still driving at 100km/h as there was only light rain and regular hail at this stage.
The rain soon disappeared, and we were left with just the hail falling and then all of a sudden that stopped as well! We began to escape the bush that we'd been driving through and we got a view of what suspiciously looked like a mesocyclone just to our SW. We'd just exited the region to its E where just pure hail falls! Well we were a little excited and worried at what we had just done and might be seeing…but we continued on trying to get a good distance between us and the storm to get photos, but aside from video footage in the car we couldn't find a half-decent spot to stop and take proper photos!
After driving for another 20 minutes we realised that it was weakening and slowing down, and soon after it turned into a very garden variety storm and we let it pass to our south, which was the end of the chase.
A fairly long drive was then had back to Gin Gin for the night as we were looking to chase the Wide Bay area on the next day as well as catch up with Mike Manning and Bryan Juni who were staying in Caloundra for the night.
Monday 5th December 2005 - A garden variety storm day in Wide Bay and Burnett, but chasing a multicell for 4 hours is always entertaining!
After meeting up with Bryan and Mike at Gympie for lunch, and spying some early storms to our south and west, we decided to pursue a strongly developing storm to our NW, and began the drive towards Maryborough.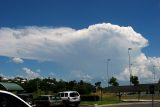 Still looking fairly good on radar and showing nice anvil structure (hard to see anything else on the SE side of the storm) we pushed on quickly to Childers while driving through some moderate to heavy rain so we could see what things looked like on the northern side! We grabbed a quick photo on the north side of town just after getting out of the rain, and kept moving NW along the Bruce.

We came to a long bridge crossing, and here we had a good view of the storm which was now to our south.
After a good 20 minutes of taking photos, it was time to keep moving north and we grabbed some fuel in Gin Gin and tried to find ourselves a good view in the increasingly treed in country. The storm had now evolved into a line of storms and eventually we found a decent break in the trees (only due to the large power lines!) and grabbed another quick snap of the quite sizeable gustfront. It was beginning to show signs of weakening at this stage and at our next stop it had virtually disappeared amongst the masses of low-mid level stratus that was hiding everything. We called it a night and stayed in Gin Gin for a second night!
Tuesday 6th December 2005 - A marginal day produces a couple of weak storms.
This day was looking very marginal at midday. There was a lack of low level moisture with no low level cumulus trying to get going, although the surface was quite moist, which is one of those situations that really ticks me off! It was pretty much a write-off by mid afternoon, and we decided to head into the ranges for two reasons: there were some showers/weak storms getting going out there and hopefully we could get close to one, and the next day was looking like N NSW as target and we had to head inland and south in preparation.
About 30km off the Bruce, we came across some congesting cumulus that was anviling out a bit with each updraft pulse - at least we had a storm for the day! Over the next 20 minutes it put up a couple more pulses and even a couple of rumbles of thunder. At least we had kept our bust-free record for TDU 2005 intact!
---