Storm News
and Chasing
[Index][Archives]


Spectacular Lightning Display at Ballina and McLeans Ridges: Wednesday 28th December 2005
Report compiled by Michael Bath and Rodney Wallbridge
---
If you have any photos or video of this event, please email.

The setup today was ideal for severe weather on the Mid North Coast. However, conditions were also favourable for an evening lightning show in the Northern Rivers.

Widespread thunderstorm activity developed on the Mid North Coast and spread towards the Clarence Valley during the late afternoon. Jimmy Deguara was chasing these in the Macksville area. I was in Ballina for a family commitment but was keeping an eye on the sky for any signs of storms. Distant anvils were about it until about 8pm when some cumulus congestus came into view. It wasn't long before lightning became visible.

My family and I drove over to North Wall at Ballina for better views. The lightning was very active and the storm structures impressive.

Rodney Wallbridge joined us about 9pm to enjoy the display.

Roll and shelf cloud structures formed on the storms - these reminded me of the night shelf cloud on 15th November.

We could tell we were going to blasted by strong outflow winds and sure enough that's what happened. Gusts up to 90km/h hit about 9.20pm. The show was over at this location and initially we thought for the night. However, driving west through Ballina revealed a new storm southwest of town.

This storm was very electrically active. Rodney and I set up cameras at West Ballina and were treated to an amazing show of single and branching CGs. My wife Alison and our kids David and Katrina had a great time too !

Just after 10pm rain commenced, so we decided to head home. The show was not over with another cell passing close to home at McLeans Ridges. Sporadic but impressive CGs and anvil crawlers lit up the sky until midnight.

One powerful GC (ground to cloud) lightning was observed to the north, but unfortunately it largely overexposed the photo.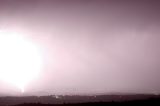 ---
Radar