---
See also the Spectacular supercells pound the Northern Rivers chase report.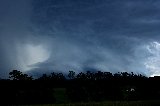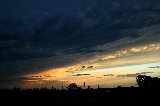 After a night where explosive thunder kept me awake, the second thunder acted as my chase alarm. The sunrise was quite spectacular with mammatus filling the northern sky! After a quick study of the models, (the usual high wind shear, CAPE and a dynamic dryline setup) it was decided there was little time on hand: this was going to be an intensive chase.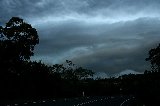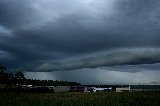 A storm passing through the Putty was the first target to be intercepted near the Central Coast. Trees ruined the view for what could have been a spectacular solid striated shelf cloud structure. Dangerous bolts were piercing through the consolidated base ahead of this shelf. I let this storm go since it was destined for the Pacific.
My next destination was a lookout south of Bulahdelah. A storm had developed and moved through Singleton headed for this region. It weakened though and veered back to Williamtown. It was a waiting game with fears of drier air wanting to mix out. I hoped it wouldn't. After an hour and half waiting here, it was time for lunch.
A cell was rapidly developing and I suspected it was headed for the region near Bulahdelah. Time for a quick bite to eat. It was certainly timed well as the action was about to begin. A loud distant rumble and the chase was on! This storm was not organising rapidly.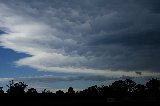 Heading north to Nabiac, the storm literally exploded with a very sharp defined anvil structure spreading east. At Nabiac, a wall cloud was observed with a very solid base, but it was not sustained for long and became undercut. This was a shame as the storm had featured a menacing HP supercell structure 10 minutes earlier. The storm lost its intensity heading for the coast. The flood plain of Taree was a good vantage point to take a breather and plan the next move.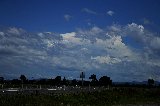 From here, it was not long before the second storm to the south produced an overshoot. This overshoot became sustained so once again I found myself drifting down for an intercept near Foster. Given the lack of chase positions, Foster provided an ideal setting. This storm had made a left move aimed for this region. To my astonishment whilst the structure began to unfold, the storm began to weaken. It had an incredible shelf plate structure since the apparent wall cloud had lined out. It was about 2pm at this point.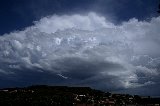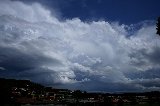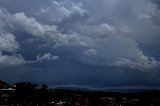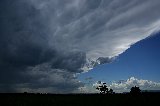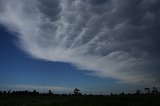 After some shots, I made a dash for the cell that was heading towards Taree. It also made a left move and I had though that this storm would move into a favourable environment with increasing shear and a possible boundary near Port Macquarie. Once in view, it was evident this storm was not very large. Whilst making a move to reposition, it collapsed and became disorganised. It was becoming so frustrating: the storms were intensifying and then collapsing. I had left another storm in order to chase this one. I enjoyed relaxing under a dead anvil with mammatus.
Initially, the plan was to simply wait for the other storm to approach from the Barrington Tops area. Curiosity got the better of me to at least head nearer despite the pathetic chasing country further south. The development activity immediately north of the storm consisted of crisp developing cells whilst there were dying cells and increasing dry air intrusion to its north.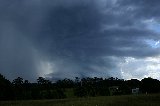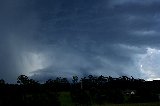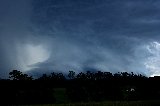 Then suddenly I noted through the sunshine inflow features just as I had earlier. The cell had begun to put another slight overshoot and the updrafts were crisp. But as I headed over one of the hills - the structure emerged! I almost had an epileptic fit! No it was not only the shock treatment of this sculptured supercell - it was the fact that this storm was so near and there were trees and hills with very little vantage points. It demanded timelapse. I had to stop - immediately! Where though? Absolutely ideal position! These thoughts kept echoing in my mind increasing my frustration. "I just want to stop damn it!" I muttered to myself watching helplessly as valuable filming time ticked away. This was turning to be a nightmare with little time and not much room for movement.
The break in frustration came when I took a gamble and headed off the Pacific highway. Low and behold, beyond the tree-lined road, clear viewing options began to evolve until a vacant rural block emerged. Perfect! One quick u-turn and no time was wasted setting up the video camera on tripod. The threat of lightning was confirmed by a bolt from the vault. I began snapping away irreplaceable memories of this magnificent structure. I was able to finally relax in awe at this atmospheric sculpture. Suddenly the rest of the day took lower priority. This was the cherry on the cake!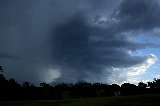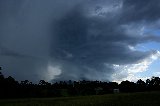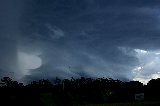 What was that sound behind me? Must have been the lady across the road working away on the front porch. Another sound - this time to my far left. Was that hail? I couldn't see any. More sounds - I knew this time it had to be hail. It must have been at least 20 seconds before I saw the first hailstone bounce on the grass. It was a good test of probability: considering the house has a large surface area what is the probability I would get thumped! It wasn't long before I had to retreat. Simultaneously a thunder crack - I wasn't dreaming when I noticed that lightning bolt flash from the anvil! Luckily the storm was not that lightning active.
With unfavourable road options to remain ahead of the storm, I had little option but to bear the brunt of the hail. 2 to 3cm hail thumped the vehicle.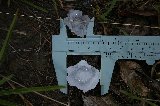 Hail to about golf ball size pounded the windscreen further north adding further dents to the body work. It is always interesting to sample various regions of a supercell structure. Despite taking the road to Forster yet again, it was clear a boat would be required to keep up. I settled to sampling the hail using the calipers.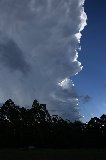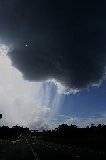 The largest hail measured was once again 3cm however I do believe strongly from the sound on the vehicle that hail to about golf ball size must have fallen.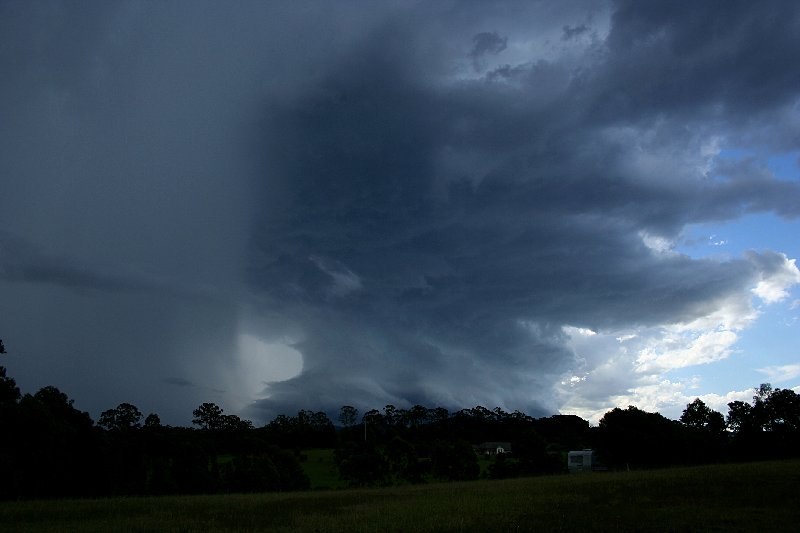 The narrow V-shaped spacing on the right. This is where the RFD rear-flank downdraft cuts down from the rear. If anyone looks closely through the vault - the arch cavity space on the left, you can see a thin veil of precipitation. This is the hook region showing as a hook echo on radar! Given the right conditions of temperature and inflow, a surface based mesocylone could have developed possibly leading to tornadogenesis! A beavertail is evident in this photograph.
Each year there seems to be surprises awaiting for those who make the effort to venture out. This was my Christmas surprise!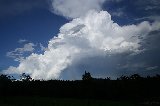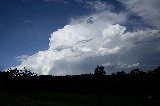 Thanks goes to Nick Moir for giving me feedback whilst on the chase! It was great to be able to compare his detailed radar structure analysis with the observations.
Contact me for more information.
---
Radar