---
If you have any photos or video of this event, please email.

Rapidly rotating thunderstorm near Lismore timelapse [13 seconds - 1.69mb WMV]

Instability was not all that high with CAPE about 1,000 and LI -3. The windshear was excellent due to a surface and upper low over NSW. Storms would likely head SE with stronger cells towards the east.

A thunderstorm had developed by 1pm in the hills west of Kyogle.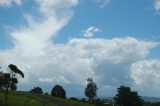 Dave Ellem and I headed off initially expecting the storm to head generally towards Lismore and south of there. This was certainly the case during the drive to Wyrallah.
A couple of close CGs struck just after we got out of the car at Wyrallah from a new storm developing south of us. However the main interest was with the storm approaching Lismore.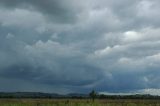 We moved to near the Lismore Airport and watched the base take on a much stronger and organised appearance. It was soon clear this cell had become a left mover and was now tracking eastward. Some heavy rain was occurring and a few CGs hit on the hills a few ks away.
The chase continued NE along the Lismore Bangalow Road to keep ahead of the updrafts. The storm had a severe appearance to it and it was hard to concentrate on the driving while keeping ahead of it, and thinking of good vantage spots.
It maintained its highly organised severe appearance for almost an hour. We observed base rotation several times, and hail was quite obvious and later confirmed. The anvil was thick though did not extend too far east.
Rapidly rotating thunderstorm near Lismore timelapse [13 seconds - 1.69mb WMV]
There was not much lightning after the initial CGs at Lismore. The Bureau of Meteorology did not issue a severe thunderstorm warning on this isolated intense cell.
We passed through Bangalow and then to the lookout at Saint Helena. The storm persisted but had weakened by 3.45pm. We drove back west under the core and experienced some heavy rain and a little bit of small hail.
The line of activity along the coast was quite impressive from a vantage point at Clunes. Almost all local activity died off by about 6pm.
---
Radar
Grafton local scale loop 0030z to 0900z 29/11/2005 (11.30am to 8pm local time)
---
Satellite Images
From Weatherzone





1pm to 5pm local
---
Analysis Charts
From Bureau of Meteorology ---
GFS Model Analysis
From NOAA 29/11/2005 06z analysis
Winds (knots) 200 hPa
---