---
If you have any photos or video of this event, please email.

It was the first anniversary of the day but although some storms were likely, conditions were not favourable for severe weather. Instability was quite good with cape about 2,000 over the Northern Tablelands. However windshear was very light so the expectation was for storms to form on the ranges to the west and hardly move.

Dave Ellem and I headed out to Mallanganee lookout. Dave had just received his new Canon 20D digital SLR so was keen to give it a test run.

The day went pretty much as expected with weak storms forming on the ranges. A couple of small cells tried to get going closer to where we were but they did not persist.

Just before 5pm a couple of nice updrafts developed on the Northern Tablelands. It was a highlight of the day as interesting mushroom clouds formed in the light wind shear.

Shortly after 6pm we decided to head back to Casino and met up with Rodney Wallbridge. After Maccas we moved to the vantage point NW of town to watch the sunset and distant lightning.

It was a warm evening and nice to relax and watch the fading storm which was over the Tenterfield area.
---
Radar
Grafton local scale loop 0030z to 1000z 09/11/2005 (11.30am to 9pm local time)
---
Satellite Images
From Bureau of Meteorology and MODIS: Land Rapid Response System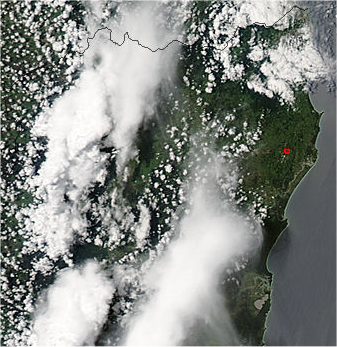 2.15pm local





3pm to 8pm local
---
Analysis Charts
From Bureau of Meteorology ---
GFS Model Analysis
From NOAA 09/11/2005 06z analysis
Winds (knots) 200 hPa
---