Storm News
and Chasing
[Index][Archives]


NSW North Coast Supercell Chase into the Clarence Valley: Wednesday 30th November 2005
Report compiled by Dave Ellem and Michael Bath
---
The 30th of November started as many North Coast storm days do - with a very warm and humid morning and a sky dotted with healthy cumulus clouds. Good levels of instability combined with excellent shear both in terms of speed and turning ensured that supercells were a possibility later that afternoon. Moisture mostly looked ok, though slightly dry in the low levels in the N parts of the Northern Rivers. Around 1pm we decided to head off and see what was happening on the ranges to the W. It was great to have Ray Mullens join Michael Bath, Rodney Wallbridge and I for the chase today! We headed to a favourite vantage point near Kyogle, however the heat, along with a cirrus filled sky to the NW, had us a little concerned. Storms were developing further south, so we headed to Maccas at Casino for refreshments, then to the outskirts of town to see what was happening down S. Upper level cloud, some updrafts to the SW and W, and a house fire was about all there was to report. It seemed the dried air and high cloud was preventing any good development in the local area. Around 4pm some stronger updrafts were occurring at the back of a cell around the Grafton area.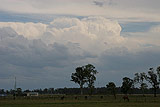 We decided to head back home as nothing was occurring locally, and the cell to our SW was likely to be heading SE or E, making an intercept unlikely. By the time we reached Parrots Nest though, the cell had become much higher topped, and we decided to stop and observe the scene.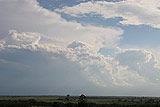 A radar update revealed activity edging ENE, so we made the call to head down towards Woodburn in the hope activity would extend further N. When we arrived at our vantage point near Woodburn, the sky from the SE round to the W was rather dark. Fresh NE winds were feeding into the cell that was developing to our SW. What looked like a guster extending towards the NW was also observed, though it was difficult under the poor contrast conditions.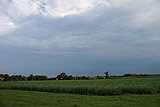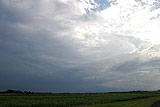 The occasional pulsating CG was keeping excitement levels up, as well as the rather nice inflow.

However I was feeling really irritated that the cell was likely to pass out to sea south of our location. Heading further S would be the normal course of action we'd take for an intercept, however the Pacific Highway is heavily treed in for about 20 minutes heading S. Despite the concerns of being stuck in trees as the storm moved closer to the coast, I decided to head S, leaving the others behind to enjoy the CG show! The drive S was so frustrating, but seeing pulsating CGs down the narrow south-facing corridor was keeping me entertained. About 15 minutes along I noticed a left hand turn where some houses were located. I pulled up and asked a guy mowing his lawn if I could go into his paddock, as it had an acceptable view. Apparently my well intentioned smile wasn't enough to convince him, so I headed off S again to find a better view…but not before a quick snap from his fence line!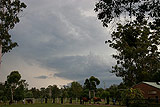 Finally, after what seemed like an eternity, I reached the end of the treed-in stretch, and was welcomed by the gloriously open sugar cane fields! There was still a hill in the way though! Despite this, I could quite clearly see the rotation of this lovely SE moving supercell. I quickly updated Michael on my position and grabbed another photo before venturing further S.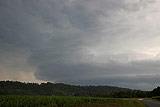 Just north of Maclean I found another clearing, and decided to watch the show from there. Rotation was so obvious to the eye – the cumulus towers in the updraft region you can see in the photos below were clearly moving from right to left, with low level cloud feeding into the storm from left to right. This scene was complimented by the constant rumble of thunder overhead and the display of spectacular anvil crawlers and pulsating CGs.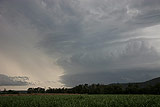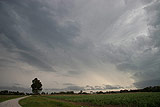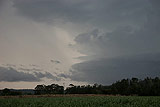 I rang Anthony Cornelius and Dave Sercombe to see where they were, as I knew that they had headed to Yamba to chase an earlier storm. It turned out they were only a few kilometres down the road from me. We chatted over the radio about the spectacular sight, however it was slowly coming to an end, as the cell began to lose its intensity.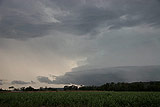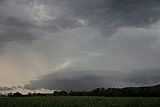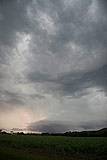 It didn't take long before a rather dark, hefty looking gustfront developed under the base of the storm. It would have been great to be right up close with it, as I'm sure it would have looked spectacular, however road options were very limited.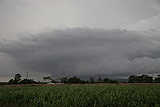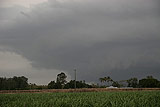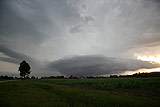 As the storm gusted out I headed a bit further S to watch its final stages. It was rather unspectacular as I pulled over for my final photo of this cell. The small town of Maclean, which was in its path, was well and truly saved thanks to the storm's timely demise…unfortunately for them, the recess in the severe weather lasted but one day, with the town hit badly just 24 hours later!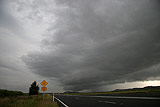 I met up with AC and Dave and headed back to Woodburn for dinner, enjoying a spectacular lightning display from a line of storms on the lower Northern Rivers/upper Mid North Coast region. These storms caused considerable damage to a number of towns during the evening, as well as dumping massive amounts of rain. We headed back after we'd finished our late dinner to my place for the night. Lightning occurred right through the night in the northern half of the sky too, which Michael taking some spectacular lightning photos from his home at McLeans Ridges.

---
Radar
Grafton local scale loop 0200z to 1000z 30/11/2005 (1pm to 9pm NSW time)
---
Satellite Images
From Weatherzone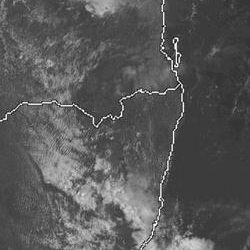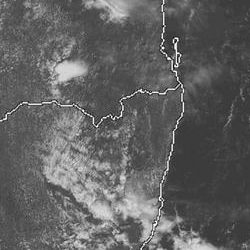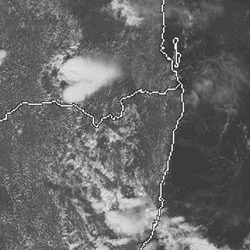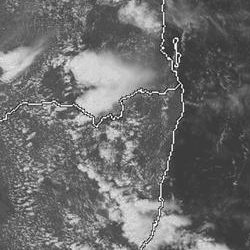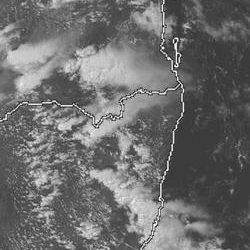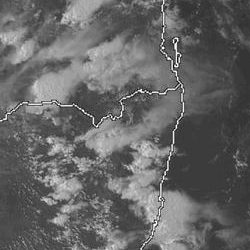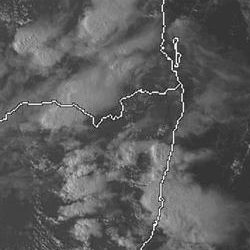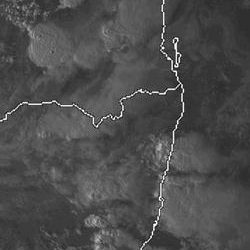 11am to 6pm local
---
Analysis Charts
From Bureau of Meteorology ---
GFS Model Analysis
From NOAA 30/11/2005 06z analysis
Winds (knots) 200 hPa
---