Storm News
and Chasing
[Index][Archives]


Severe Storms and Supercells across Northeast NSW and Southeast QLD: Friday 25th to Sunday 27th November 2005
Report compiled by Dave Ellem and Michael Bath
---
See also 26th to 27th November Storm Chasing by Michael Bath and Rodney Wallbridge

Friday November 25th

Let's face it – the start to the storm season in the Northern Rivers wasn't very noteworthy. While there had probably been the most number of thunder days in the region in many years, the quality of the storms had been lacking. Meanwhile, on the western side of the Great Divide, N NSW had been experiencing a bumper season! So when it looked like 2 days of good chasing in the North West Slopes and Plains region, then moving into SE QLD for the third day, I couldn't pass up the opportunity! Dave Sercombe was keen to meet up and begin his two week Thunder Down Under holiday in my car for a couple of days, so we left the following morning after Dave arrived. Given the good instability, shear and moisture profile, Friday the 25th looked like it would have the potential for supercells, but I wasn't too expectant, with the 26th and 27th looking like being the main supercell days. Dave and I arrived in Moree in the early afternoon, stopping in at the BoM office for a look at various weather data and to have a chat with the very friendly officer there. Severe storms were already occurring S of the Narrabri region, so we decided to head down that direction, fairly certain the line of storms would extend northwards during the afternoon. After refuelling at Narrabri, we headed to the outskirts of town to observe storms that were developing to our SSW, WSW, and WNW. The initial cell which took our interest was to our WSW, and we'd hoped it would head NE for an intercept on the Newell Highway.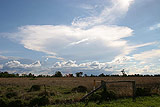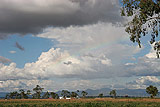 While we were watching this cell, a storm quite literally exploded to the WNW of the initial cell of interest. The crispness and explosiveness of the cell certainly stole all our attention, and we decided to head towards Wee Waa to get closer to it.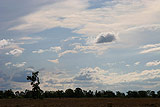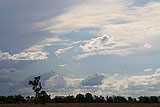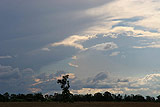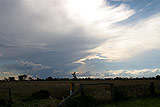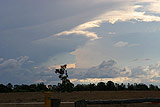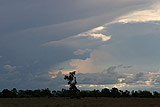 On the drive out Michael Bath informed us the cell was actually heading SE and looked to collide with the original cell we were watching. He also confirmed another cell was heading N toward our area, so we were excited at our prospects of seeing something good! We stopped briefly for some photos of the cell to our SSW, as well as the original cell to our WSW, which was now obscuring the strong right moving storm.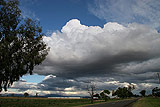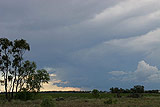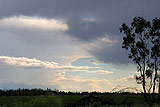 The road became very treed in, and I was frustrated at the lack of views of the storms. What took my attention however was the very well defined mammatus that was forming directly overhead. It was quickly obvious that it was the sort of mammatus you see on strong storms – the thick, well defined type. When we finally got a clearing to the SW, I immediately got excited (more so than Sercy surprisingly!). A nice rotating updraft that looked quite well defined. Had we bagged ourselves a supercell? We pulled up quickly and began taking photos and timelapse. But just as good as the structure to our SW was the mammatus overhead – a really magnificent sight!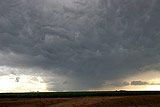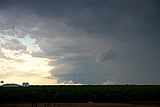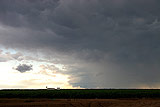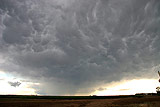 I commented to Sercy that with the well defined possible supercell to our SW, the fields of what looked like corn, and the silos in the distance, that I felt like I was in Kansas. You can imagine the hysterical laughter when less than a minute later two Americans with a southern accent pulled up next to us and asked if we were watching the storms!! We continued to enjoy the show, however it was clear rather quickly that the possible supercell was interacting with another supercell heading NNE, and it began to collapse. Still, the mammatus remaind quite spectacular.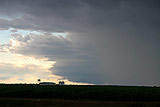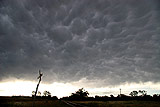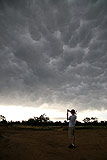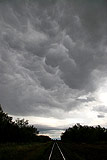 Things were looking a little messy for the time being, so what better opportunity than to break open the esky and eat the rissoles my mother had so lovingly packed in for us to have for dinner! As we gobbled up dinner rather quickly, we watched as a shelf type cloud moved in from the E.


We decided to head further W to stay on the NW side of the cell moving NNE. While it did collapse, it put on a spectacular show of microbursts, mammatus, and the very occasional CG turned anvil crawler!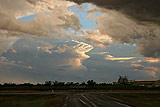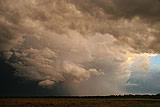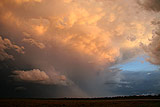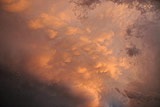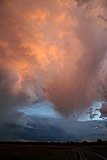 More cells were developing to our SW as the storm to our E decayed and drifted away, leaving just a thick anvil with some mammatus behind.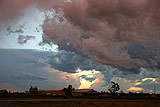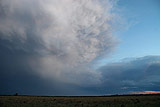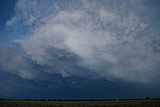 We enjoyed the lightshow from cells that completely surrounded us, before heading back to Narrabri at 9pm in the hope of getting a good nights sleep for the upcoming days. I was totally amazed at how nice the day had been, and it had already made the trip out west worthwhile.
Saturday November 26th
I awoke not long after 7am, excited with the day's prospects for severe storms!! Consequently Sercy was awake about 20 seconds later and we chattered about the day's potential. After heaving breakfast we headed to Maccas in Narrabri to use the wireless internet available there (big thanks to the Sydney Storm Chaser guru himself, Mr James Harris for letting us use this service!!). The setup looked great, and despite the better shear and instability further south, we decided to chase the clearer skies in the Narrabri/Moree/Walgett region. We headed to Wee Waa for lunch, and then onto Walgett afterwards. The sky was really worrying me though on the drive out – very dry looking with not much cumulus, though there were hints of congestus to the far west. I was concerned we were too close to the trough line, where drier air was present. Still, we decided to press onto Walgett and sit near the trough in hope! As we arrived at Walgett, towers were beginning to develop to our SW, W and NW, so we found a shaded spot and stopped.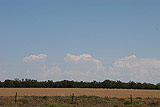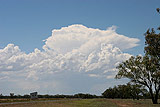 Some local development occurred in the 2 hours we waited there for stuff further west to arrive. At times it looked nice, and amazingly managed to produce a few CGs, but the drier air seemed to be preventing activity from getting going. It was around 37C at this point, so not very comfortable!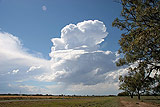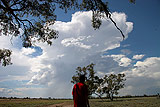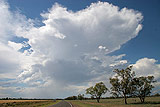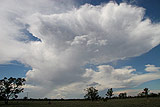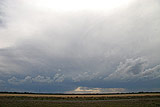 With the very messy storms to our west nearly upon us, Dave and I decided to head back east to Collarenabri to meet up with Michael Bath and Rodney Wall bridge, who had headed out early that morning to chase for the weekend. On the drive, a cell to our NNE had developed quite an impressive backsheared anvil, but still, things looked rather messy.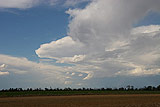 Around 5pm we met up with the others and had a play in the hail that they had collected in their esky from the hail drifts from Warialda's violent hailstorm the night before. While stuff still looked weak, the line of cells to our W were producing quite a few CGs – and pulsating ones at that! We also observed a cell to our far E that we discovered was a severe storm sitting over the Jackadgery area back in the Northern Rivers!! Amazing!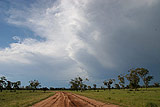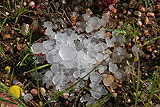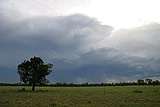 By about 6pm the cell to our W began to organise rather rapidly, developing a rain free base that grew larger and larger as it also began to produce really heavy precipitation and microbursts in its outflow region. But despite the excellent base structure and amazing evening contrast, the highlight was the frequent, pulsating CGs that were dropping out of the storm. We watched in awe as the cell grew larger and more active very quickly.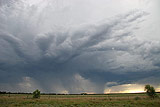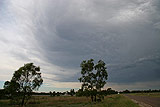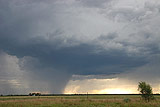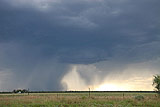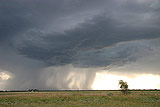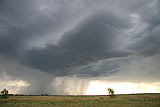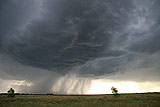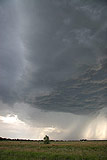 As the storm drew quite close, we made a mad dash out of town towards Moree, hoping to stay ahead of the storm that was heading ESE, possibly E. Not far out of town we just had to stop to photograph the amazing rain free base overhead – so much precipitation must have been held aloft! And the CGs continued to rain down with incredible frequency, accompanied by violent cracks of thunder.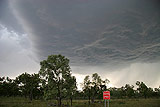 On the road again, and we tried to get as far ahead as we could to give ourselves a bit of room to get out, setup the cameras and photograph it before it got too close again. As we stopped again, we were treated to perhaps the best part of the show. A massive rain free base/high based guster, awesome contrast, beautiful countryside and CG after CG dropping down near the precipitation curtain.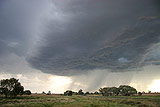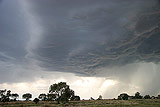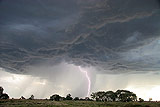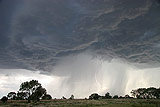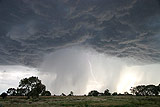 I got 14 daytime CGs on camera, with Rodney and Michael getting many more. Being out with good mates with front row tickets to a majestic display of raw power…this is what storm chasing is all about for me!!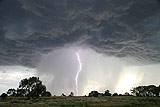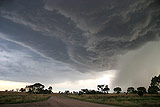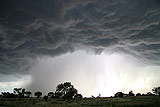 CGs were beginning to drop quite close, and behind our backs too (you know it's time to leave when a bright purple light glows behind you but you didn't see the bolt!), so we packed back up again and raced down the road. The plan was initially to get much further E, but I couldn't resist the view I could see in my mirror, so I requested another stop not too far along.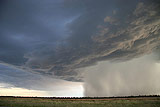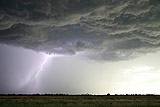 As the sun got lower, the contrast got even better. It was just such a spectacular sight, with CGs continuing to punch down towards the earth in a powerful fashion.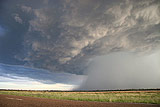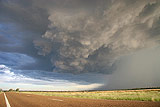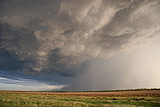 Again we set off, with another couple of stops in between, however it was clear the storm was starting to lose intensity as the sunlight slowly slipped away.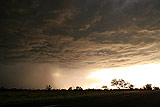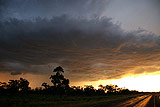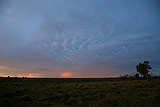 We arrived in Moree, grabbed some dinner and accommodation before heading to the outskirts of town to enjoy the lightning display occurring in all directions. As with the previous night, most of the action was a fair way away, but it was still enjoyable to get out and watch the show without the worry of photographing it. We called it a night sometime after 11pm and headed back to the motel. Day two had delivered more memorable storms and very exciting experiences that I knew would stay fresh in my mind for years to come
Sunday November 27th
With a fast moving troughline sitting just to our SW when we woke up, we needed little convincing to leave Moree early and head N! Our target was the SE Coast district of Queensland, which had a shear profile supportive of strong supercells, along with the instability to back it up. As we headed off the sky was filled with Altocumulus Castellanus – often a sign of instability that storm chasers love waking to on potential storm days. With sunflowers below and Castellanus above, we couldn't resist photographing the scene.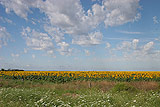 On the trip to Warwick we met up with Anthony Cornelius, and later bumped into Jeff Higgins and Michael Manning. As we arrived at Warwick we met with the final addition to our chase team for the day – Bryan Juni! As we ate lunch with storms developing almost overhead, we realised we'd need to hurry and get east of the ranges if we had any chance of seeing the goods today. Near Harrisville we stopped to observe a cell to our SW that had started to look rather nice, as well as one further W which was sitting near Anthony's house. Boiling scuds were visible ahead of some very heavy rain, and it was pretty obvious this cell was likely to be severe. We moved up the road for a better view, observing plenty of CGs from both cells. Scuds forming on the outflow of the cell to our W looked quite suspicious at one point.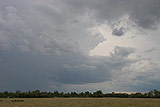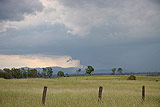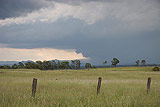 In a bid to stay ahead of the storms, we headed further E. The traffic on the motorway sure makes chasing much less enjoyable for a more regional chaser such as myself! There wasn't much view of the storm the whole time, and I totally lost my bearings. Rodney was worried about getting caught in hail, so he and Michael left us behind to seek shelter. Anthony, Sercy, Bryan and myself continued on, stopping near Rochdale. While the storm was totally featureless, it was producing an amazing amount of CG lightning, testament to the huge amount of instability. Golf ball sized hail was also reported with this storm.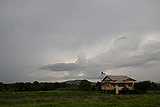 A radar update revealed that another line of storms was developing behind the line we were watching, and Anthony, Dave and Bryan were keen to try and intercept the new development. Slightly tired and uncomfortable with the city chasing, I decided to head back towards home as the guys headed to the next line of storms. As I reached the Gold Coast region, I ran into a traffic jam on the M1. Normally I have a fair bit of patience in these situations, but I began to notice the sky to the SW growing darker and darker, greener and greener. As the colours became deeper and darker, purple glows generated by pulsating CGs began to get more and more intense. I thought I was in for a pounding, and there was no way of outrunning it in all the slow moving traffic. What a coincidence that I was right next to the turnoff to my brother's house! I got off the M1 and sought shelter at my brother's place. We watched the mostly featureless cell on his veranda, though it did come complete with powerful CG lightning as it passed by S of us.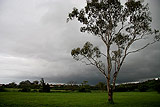 As it cleared away I jumped back on the road and took a detour around the traffic jam. I had expected to run into hail drifts, however I was met only by evidence of flash flooding. The huge amounts of moisture in all levels of the atmosphere were giving rise to heavy rain storms rather than storms with giant hail. I thought the day was over till I was near Murwillumbah on the Pacific Highway, when I was greeted by larger updrafts to my SW.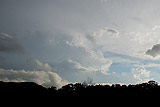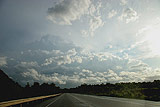 I wasn't sure where it was heading, but as I reached St Helena's near Byron Bay, I saw the beginnings of a gustfront coming into view. This was accompanied by trees bending over towards the storm as low level inflow winds raced into the cell.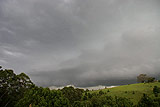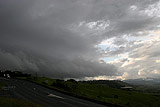 I decided to race back N to stay ahead of the guster, and it became quite solid as I stopped at the Mullumbimby exit.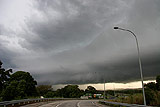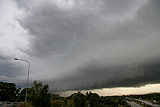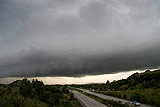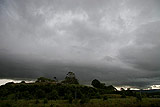 The cell tracked over Byron Bay, so I headed back in that direction, observing the view of the gustfront from behind as it passed away to the NE. Heavy rain was also occurring just down the road from me.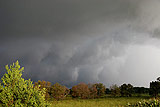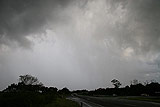 I headed into Byron and saw quite a few larger branches down, along with downed powerlines and a CBD that was somewhat underwater from all the heavy rain! I stopped in a carpark near the entrance to the Lighthouse walk, blown away by the backsheared anvil with knuckles that was billowing back over my head as the storm moved out to sea. I rang Michael Bath to see where he'd ended up, but the conversation was interrupted as a CG came out of the top of the cell, travelling down towards the earth and connecting no more than 100m away from me. The most deafening, explosive bang instantly blasted through the air, and I was in the car in a flash. My fearful cries assured Michael on the other end of the line that I was still alive despite the explosion he had heard through his speaker, and I wrapped up the conversation rather quickly to head back towards the highway. On the trip home I was treated to convective clouds stained the colours of sunset, and the glow of the most amazing anvil crawlers I have witnessed as the storms moved out to sea. What a fantastic end to three days chasing, and a welcome return to the sorts of atmospheric displays that wooed me to pick up the camera and chase them some five years ago.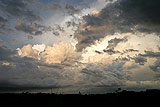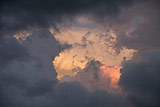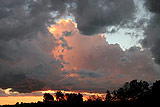 ---
Radar