---
James Harris and I left Newcastle at 8:30am, with a long drive to our target area of anywhere North of Moree, and hopefully getting up towards Goondiwindi! (yes we were thinking of driving all the way to QLD and back in one day!)
At 3pm, halfway between Moree and Gundy...we spied the first exciting updraft of the day! This was a short while after we saw the monster in the Warwick area (which we now know was the storm with the funnels that Damien photographed!)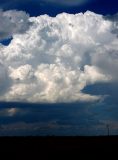 This next photo was what this updraft had done over the next two minutes...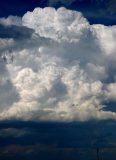 15 mins after the first photo... (apologies for mess on the windscreen!)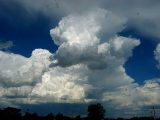 About an hour after this, nothing had developed into a fully fledged beast of a storm like the inital updrafts might have suggested. Each one charged up into the sky...and then weakened into a general line of bubbly TCu/Cb's which did give some decent echoes on radar, but looked like a line of very heavy showers at times! So we realised that our fears for the day had come true - not enough lower level moisture! After seeing what occured with lower cloud bases, in worse shear in the Warwick/Toowoomba area...it leaves me wondering what could have been if there was the same about of lower level moisture in the Gundy/Moree area!!!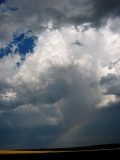 Later on we half-accidentally put ourselves under a well developing RFB...wondering if it was going to dump its load of rain and hail on us! Sure enough, down came the hail a few mins later with up to 2cm measured! (a couple of larger "donks" on the roof suggested the 3cm range for a couple of stones) This is a pic of some of the hailshafts to the east of us (mixed with a few beams of sunlight) soon after the hail: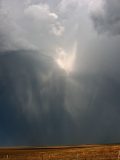 In the evening after some dinner at Uralla, we were greeted with a quality lightning show to our west.
After a long day out in the field - we arrived back in Newcastle at 1:30am! Via a drive along the Gloucester-Stroud area which had been pumped by storms that day AND on Sunday afternoon...we saw a lot of leaf litter on the ground (shredded by hail) along many parts of a 40-50km stretch!!! Pretty much anyone from Gloucester to the Pacific Highway scored a core-punch on Sunday and/or Monday!
---
Radar
Moree medium scale loop 0300z to 1000z 24/10/2005 (1pm to 8pm 24/10 local time)
---
Satellite Images
From Weatherzone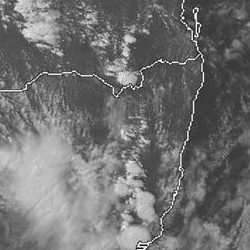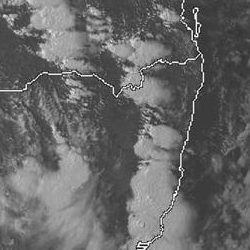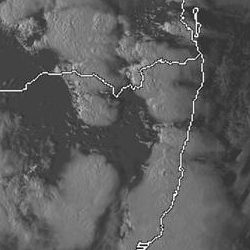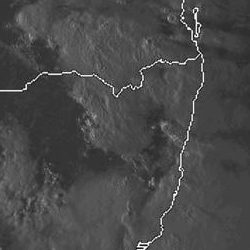 2pm to 5pm 24/10 local
---
Analysis Charts
From Bureau of Meteorology ---
GFS Model Analysis
From NOAA 24/10/2005 06z analysis