Storm News
and Chasing
[Index][Archives]


Severe storms Armidale to Nowendoc - Northern Tablelands: Thursday 27th October 2005
Report compiled by Jimmy Deguara and Michael Bath
---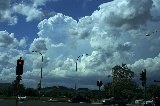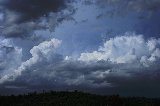 Conditions according to models on this day were favourable for severe storms including supercells - mainly HP supercells. Air was already unstable in the region with rich dew points invading the area and considerable heating. The only concern were the westerlies! Concern - it was to deplete any chance of any storms let alone severe weather in region west of Tamworth.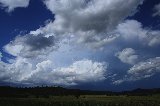 In Tamworth, and a strong very crisp updraft exploded to the north - the northwest end of a set of rain free based towers. The storms were beginning to tap the moisture - so we thought! After a long meander, the storm never seemed to attain very severe characteristics despite showing some signs of strength.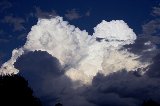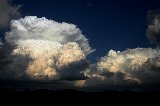 It seemed better storms were in the region to the south of Walcha - the overshoot indicative of the powerful updrafts. But nothing was to prepare us for we were to experience. As we neared Top Dale, moisture was clearly invading the area in a line of convergence. One particular cluster of cumulus began to accelerate upwards - good pose for a few photographs. But as we travelled further southeast, David pointed out in excitement a powerful bulge of an updraft. We pulled over immediately and watched almost in disbelief that the storm had developed such a structure in such a short time span! The camera worked overtime as new features and detail evolved - the video camera quietly capturing timelapse.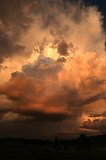 These photos were taken by Stephen Williams at Tamworth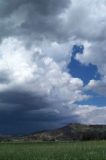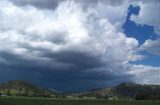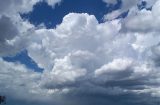 15km east of Tamworth looking east at 1.30pm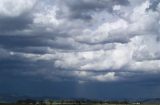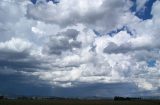 5km east of Tamworth looking east at 1.40pm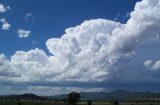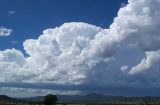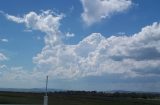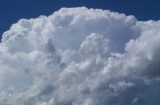 5km N of Tamworth looking N and NW at 2pm
If you have any reports or photos you would like to provide about this storm, please send an email to Jimmy Deguara
Check out Dave Sercombe's chase report for this date.
---
Radar
Grafton medium scale loop 0100z to 1200z 27/10/2005 (11am to 10pm 27/10 local time)
Newcastle medium scale loop 0200z to 1000z 27/10/2005 (noon to 8pm 27/10 local time)
---
Satellite Images
From Weatherzone and MODIS: Land Rapid Response System
(click for larger view) 1.45pm 27/10 local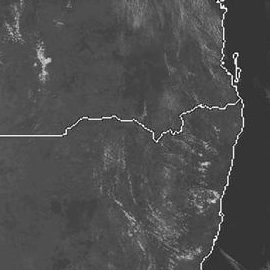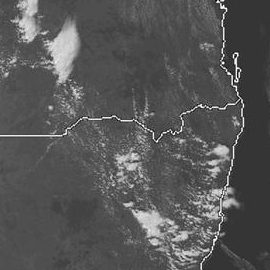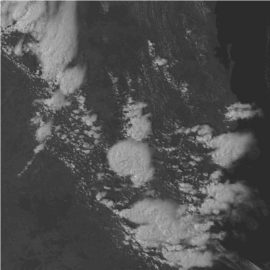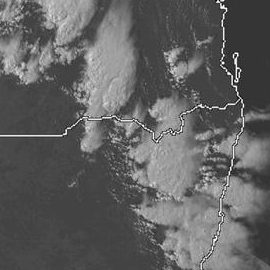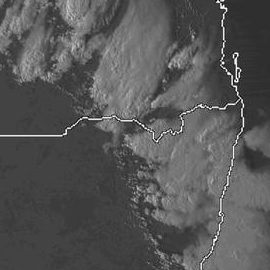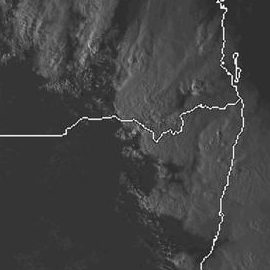 noon to 5pm 27/10 local
---
Analysis Charts
From Bureau of Meteorology ---
GFS Model Analysis
From NOAA 27/10/2005 06z analysis