---
The 26th had marginal instability for the Northern Rivers in fairly light shear. Humidity levels were fairly high so a generally cloudy day was expected. Upper temps were encouraging with -15 at 500hPa. Conditions were much more favourable over the Central and Northwest slopes and plains of NSW with an active trough there.
I was unable to do a proper chase today due to other commitments, and was not entirely convinced anything much would develop in the region due to cloud cover.
However, an isolated storm formed at 1pm near Tabulam (about 50km west of Casino). This very slowly propagated towards the ESE to east throughout the afternoon.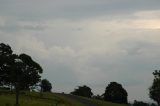 I was able to head out for a better look shortly after 4pm and met up with Rodney Wallbridge at Tregeagle. The base structure was interesting - but high, and the overall storm features were not impressive compared to how it appeared on radar. The storm appeared to weaken soon after we started to observe it, though the infrequent CG lightning were still impressive. We decided to call it quits at 5pm.
Weak activity generally persisted with a small storm forming over Lismore about 6.15pm. This cell edged SE with a very impressive lightning display for almost 30 minutes !
Another weak cell between Kyogle and Nimbin gave a bit of a lightning show from 7.30 to 8pm.
Erik Trees from South West Rocks on the Mid North Coast reports:
"It was around 4pm when I first took interest in a band of showers/storms developing out behind Kempsey on the Grafton Radar. By 4:20pm it had reached Kempsey, yellow was showing on the radar which usually means a mild thunderstorm. By 4:40pm it was on Kempsey and had intensified to medium orange and this is when my storm bells starting ringing as it looked like we were in for a definate hit. 4:50pm was when I heard the first distant thunder and it looked like it was keeping strength it was raining extremely lightly. 5pm the thunder was getting a little louder and the rain became a little heavier. At 5:05pm the storm hit there were a few cloud-to-cloud lightning strikes and by 5:10pm it had weakened a little it was raining moderately and the winds picked up from calm to around 25km/h, a few cloud-to-cloud lightning strikes. 5:20pm it had strengthened (even though the radar said it had weakened) and the rain reached its peak at a moderate to heavy rate and the lightning was a little more frequent and by 5:30pm it had weakened but there were still a few cloud-to-cloud lightning strikes. This is when I discovered that it was actually two storms, I checked the rain gauge and it said 5mm. The rain picked up again at 5:35pm and it rained moderately (a little less heavier than the previous storms peak rainfall), cloud-to-cloud lightning became almost frequent and cloud-to-ground lightning became occasional. This continued until about 5:55pm when the lightning became cloud-to-cloud again and became alot less frequent and the rain eased significantly along with the wind which only peaked at a low speed of 32km/h. At 6pm the last isolated raindrops fell and the storm both died and departed with a large cloud-to-cloud with gave a big bang of thunder. I checked the rain gauge and it read 12mm. We received 5mm from the first storm and 5.8mm from the second storm with gave a total of 10.8mm (the missing 1.2mm is because it fell separately as a different rain event earlier in the afternoon)."
"The storms were mainly precipitation storms with little wind and a moderate amount of lightning/thunder activity, they were slow moving taking nearly an hour to pass. They were a great as a pre-celebration to the start of the storm season in 4 days."
Other Photos
These photo taken by Ray Mullens at Goonellabah:
Tuesday 27th September
The 27th was a better setup than the previous day, and the first day in quite a while where storms were almost certain to occur. CAPE was about 1,000 and LI around -4. A cloud band with light rain cleared during the morning. Wind shear was again light, but the surface and upper trough were ideally placed, with -16 at 500hPa. Storms were expected to be slow moving, form early (no capping) and possibly have decent sized hail (dry air aloft).
Sure enough, the first convection kicked off around 10am on the eastern Northern Tablelands. By noon, quite an impressive but narrow line of activity was advancing generally eastward between Drake and Dorrigo. Small hail was reported at Jackadgery at noon.
I headed out on chase about 1pm and met up with Beck Armytage at Parrots Nest south of Lismore. The line of storms was looking rather spent by 1.30pm, but it was still early and ongoing development was likely.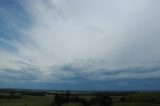 We moved a little further west at 2.15pm then decided to head to Casino then probably Kyogle. There appeared to be something stronger on the northern end of the line, though it was hard to tell at this distance.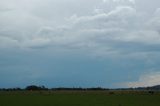 After arriving just NW of Casino, it was obvious we had to keep heading north: the cell seemed to be heading that way, and anvil rain had spread over our location.
During the 20 minute drive north to Kyogle, and fairly strong looking shelf cloud had formed to our NW, and other activity has shot up to the NE near Nimbin by the looks.
From 3pm to 4pm we were treated to a spectacular evolution of cells merging to our NW and N. A large storm was just to our east as well, though generally obscured by hills and other cloud. The lightning was frequent with booming rolls of thunder spreading through the valley. Lowered bases, a shelf cloud, and roll clouds developed with great contrast.
The storm eventually edged too far north and we again encountered anvil rain. Other weak storm activity persisted in the Northern Rivers until about 6pm but it was now quite cool on the southern side of the trough line.
I later received a report of golf ball sized hail falling for 25 minutes at Larnook - just west of Nimbin, and a little east of our location at Kyogle.
---
Media Reports
The Northern Rivers Echo 29th September: [Page 01]
---
Radar
Grafton local scale loop 0200z to 1030z 26/09/2005 (noon to 8.30pm local time)
Grafton medium scale loop 0200z to 1100z 26/09/2005 (noon to 9pm local time)
Grafton local scale loop 0020z to 0800z 27/09/2005 (10.20am to 6pm local time)
Grafton medium scale loop 0020z to 0900z 27/09/2005 (10.20am to 7pm local time)
---
Satellite Image
From Weatherzone
26/09/2005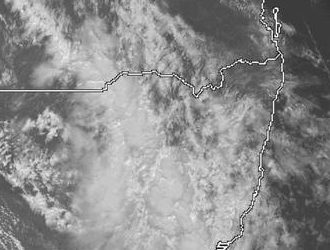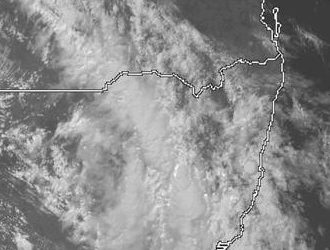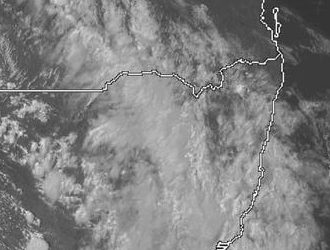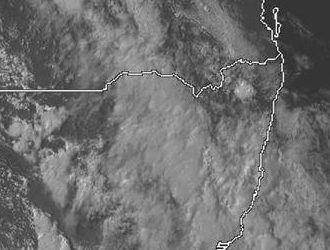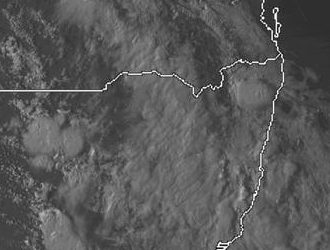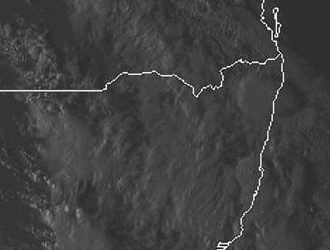 27/09/2005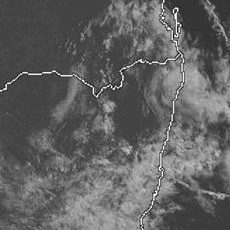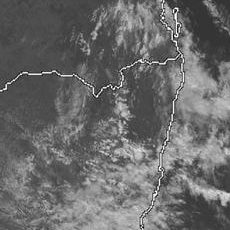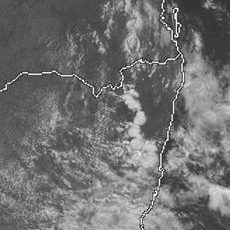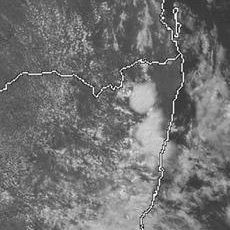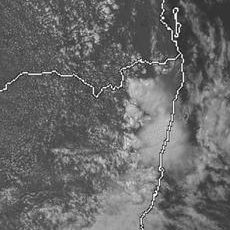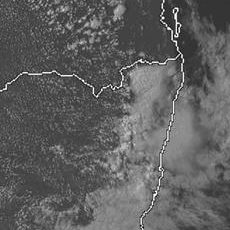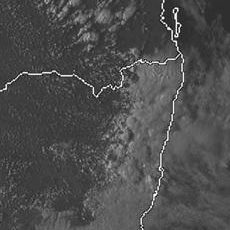 ---
Analysis Charts
---
GFS Model Analysis
From NOAA 26/09/2005 06z analysis
Winds (knots) 200 hPa
From NOAA 27/09/2005 06z analysis
Winds (knots) 200 hPa
---