---
Spring 2005 had quite appropriately kicked off with above average temperatures and a stalling trough over the NE corner of NSW. On the 2nd of September, an upper trough combined with a stalling surface trough initiated storms in the Moree region, which moved into the Northern Tablelands and Northern Rivers, but these were mostly weak, and decayed completely before reaching the coast. Michael Bath and I chased these storms, but failed to see anything more than a couple of distant CGs.
The next day Michael and I headed to Brisbane for Riverfire, a spectacular 30 minute fireworks display which is well worth the trip up to see. Storms were unlikely to occur this day except for around the Moree region once again. There were some expectations of storms as the trough pushed out to sea on Sunday afternoon, however the setup didn't look so great on GFS. Wind shear and moisture were excellent, however LIs were only around -1 offshore of NE NSW and SE QLD, and there was a thick cloud band ahead of the trough, keeping heating down. Admittedly, satpics looked nice in the morning, but both Michael and I discounted the chance of storms, at least for the Northern Rivers. I had a family gathering to attend on the Gold Coast that morning, so Michael dropped me off there and headed back into NSW. Around 2pm I made the decision to head home from the gathering early as I was fairly tired. On the trip home I noticed that the cloud band had cleared, but the warm and humid NW winds had persisted. I had expected to arrive in NSW to cooler S winds, but this wasn't the case. As I passed Byron Bay on the way home, I noticed what looked like anvils to the SW, and as I got nearer to home, the SW horizon began to darken. Now curious about what was occurring, the first thing I did when I arrived home was to check radar. Sure enough, a line of cells were moving in from the west very quickly, with one beginning to intensify west of Evans Head. It was moving so quick I thought I would never catch it, but after speaking to Michael, who was in Ballina, I decided to head out and potentially meet him somewhere to watch the activity. The activity looked weak just before I left home, but it was certainly better looking than it was earlier.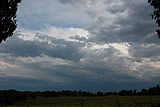 I initially indicated to Michael that I'd head to Tregeagle and watch the cells that were still out west of Casino, but when I reached the Bruxner Hwy, it appeared as though I may have a chance of getting in front of the cell west of Evans. So I shot into Alstonville and down towards Wardell. Along Wardell Road I stopped briefly to photograph what looked like a developing gustfront. I decided I should try and get closer if it was going to start to become more photogenic.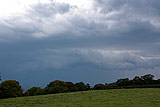 This storm was sure racing, and developing nice structure just as quickly, however it was unclear whether I'd find a spot in time to photograph it. I found a clearing between Meerschaum Vale and Wardell and decided to park it there. I was pretty stoked to find myself in front of a rapidly developing gustfront so early in the storm season! Moderate to strong NW winds were feeding into the storm, and scuds were rapidly forming and being sucked up into the gustfront. It was certainly one of the most rapidly developing gustfronts I had witnessed, and the very strong wind shear profile was probably a big part of that.
There was a bit of temptation to head towards Wardell and get right in front of the cell, however I was concerned with how quickly it was moving, as well as the danger of driving through a heavily treed area with a storm that is likely to have severe winds. So I decided to stay put.

The cloud above the gustfront was starting to develop a more organised look to it now too.
To my surprise, inflow winds continued to persist right up until the gustfront was nearly overhead. Also to my surprise was the lack of any visible lightning! I heard a rumble or two of thunder, as well as a roaring sound from the wind as the storm approached, but there was obviously not much lightning activity going on.
As outflow winds hit and the guster started to push ahead of the rain, I decided it would probably be safe to try and head towards Wardell and then shoot north along the Pacific Highway to Ballina in the hope of staying ahead of the gustfront. As I reached the Highway, the gustfront was overhead, and it looked quite spectacular with scuds developing in front of me and being sucked up overhead. I got a call from Michael who said he was watching the storm from Ballina, so I decided to meet up with him there. I eventually got ahead of the guster, and it sure looked mean! But the race was on to get to Ballina in time to photograph it. However, this plan was dealt a serious blow by a Sunday afternoon driver in a Volvo. Needless to say, the person doing 40 in the 100 zone tested my patience to the max! Not much I could do though. Eventually I got to Ballina but not before the guster was looking very tired. Still quite nice, but not how it had looked earlier.
Michael continues the report....
I was at Ballina for Father's Day so was unable to watch much of the weather develop during the afternoon. The early clearing of the cloud band from the Northern Rivers, the excellent heating that followed, and fresh N winds were in hindsight signs of the storm potential, but due to family commitments I had not taken much notice at the time.
I received an SMS from Beck about 3.30pm saying some lightning was visible SW of Lismore. Dave Ellem phoned me soon after to provide a radar update and indicate he was heading out to chase. The next 45 minutes was the usual distracted impatience chasers feel when stuck somewhere when they want to watch storms !
I managed to get to a good vantage spot alongside the Richmond River at Ballina about 4.20pm. My wife and kids were along for the ride and seemed happy enough to watch the storm for a while. The base features of the storm dramatically changed over the next 15 minutes. At first it looked like a feature you'd see on a highly organised severe storm but soon evolved into a long east-west aligned shelf cloud. No lightning or thunder was observed.
Dave met us as the guster moved across the river and into Ballina. Some moderate rain and briefly strong winds hit but it seemed to lose organisation fairly quickly. Another small cell had gone up on the flanking line that was nice though.
We headed west as another cell was becoming established near Lismore. At Alstonville Dave and I were able to team up and chase the new storm. It was obvious it was going to move over us very quickly so there was not a lot of choice about where to head. The storm passed over us about 5.30pm and some close clear air CGs hit nearby from the back of the cell. The storm seemed to intensify after this point and lightning was reasonably frequent.
We moved to Phoenix Park at Tintenbar to watch the cell to our N and later NE. It gave off a few nice CGs, but most lightning was in-cloud or relatively faint. The fast moving cell made photography difficult and some stratocumulus ended up in the way.
Other Photos
These photos taken by Beck Armytage from Parrots Nest at 3.27, 3.43, 4.04 and 4.08pm:
These photos taken by Rodney Wallbridge from Goonellabah at 4.35pm:
and at 6.34, 6.37, 6.39 and 7.09pm:
---
Radar
Grafton local scale loop 0300z to 0900z 04/09/2005 (1pm to 7pm local time)
---
Satellite Image
From Oz Above 0648z (4.48pm local time)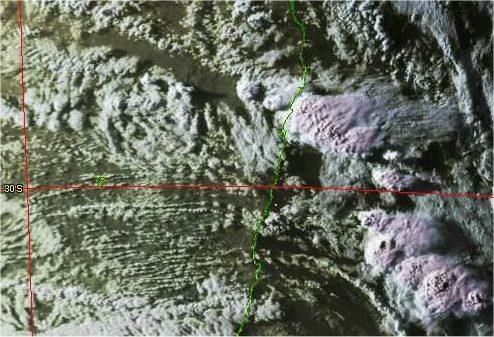 ---
Analysis Chart
From Bureau of Meteorology ---
GFS Model Analysis
From NOAA 4/09/2005 06z analysis
Winds (knots) 200 hPa
---