Storm News
and Chasing
[Index][Archives]


Cold Pool Brings Hail and Lightning to NE NSW: Friday 25th and Saturday 26th March 2005
Report compiled by Dave Ellem and Michael Bath
---
Friday 25th March 2005
On the chase: Dave Ellem and Michael Bath
I had completely ignored the weather this day as we had a lot of family visiting and were busy most of the day. I hadn't even seen the Bureau forecast, but Michael Bath did leave an ICQ message mentioning about the chance of storms. There was weak convection during the afternoon, but nothing really interesting. It wasn't till Friday night that storms developed. A S'ly change moving up the coast provided the trigger for a line of storms just north of Coffs Harbour. After discovering there was lightning to my south and letting Michael know, we headed out at around 8pm to the Tuckey area. We watched the very lightning active storms over the next few hours as they crept closer to our location.
We decided to head down to Broadwater in the hope that we may get some CG photos over the ocean as the storms moved offshore. While a shelf cloud moved over, the lightning was mostly distant and obscured. Some new cells had developed offshore of Ballina, so after a few pics and a blast of sand as the strong S'ly outflow moved through, we headed north to the Alstonville plateau.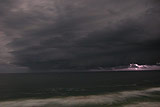 We enjoyed the CG lightning for the short period there was before the storms from the south moved through the area. Once the outflow winds and associated low level cloud moved through, the show was pretty much over. We called it quits sometime after midnight. Not a bad little unexpected chase!
Saturday 26th of March
On the chase: Dave Ellem and Rodney Wallbridge
You would have thought I'd leant my lesson from the previous day! But with SE'ly winds and heaps of stratocu, I thought little of any chance of storms. I was feeling rather unwell during the morning and after lunch went to bed. Fortunately I woke up at around 2.30pm when Michael sms'd a Severe Thunderstorm Warning that had been issued for the Northern Rivers. I was extremely shocked! I got out of bed and loaded radar to see a stack of convection to my south, with high reflectivities being recorded around the Grafton region. A quick check of some variables and my jaw nearly hit the ground! -18 to -19C @ 500 hPa over our area!! Bring on the hail!!! Michael couldn't chase at this stage, but Rodney Wallbridge and I decided to head out towards Casino for a look. Things looked ordinary nearly the whole trip out. We decided to target a cell heading for Tabulum that was reaching brown on the Bureau's new 15 level radar (brown is the highest intensity now, not red). That left Michael to target the other cell heading for Evans Head. Just near Mallanganee we encountered a weak guster and rain curtain. At this stage another cell had developed to our north. I didn't get any photos of it, but it ended up producing hail large enough to dent cars at Old Bonalbo!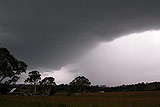 No thunder what so ever from our cell! I was annoyed, thinking the cell had collapsed as it reached our location. Fortunately Rodney made the suggestion to head further west to see what was there, and sure enough, the real cell was still south of us! Soon a boiling gustfront behind a large updraft region came into view...complete with green tinge!! There were some excited cries!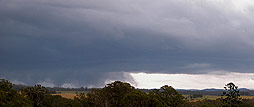 We pressed on towards Tabulum, stopping along the way for some more photos. The greenage was awesome and the thunder was near constant! A report came across the UHF radio while we were driving that it was hailing to our south, and we could hear the hail over the radio! We figured we had better get out of the way of this cell!
We had to stop briefly in Tabulum, so I grabbed a few pics as the cell passed just east of us.
A little further west we pulled over and decided to wait for the storm to pass. There were some nice cracks of thunder, but not much visible lightning.
We headed back home once the storm had passed, soon encountering fog on the road - a sign that hail must be around! And sure enough we found some (including a strange 'ring' shaped stone). We stopped a number of times on the way home as the hail seemed to stretch at least a distance of over 3km. The hail had formed drifts in some spots which was fun to see! It seemed almost fitting too, as this storm season began with hail drifts for me, and it would end with them too!
We stopped a couple of times on the way home to photograph the storms, rainbows and mammatus in the distance. There had been some huge storms in Queensland, with hail the size of baseballs causing massive damage to some areas.
And so comes the end of another storm season! It was nice to have two good days of storm chasing come as a complete surprise, and a great way to finish off the season. It hasn't been a very good storm season for the Northern Rivers, so hopefully when spring returns in six months time we will be in for an above average storm season!
On the chase: Michael Bath
Some heavy showers persisted near Ballina late morning, which was great timing for taking the dog for a run on the beach !
I was unable to head out with Dave and Rodney but managed to get out and intercept another storm heading NE from Maclean. It was a quick chase - drive south about 20ks, watch a fast moving hailstorm come over, then search for the biggest hailstones. The hail in the photos was found a couple of ks west of Broadwater. The biggest size was 3cm but most of it was about 1 to 1.5cm diameter. Apparently there was hail drifts in parts of Evans Head.
---
Radar