---
Yet another marginal setup for the Northern Rivers with very light shear, not so ideal moisture profile, but excellent instability: Cape 3000 and LI -7. It was anticipated that storms would hardly move but a jet was overhead and would at least provide good outflow aloft. The Northern Tablelands and Richmond Range was the initial target area.
Dave Ellem, Rodney Wallbridge and I headed to the Mallanganee lookout on the Richmond Range, arriving there about 2.30pm just as storms were firing on the Northern Tablelands. A storm had formed earlier in the Dorrigo hot spot.
It was hot and sunny at our location with fairly light winds. Very strong massive updrafts punched up along the ranges to our west and southwest. Do we head further west into the Great Dividing Range ?.... nothing appeared to be moving.
We decided to make a move and ended up on the Ewingar Road southwest of Tabulam by 4pm. Any further east and you are in forest with very few vantage points. A reasonably strong storm was persisting but hardly moving about 20 kilometres to our west. A huge anvil was overhead spreading towards the east.
The storm gave bursts of CG lightning with lovely rumbles of thunder echoing through the Upper Clarence Valley. A rain free base hinted at signs of severity a few times but with the storm hardly moving it was all a bit frustrating.
After about 45 minutes we chose to head back to the Richmond Range lookout and get a radar update in case activity to the far south and southwest had got going. When we arrived the storm we had been observing close up looked very high based, a feature we could not see from our "in the valley" position earlier.

The sky was cluttered but some new cells were forming about 50km south of us. The laptop radar update did not happen due to technology failure but we got an SMS from Anthony Cornelius and chose to head towards the new activity.
Just south of Casino we could tell that something was getting more organised. The trees on the Summerland Way made it very difficult but a spot 30km south of town on a side road proved good for viewing. It was now 6.45pm, and a very electrically active storm to the SW and S was brewing - but the overhead high voltage powerlines were not offering much safety or helping for photo composition !

Rodney checked with a local driving by and he advised to head a few ks further west to a clearing on the other side of a small forested area. It was a good move: we could now see the full length of the massive gustfront with frequent CG lightning. The late afternoon was providing some interesting blues, pinks and purples to the scene.
This storm must have altered the local environment within and around it to an extent that it was certainly on the move ! - an occurrence that could not have happened from the overall shear profile alone.
It was getting quite dark and the storm was almost upon us by 7pm. We shot north about 20ks and captured some more of the strong looking gustfront, though it was now looking like it was spreading well ahead of the storm cell.
The fairly cool outflow caught up with us a couple of times, notably just east of Casino about 7.35pm. The CG lightning was going berserk and we wanted very much to be able to photograph it. We shot east and stopped on Fig Tree Lane at McKees Hill. The outflow winds had not hit here yet. It was a rush job setting up the cameras and very exciting as powerful CGs punched ever closer to us through the gustfront base. It was definitely a case of "it's time to go" a few times before we actually did! Some amazing bolts were captured before we took off further east to Parrots Nest.
At the new location the violent outflow winds hit almost immediately, making it extremely difficult to photograph. The lightning had eased off too.
After this we were advised to keep heading NE to near Byron Bay but the storm seemed to "bounce" off Lismore and changed track from NE to NW !!! Well, going by later radar inspection it did....
I think we were fortunate to see and photograph the storms we did today. We got close enough to the almost non-moving cells on the Northern Tablelands for it to be ok, and the gustfront storm and CG show was very exciting, though rushed in chase strategy.
---
Radar
Grafton local scale loop 0200z to 1100z 22/01/2005 (1pm to 10pm local)
---
Satellite Images
From Weatherzone: 1pm to 6pm local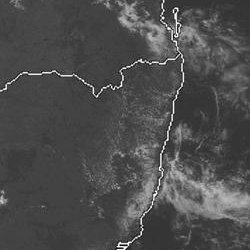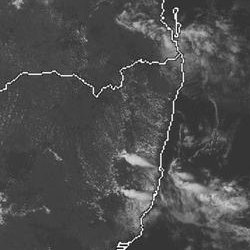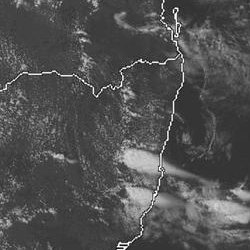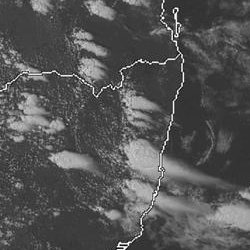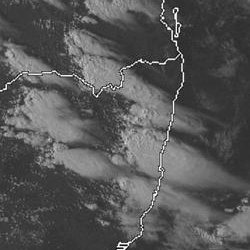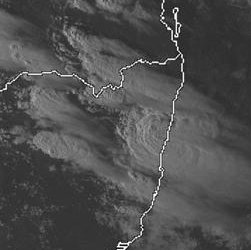 ---
Analysis Chart
From Bureau of Meteorology ---
GFS Model Analysis
From NOAA 22/01/2005 06z analysis run
Winds (knots) 200 hPa
---