---
It seems that while we have generally had a pretty good storm season so far, with a number of severe storms documented, there have been very few typically excellent setups for the Northern Rivers where you know for sure there'll be severe storms. From the giant hail event which smashed our chase vehicle in November, through to the spectacular Lismore supercell just last month, every setup seems to have been very marginal, and the 5th of January seemed as though it was no different! LIs were progged at around -2 by GFS, with CAPE values around 600. Therefore things weren't looking real hopeful. However those figures turned out to be inaccurate, with the Brisbane 00z sounding showing excellent instability... -5 LIs and CAPE around the 2500 mark. The shear profile also assisted development, with both good speed and directional shear. The temperature and moisture profile were rather ordinary though. 22C @ 850, along with -6C @ 500, which is rather warm. As far as moisture goes, there was plenty in the lower levels, then a significant dry slot between 650 and 450, with an almost saturated atmosphere again above that. Not an ideal setup once again, but the ingredients were potentially there for something nice to develop.
Extreme heat, humidity and haze are probably the best way to describe the morning. The DP hovered around the 24C to 25C mark most of the morning, with early mid to high level cloud clearing out and allowing the temperature to hit around 35C after lunch. Weak showers had been popping up along a line from Tenterfield to Evans Head all morning, however it wasn't till around lunchtime that they appeared to have more substance to them. I watched as some crisp updrafts pushed up to my SW as I ate my chicken sandwich, and it wasn't long before Michael Bath and I decided to head out and see what was going on. Tony Middleton was also cruising around the region on holidays, and was keen to bag some storms before heading back home. By the time we got to the southern side of the Alstonville Plateau, all the NW-SE aligned convection appeared capped and moisture starved. Evans Head had managed to get 16mm from a weak cell that had moved over just as we had headed out chasing though. After sitting around for a bit and observing nothing the least bit exciting, we decided to head back to my place via Lismore. A radar check back home showed more cells were developing around the Casino area. We went outside for a squiz. Everything looked mushy, but the cells were getting more height to them. As we walked back inside the first rumble of thunder was heard! It was on! Well... not quite. We headed out to a vantage point nearby, observing some cells producing some nice heavy rain, but that was it!
At this point, watching the cows seemed to be more entertaining! I flicked the AM radio on (sacrificing the cricket coverage on ABC) in the hope of hearing some static. For me, this is the last resort to finding some excitement whilst chasing... at least if there's some loud "cracks", you know there's a storm somewhere within a 600km or so radius, therefore providing some hope! However all I got when I turned it on was the rhythmic "click" of the powerlines overhead. With very little going on, we decided to head west a bit to see if anything was developing to the SW, hoping that something big may push into our area later. Even that was looking unlikely, however some very heavy rain near Lismore caught our attention, and we figured why not go and core punch! Stopping at Richmond Hill, this also provided little excitement, with not even a breath of wind as the moderate rain moved over. At this point I sent an SMS to Tony, who was near Evans Head, apologising for our ordinary storms. Just as we were about to set off, I noticed a cell just N of Lismore that looked to be producing some very heavy rain, but still appeared to have a nice updraft region. So we set off N via the Lismore to Bangalow road.
We stopped every now and then along the drive to get some photos of the storm's evolution. Looking at the photos now, we must have been bored considering how excited we got at this cell when we first saw it, with not even so much as a decent guster! However a green tinge soon appeared behind the now solid looking updraft tower, and while the base was a bit ill defined, both Michael and I were beginning to observe base rotation. There was also regular thunder occurring.
As we neared Bangalow (which was a slow process as we were stuck behind a slow truck as usual...) the sky was very interesting. Activity over Ballina was interacting with the cell we were chasing. Our cell appeared initially to form behind the leftovers of a gustfront from the Ballina cell, with the photo below showing a wall of cloud behind the guster. Decent surface inflow winds into our cell were now becoming evident too, however it may have been enhanced by the outflow from the other cell near Ballina.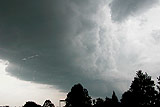 We drove through some moderate rain before finally pushing ahead of all the cells. The adrenalin was now pumping, as our cell began exhibiting signs it was becoming quite strong, with what appeared to be a very thick, well defined guster curving around into a rotating base. At this point a CG jumped out of the front of the storm, landing ahead of us by several kilometres! The storm was certainly gaining strength! We soon arrived at the top of Saint Helena, which overlooks Byron Bay. The view here was pretty spectacular.
The rotation we observed was rather fast at this point, and inflow winds were on the strong side. However what may have been a brief mesocyclone seemed to become more disorganised, and pushed out into a gustfront feature. And it did this quite quickly! Within a couple of minutes the storm was almost on top of us, so we decided to shoot a bit further N up the Pacific Highway to Tyagarah.
Timelapse (5x) of the storm pushing out into a gustfront (625kb WMV)

As we drove off down the hill onto the coastal plain, a magnificent CG jumped out ahead of the storm and hit in the paddock probably no more than a kilometre away. What was amazing was that the ground where it hit was lower than the highway, so I could see it touch the ground out the window from my elevated position. I let out an excited "GEEEEEEEZ" just before we heard the muffled boom that lets you know the CG hit not far away! We stopped not far up the highway, but the storm had certainly weakened, with a lovely guster pushing out ahead of the main precipitation.
Time to move again, as the guster moved overhead! We stopped on the overpass of the Pacific Highway that heads into Mullumbimby. It was here that we would observe the storm as it reduced in intensity and moved out to sea. Just as we stopped, the main updraft tower could just be made out above the gustfront, which looked pretty cool. Overall it certainly was a nice dark structure, and we were feeling most satisfied with what we had received given we were eagerly watching high based showers just hours earlier.
As we set back towards Bangalow, we soon moved under the gustfront, and the sky was quite turbulent looking from within the structure. We have observed this a number of times, with small scale rotation all around the place as surface winds seem to interact with the winds steering the storm. We soon perched ourselves on top of Saint Helena again for a couple of last pics of the rain curtain as the storm moved out to sea.
We caught up with Tony in Bangalow – unfortunately he had missed the show, being stuck in the usual Pacific Highway holiday crawl. We headed to the Mecca of Eltham to see if anything else was going to develop, but the sky was looking much more stable now. We had a great chat out in the middle of a paddock for a while before heading back home. I got an SMS late that night from Tony reminding me of my earlier SMS to him: "I quote... 'sorry-our storms suck! We're near Lismore but not sure if more will develop.'". Seems you need to make yourself sound like a fool before the storms will co-operate... :)
---
Radar