---
Baseball Sized Hail at Leeville - south of Casino, NSW. Copyright Michael Bath
Today was one of those days where reading the models didn't tell the story. I was rather shocked when I logged onto the net in the morning to read the Northern Rivers forecast and see "afternoon thunderstorms with possible hail and squally winds" mentioned, as we usually only see that sort of forecast on days where severe storms look very likely. A bit confused, I loaded the AVN model to see that it had forecast -1 to -2 LIs and surface cape of around 400 in the Northern Rivers region. Typically on a day where hail and winds are in the forecast, you'd like to see much lower LIs and higher cape, so I was a bit surprised! Talking to Michael Bath later that morning, we both noted how the sky looked quite good for severe storms. A thick early morning fog had lifted and the sky was filled with plenty of cumulus, although there was some concern there was a little too much. Still not quite sure what to make of the setup, I loaded the AVN surface temperature forecast to see that it had plotted 18C to 20C over the Northern Rivers. It now started to become clear why the LIs/cape were plotted so low and why the BoM was forecasting hail and squally winds! I re-plotted the 00z Brisbane sounding at 28/20, which I figured would be a more realistic max temp than what the AVN model had suggested. All of a sudden we had LIs around -7 with cape getting up to around 2500!! With plenty of low level moisture and generally good wind shear, it was now much more clearer why severe storms were definitely on the cards! However I don't think either of us realised just how severe storms were likely to be this day.
As mentioned before, there was a lot of low level cloud, and surface temps were a little lower than I would like to see during mid morning. There was also virtually no capping, so convection kicked off near Dorrigo by around 10.30am. Everything remained pretty weak looking and very slow moving - not what you'd like to see on a typical severe storm day. When Michael finished work at 1pm we had a chat and decided it would be best to be out west of Casino as it looked as though severe weather would have to develop at some point and we would need to be out there already to get it. So at 1.30pm we headed off to Mallanganee, west of Casino. There was nothing impressive the whole trip out - mostly junky Cjs and weak Cbs. We made mention during the trip out how it had been such a boring run of weather and that we would love to experience a day like last year's supercell outbreak on October 25th which gave us giant hail. But it was looking very grim once we were at our target area at Mallanganee, with only very weak development. Around 2.40pm, things began to get more interesting as some ok looking updrafts developed behind a weak looking storm to our SW.
These ok looking updrafts continued for a while, lifting our spirits that something might just take off. By 3.14pm, to our great excitement, one powerful looking updraft burst through the low level cloud and gave a spectacular looking cumuliform anvil, complete with knuckles, a nice rain foot underneath, and plenty of CGs! Boy was it a sight for sore eyes!
Unfortunately for us, this period of stronger development was short lived. By 3.30pm the storm looked to be weakening again as the anvil seemed to lose its crispness. What was interesting at this point was a lowering that developed underneath this storm. Michael has commented many times before that these lowerings seem to appear on hailstorms, and it looked as though this lowering was indicating a new updraft region in the storm. We kept a close eye on this lowering, which persisted for some time. We also began to watch quite a nice looking cell NW of Kyogle, which we were a little annoyed about in one sense as we assumed it would be heading E, possibly NE, taking it further away from us.
Things began to get almost frantic from this point onwards! At 3.45pm it was becoming clearer that the cell to our S was getting organised and becoming severe, as the persistent lowering appeared to be developing into a fully fledged gustfront. A beautiful crisp updraft was now pushing up to our SSW, and the storm's anvil now seemed higher and more cumuliform once again. We were further frustrated after a radar update on the laptop that the cell to our south now appeared as though it would continue to track ESE to E, making an intercept almost impossible due to the poor road network. As we were discussing what to do, we noticed the cell NW of Kyogle was all of a sudden completely covered in pileus - it was a pretty incredible sight for a pileus lover such as myself! It was now around 3.50pm.
Things were sure changing quickly from here. In a matter of minutes, quite a nice gustfront was forming on the cell to our south and the cell NW of Kyogle was continuing to explode, with more pileus developing on a fresh updraft. Looking at the updraft of the cell to our south, it was beginning to look more and more like a supercell, however we didn't make the call at the time as it seemed borderline and we couldn't pick any updraft rotation.
We were now almost certain the cell to our south was producing hail, and given the nice cool upper levels and generally slow movement of the cell, we thought hail drifts were on the cards, so we looked again at the map trying to see if there was any possible way of getting closer to it, or even behind it to see if it had left behind any drifts of hail. But while we were looking at the map, the cell NW of Kyogle just EXPLODED!!!! A MASSIVE updraft that looked like an atomic bomb going off blasted up out of the pileus! It was one of the most explosive updrafts I have witnessed. Words can't really describe the spectacle of the rapid explosion.
Most of my attention was on the cell near Kyogle for obvious reasons, but the cell to our south was also becoming quite a sight! A pretty good looking gustfront was now well established below a strong updraft, and it was pretty clear that this storm was going to be severe. We figured we would try and head to Casino and shoot south of town towards Leeville in an attempt to get closer to the cell. After a final photo of the amazing storm near Kyogle we jumped in the car and set off for Casino at around 4.00pm. Things were now about to get VERY exciting!
On the drive to Casino, Ray Mullens phoned to inform us that both cells were on a collision course for one another, and it appeared they were going to collide near Casino. We couldn't believe the news! One cell heading SE, the other NE!! It was almost like being in between the two Casino supercells in January 2001! The question was, which one should we target. The other thought playing in the back of our minds was that as they neared each other, they could potentially kill each other by cutting off the nice supply of moist, warm air. Ray informed us that the one NW of us was stronger on radar, exhibiting a large red core. The one to our south was also red on radar, though its core was a little smaller. The trip back to Casino goes through some treed in areas surrounded by hills, so it was hard to make a visual judgment until we were almost near Casino. We stopped briefly to observe. The cell to our NW, as pictured below, looked to be producing some intense weather, but the cell to our south looked like a real beast, with a gustfront dragging along the ground and an amazing green colour in the clouds.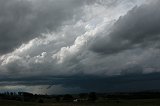 Just then, Ray rang again to confirm the cell to our south now looked more severe on radar. So we headed south to look at it. On the trip out we could see multiple large inflow bands - quite a large one in the distance that fed in behind the storm where the gustfront/probable meso was. Surface inflow winds right up until we were just about in the storms were very strong - some of the strongest inflow we have observed. It is unclear whether this strong inflow was in fact outflow from the northern supercell, but it did still feel rather warm and humid. Another smaller inflow band was feeding into the storm almost overhead. Because we were racing south, we unfortunately didn't have time to get good structure photos. We stopped just ahead of the storm for a few very quick shots of the guster which was touching the ground at 4.29pm. The green colour in the clouds was nothing short of amazing! As I took one of these photos a flang hit behind me - Michael and I aren't sure how far away it was, but it was close! I was promptly ordered back into the car by Michael!
As we approached the storm at Leeville, Michael spotted some pretty dramatic rotation- probably some of the fastest rotation we have observed. As we drove under the mesocyclone, we drove through a rotating cloud of small debris, so there was obviously some small circulation going on at the surface under the mesocyclone, but not strong enough to do any damage. In hindsight, it was at this point that we should have stopped. While there was no really dramatic indication of the storm's intensity such as a well defined mesocyclone or gustfront as we have seen on HP supercells in the past, there were a number of less recognisable indications of how severe the storm was, which we didn't add together until it was all too late! At about 4.32pm we drove into the storm's precipitation area, receiving some strong to severe winds and heavy rain. But to our surprise, there was no hail!! We had expectations of coming into the storm and finding hail drifts of 2-3cm hail, as we had discussed earlier, however there wasn't a single hailstone! We never said it but it turned out we were both thinking at the time that we were probably only going to get heavy rain, as we have chased so many storms in the past which looked to have hail for certain which didn't! After a few minutes of boring heavy rain footage, I turned the video camera off as I thought it would end up being nothing but rain footage. Then out of nowhere and with no warning - SMASH!!!!!! Gorilla sized hail being propelled by winds of around 90km/hr came bouncing across the paddocks and road and SLAMMED us!!!! Within seconds the windscreen had began to smash. I was terrified - all hell broke loose!!!! I thought we were going to lose the windscreen and didn't know whether to jump into the back of the car. Fortunately Michael acted quickly and turned the car around as soon as the massive hail hit and we got out of there as fast as we could. But the damage was done. Within maybe 30 seconds (felt like 10 minutes!!), the windscreen was completely smashed up. It was absolutely terrifying!!! I was freaking out on one side of the car while Michael quietly mentioned 'I think I'll need to get some repairs done'! We pulled up a few kms from where it occurred and immediately phoned the BoM and local SES to let them know of the storm's severity. We started to get a few 3cm to 4cm hailstones where we had stopped and I started freaking out again, but nothing larger hit after that. We composed ourselves (well, I composed myself, Michael seemed to be ok!) for a bit and then drove back in to see what had happened. Firstly, here's some photos of the windscreen and panel damage! 30 seconds in the vault region of the supercell had left us with 14 separate hail impacts in the windscreen and 50 dents right over the entire car. Every panel was damaged. We also measured a dent in the front of the car that was 15cm wide!!! Obviously a number of giant hailstones were needed to do that sort of damage!
As we pulled up near where we had encountered all the hail, we noticed the paddock to our left was covered in large to giant hail, with a lovely rainbow to top off the scene! We had to wait a few minutes for the rain to stop before we could get out. There was also the concern of lightning as some CGs were still hitting rather close by. After a few phone calls to family members and friends to let them know what had happened, we eventually got out of the car and found numerous round and very solid 6cm stones which I couldn't smash when I threw them hard at the road. Further searching around found a number of 7cm stones and one 8cm stone. We are pretty confident there were larger stones - possibly up to 9cm going by damage to the car and some of the hailstones seen flying past the window on the video. But officially 8cm is the largest we measured.
At about 5.20pm we headed back to Casino, logging onto the net via the laptop to let the AustPacWx email list know what had happened and to meet up with Rodney. If only we had the video camera rolling when he saw the front of the car - his face was priceless!!! We watched another line that moved through for a bit but then grabbed some dinner and headed home. On the trip back, we stopped at Parrots Nest for a photo of the sunset. The whole sky was filled with this eerie glowing orange colour. It was the strangest feeling for Michael and I..we were feeling like 'did that just happen'. It was a feeling similar to when we experienced a monster HP Supercell at Casino in January 2001.

It was amazing to see how much rain had fallen across the area on the trip back. As the two supercells collided near Casino, both collapsed in a dramatic fashion, dumping up to 3 inches of rainfall in some areas and giving severe wind gusts of up to 100km/hr. It was certainly welcome rain for a large part of the Casino-Lismore-Ballina area, and very fortunate that neither storm survived to go on and devastate one of the major towns. The chase had certainly been an incredible one. It was particularly rewarding being able to watch a storm develop right from a small cumulus cloud and then witness it as a HP supercell in full fury. Fortunately for us it wasn't to be our last chase, but the chase vehicle will be out of action for a while!
Additional photos
These photos by Rodney Wallbridge east of the storms:
These photos by Ray Mullens east of the storms:
These photos by Vicki Joy of the storm NW of Kyogle. She describes watching "little twister like forms for about 20 mins before the storm hit":
---
Media Reports
---
Radar