---
After some wild storms the night before I hadnít really expected much more than widespread thundery rain for Christmas. However cloud did break up, and the temperature and humidity soared, leading to scattered showers and thunderstorms to develop across the region by early afternoon. One cell developed near the Nightcap Ranges to my NE, just NW of Byron Bay. The cell initially headed N, although very slowly due to the lack of shear.

It seemed to then become stationary for a while, and just dumped some heavy rain. Thunder was audible, although not very frequent. The occasional CG was also observed. Soon an anvil became established and development continued on its SW flank. As it grew large it became apparent it was now beginning to edge SW very slowly. I also noticed what appeared to be some very large storms out to sea, and made me wish that ASWA had a boat!!

By around 3pm the cell was now certainly well on itís way towards Lismore. After finishing lunch at 1pm I didnít have to be anywhere until 5pm, so my sister-in-law and me went out for a small chase to Lismore. It had begun to develop a bit of a weak guster, and was very dark. Very heavy rain looked to be falling just north of Lismore, and I wasnít surprised to receive an STA on my phone just after 3pm. This storm certainly had severe rainfall.

We saw about 4 brilliant CGís Ė very thick, branched and bright white against the now very dark sky. We headed down Richmond Hill and by the time we stopped at the bottom for photos, it still looked very dark, but the guster looked like it was on itís way out. Still nice to watch though, and thunder was now quite constant, very interesting considering we didnít see any flashes Ė must have been high up.

We headed onto the road to Kyogle, and stopped about 5km out of Lismore to get some photos of the now dying storm. The rain was certainly now much lighter, but thunder was constant. It did sound kind of distant though, so it may have been from another cell in the area to its north or west.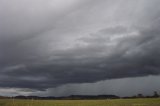 After driving a little further to try and get in the rain curtain, we realized that the cell had now stopped, and just light showers filled the sky just to our north. We headed back through Lismore and did a bit of damage assessment from the storms the day before. Later that night weak cells gave some thunder and lightning, and widespread cells/rain covered the Grafton radar. At 10pm a small cell developed over my home In Wollongbar and gave some thunder and dumped 22mm. A welcome ending to a fabulous 2 days of chasing in the area!
---
Radar
From Bureau of Meteorology.
Grafton local scale loop 0240z to 0600z 25/12/2002 (1.40pm to 5.00pm local)
---
Satellite Images
From Bureau of Meteorology.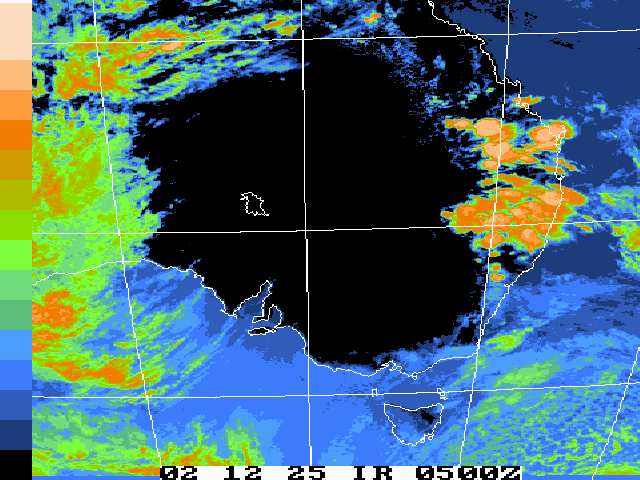 ---
Analysis Chart
From Bureau of Meteorology.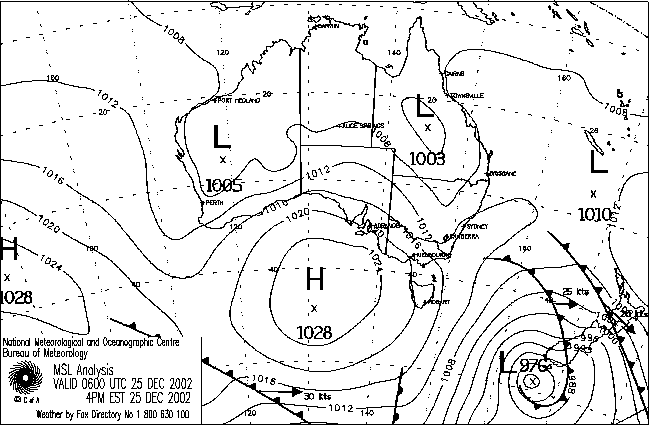 ---
AVN Model Analysis
From NOAA 25/12/2002 06z analysis run
Winds (knots) 300 hPa
---