---
It was great to finally have the opportunity to chase after watching large storms for several days through the Northern Tablelands and Northwest Slopes districts. I had the afternoon off and Dave was keen as always - though lacking a chase vehicle :)

Scattered largish cumulus had developed throughout the region and storms were underway along the ranges to the far south. We headed off shortly after 2.30pm as a cell had quickly developed WSW of Casino. AVN shear forecasts were a little unclear as to which way cells would move, only that any reasonably strong ones "should" head generally NE.

We drove west and were soon at Casino. Activity had weakened a fair bit and the sky had become cluttered with cumulus and weak storm cells slow moving in various directions. We obtained a radar update from Anthony, then took off north to intercept the rain from a cell heading northeast. It was hardly worth the effort, but at this stage, it looked like nothing much more was developing. After a brief shower of rain, we stopped off at a favourite vantage point NW of Casino. The cell heading NE was very slow moving and seemed to intensify a little. Another cell was strengthening to its NW and a rain free base separated the two - at least it was something to watch for a while. We saw 2 CGs.

By about 4.30pm we were almost going to head home, but checked with Anthony again on the progress of activity to the far south. Earlier, he indicated that a storm that had formed south of Grafton was continuing (this was on radar before we left), and was heading NNE, but a storm heading SE from the Tenterfield area was likely to merge with it. Fortunately, the merging had strengthened the storm and it was heading for between Evans Head and Casino. We took off east with the aim of meeting the storm around Woodburn.

We could not see much of the storm during the dash east along the Bruxner Highway. It was quite dark to the south, but little in the way of storm features were apparent at first. South of Lismore we took the Coraki Woodburn Road. From just before 5pm we could make out a feature that appeared to be the early stages of a gustfront, but actually seemed too long from east to west. As we got closer we saw the first of the pulsating CGs and things became very exciting from then on. An enormous gust front was developing before our eyes while large flashes of lightning pulsated multiple times through the structure. We drove south through Coraki and passed some trees trying to get a decent vantage point, finally screeching to a halt at the Bungawalbyn turn off. The western edge of the guster was quickly advancing, and after a few pics and video, was decided to head back north to a clearer location. On the northern outskirts of Coraki, we stopped and watched the show. The sky ahead of the gustfront became vividly green, bolts of lightning punched through this with a purple glow, and scuds swirled around. The western flank was curving around in the direction of Casino (to the NW), while the whole storm was heading NNE towards us. The evolving structure was incredible and reminded us both of the Casino HP nearly two years earlier. This time though, we had a chance to observe the storm better and the lightning was far more spectacular and frequent.

It was time to decide where to head again as the storm got closer to us. It looked certain there would be hail with the green coloured sky - should we try to get in the hail or keep ahead of it all ? It was a little worrying and making the decision on which direction was difficult. First we went NW, then stopped and back tracked as the storm looked too severe to be heading in to. We then went N, but the storm caught up, so we just found a clear spot away from trees and power poles to ride it out. It still looked certain we'd encounter hail, the turbulent sky above us looked as though it was going to unleash a torrent of it. CGs flashed all around and funnel shaped scuds hung low from the green tinged clouds. We were facing south as it hit from the SE, wind driven rain spread across and flangs struck. Very soon the roads were awash with water. We heard a few small hailstones hit the car, but nothing substantial in size. The winds swirled around and lightning struck very close by, the torrential rain continuing for at least 10 minutes. We drove into it, barely able to see the road with the white out occurring. We searched for hail towards the NW, then north towards Lismore as the storm advanced just ahead of us. Although the winds at the location we waited the storm out were not all that violent, we soon came across areas where it had been ... large trees were felled or snapped off and across the road, a home had its roof torn off at Ruthven. We drove into Wyrallah where road works sheds had been smashed and more trees broken. Isolated spots along the drive home had tree damage, while elsewhere there was no evidence of damage except for flash flood scouring.

The storm passed through Lismore with intense rain and isolated swathes of damaging winds. A tornado was observed clipping Lismore Heights and two other funnel clouds were seen. The intense pulsating lightning was continuing as the storm passed over the eastern parts of the Nightcap Range. Thunder was continuous for a while echoing through the valleys.

Many areas were blacked out during the event. At my home at McLeans Ridges and at Dave's at Wollongbar the power was off from 5.40pm till 11.40pm, but other areas were out till 5am the next day. It was a very frustrating Christmas Eve with no PC access !

A couple of panoramas, fourth one was taken by Scott Hills from Goonellabah:

The following six photos were taken by Owen Ellem from Tregeagle:

Some damage pics from Lismore Heights.

Dave Ellem writes:

"Quite a bit of damage was caused by this HP Supercell – mainly felt in the Lismore region. Some notable buildings that were damaged include a house on Ballina Rd that had its entire roof ripped off and tossed onto the Bruxener Highway. On later inspection I found parts of its roof on the other side of the highway across two blocks!! Another house in North Lismore was knocked off its foundations and collapsed. Although this sounds significant, the house was fairly run down, and I believe it wouldn't have taken much wind to cause it to collapse. Wind measurements in the Lismore region were around 100km/hr, certainly severe. At Bexhill a home had it's roof taken off and blown into power lines. Power was cut in a large number of places due to trees/debris bringing down lines. Around 5000 homes in the region were without power, with 2000 still having no power form Christmas day. Power was restored to most homes by the morning of the 26th. Numerous branches were also brought down by the storm, including some large trees, right through from Lismore to Alstonville. Although the Lismore AWS recorded 36.8mm, my grandparents recorded 65mm at their place in South Lismore. No doubt higher totals were recorded."

Rodney Wallbridge captured some images of the damage in Lismore:

John Alcorn also captured some images of the damage in Lismore:

Some video stills taken from the Coraki area:

From Australian Weather News:

" Much of Lismore in NSW was left without electriticy when early evening storms blew trees onto powerlines. 28 homes were damaged, with the SES receiving 78 calls for help. Lismore Airport recorded a top wind gust of 108km/h just before 6pm. Lismore Airport recorded 25.6mm in 12 minutes from the storm, with 9.6 falling in just 3 minutes."

If you (or someone you know) have any photographs or video of this event, please feel free to contact Michael Bath. Your contributions are very welcome.
---
Radar
From Bureau of Meteorology.
Grafton local scale loop 0120z to 0800z 24/12/2002 (12.20pm to 7.00pm local)
---
Satellite Images
From Bureau of Meteorology.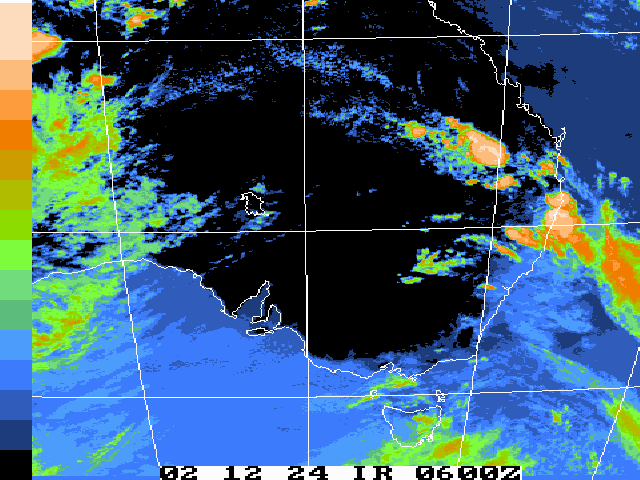 ---
Analysis Chart
From Bureau of Meteorology.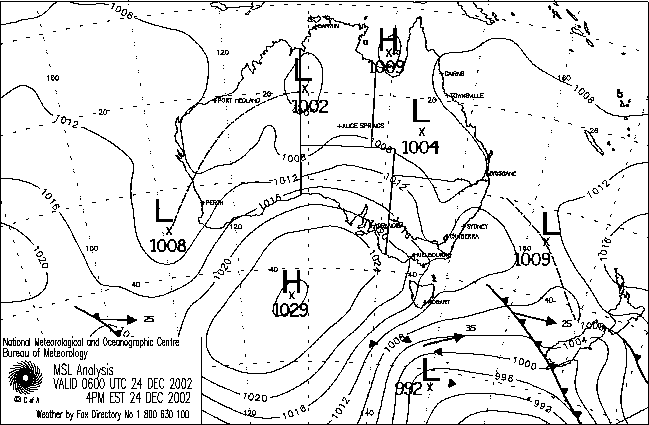 ---
AVN Model Analysis
From NOAA 24/12/2002 06z analysis run
Winds (knots) 300 hPa
---