---
Dave, Rodney and I had been keen to chase for weeks, but the November weather pattern was not kind to us until this day. We headed out fairly early as cumulus congestus begun forming in the region. Although some larger clouds had developed near the coast, we were hoping for some stronger stuff out west to track across the area.

We waited at Parrots Nest south of Lismore and observed some decent updrafts form near the coast to the east, and to the north over the Nightcap Range. None of these pushed all that high, but were highly contrasted and had interesting bases. After a while, we decided to pursue the coastal cells as nothing much had formed to the west. We took off NE along the Lismore Bangalow Road with Rodney at the wheel. It was nice not to have to drive for once.

The cells over the Byron Bay area developed further, with inflow band type features into the high based storms. The trees and hills along the road made for frustrating viewing, and road works were a huge hold up ! We finally made it to the top of the hill overlooking Cape Byron by 1pm. The high based cells had shrunk somewhat, but still exhibited inflow features and turning with height.

As we had driven to Saint Helena, a storm had finally developed just west of Lismore. It soon became electrically active and was the focus of our attention. Fresh updrafts were formed on the NW flank in clear air, and we were well positioned to watch it and keep north of its general ENE movement. (I spotted the first CG and earned free Maccas from the others). Another cell had formed SW of Murwillumbah, to the north of the storm we were watching.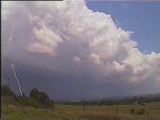 After a while, we moved north along the Pacific Highway to a lookout at Ocean Shores. It was a great spot and perfect for what we hoped would be where the Lismore storm would head. The storm took on a strong appearance just before 2pm. Lowerings seemed to be touching the hills to our SW, and areas of intense precipitation formed. About the same time, the other storm to its north began to grow and reduced the ongoing potential for moisture and heat to enter the NW flank of the Lismore storm. CGs were occurring quite frequently, mostly on the eastern edge of the storm near Byron Bay. A few further lowerings and a high based shelf cloud formed, but it seemed starved and eventually weakened.
Some interesting roll cloud type formations developed out to sea and were nicely contrasted. It was something to watch as the storm we had watched continued to weaken. Further north, a stronger storm was cutting through the Tweed Coast, and another on the Gold Coast. We headed north along the Tweed Motorway and saw a few CGs from those cells, but the sky was largely devoid of features. Some light rain fell. We got our Maccas - a late lunch then watched a few more CGs strike out to sea NE of Point Danger Coolangatta.
If you (or someone you know) have any photographs or video of this event, please feel free to contact Michael Bath. Your contributions are very welcome.
---
Radar
From Bureau of Meteorology.
Grafton local scale loop 0030z to 0430z 30/11/2002 (11.00am to 3.30pm local)
Grafton medium scale loop 0030z to 0600z 30/11/2002 (11.00am to 5.00pm local)
---
Satellite Images
From Bureau of Meteorology.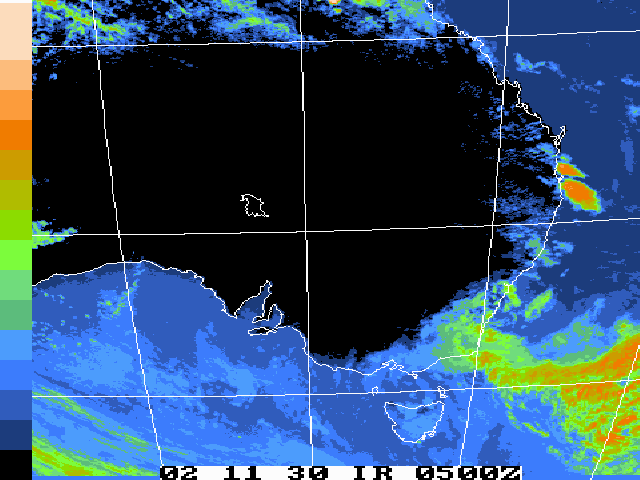 ---
Analysis Chart
From Bureau of Meteorology.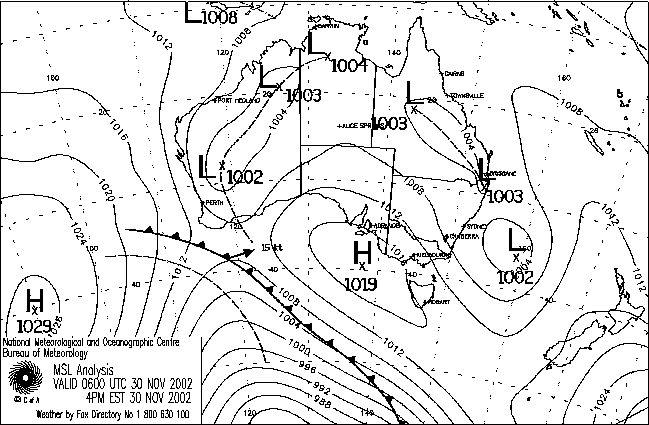 ---