---
All times are Australian Eastern Standards Time which is UTC + 10.
Click on images for larger view.
Move your mouse pointer over images for captions and times photos were taken.
---
The day started quite overcast, with mostly Altocumulus. The rain that had been in the area the last few days had cleared out offshore. Out over the ocean you could just see a few Cbs. There was excellent contrast in the sky. I had my final trial HSC exam, Biology, which was at 10am in the morning. I had spent most of my morning studying hard and only briefly checked the forecast. The BoM were going for isolated showers so I wasn't going to be paying much attention to the weather during the morning, other than snapping a pic at sunrise.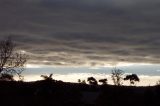 At 1pm I finished my exam, and felt very happy that my exams were over. I was wondering what I was going to spend the arvo doing. I had to go straight from school into Lismore to pick up my brothers car, and when I left school I noticed some very large offshore Cbs. I was wishing I had my camera! We headed into Lismore and it was beginning to look quite dark right around from the S to the W. I was surprised as I thought the showers wouldn't be really heavy today. We continued in and I noticed some anvils forming on some weak showers to the NW and decided to take a closer look at the even darker black sky to the SW. It was then that I just noticed an anvil starting to spread out overhead (it was blocked by low and mid level cloud). I was even more surprised, however I still wasn't totally convinced it was a storm and thought it may have just been some cirrus stuff. Sure didn't feel like storm weather. By the time we got to Lismore, the sky was VERY dark. More darker than most approaching storms and considering it wasn't even 1.30pm yet, it was pretty dark. I declined an offer for lunch as I thought I'd head home and sus out what this was. I had to go back to Alstonville to drop someone off, and then head back to Wollongbar to my house. When we were just out of Lismore we heard a report come over the radio that a hailstorm had hit Casino. Then I was really convinced!! I was a little disappointed as I assumed it would be heading north. I hadn't even looked at the wind profiles so I had no idea what the storm was going to be doing! By the time I reached Alstonville, it was really gusty and beginning to rain very large fat drops of rain. I quickly dropped the person off and raced home to check radar. By the time I got home, I could see a developing guster to the WNW but it was still black, raining and windy in Alstonville.
Of course when I tried to connect to the net it wouldn't let me, so I gave Michael Bath a call for a bit of info. He said the system (there was a few cells, one of which passed through Alstonville, but was very weak) was heading in this direction, so I decided I'd head out for a look. I grabbed the camera, the dog and I was out the door. Whilst driving down the highway, the guster/lowering sorta thing (so technical!) started to develop an inflow type band. The was a line of cumulus attached to the base that stretched from the NW down past me to the SW of my position. Looked really cool, but being on the highway I couldn't get any photos! I decided to head to a lookout in McLeans Ridges that I had been to once on my first storm chase, as it was too late to head to the Tregeagle lookout. I hadn't realised that someone had built a house there since I was last there, so I stopped at the intersection just near there. Only problem was that there were a few tress and powerlines in the way. I decided to head to the road up the top of Michael's street. I parked there and had a great view of the storm!
There were some impressive looking rainfoots coming out the front of it, and it was moving along at a fairly good pace. There were a couple of great CGs that made ripper cracks!! Really loud. I wasn't feeling so safe standing out in the open anymore. I could see Michael at the front of his place videoing, so I thought I'd head down just till the storm passed. We watched it dump it's load in the valley, assuming it was hitting the Nimbin area.
It eventually began to rain over our area and the view become a little obscured. I quickly checked radar to see if there was anything developing behind the storm, but there was only a few showers, so I headed on home. When I reached home the storm was getting closer to the coast, possibly over Mullumbimby at this stage. It had begun to develop the inflow band type feature again, although much less pronounced, and now it was behind the storm.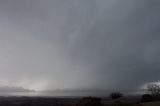 By this stage the BoM had released a warning for the area, although the storm was pretty much over I think. I guess they were caught by surprise like I was!
NSW Severe Thunderstorm Advice
BUREAU OF METEOROLOGY
NEW SOUTH WALES REGIONAL OFFICE
Issued at 1434 on Friday the 23rd of August 2002

The Bureau of Meteorology in Sydney has issued a Severe Thunderstorm Advice
for people in the following weather forecast district:

Northern Rivers

This advice is valid until 6pm and it should not be used after this time.

Thunderstorms are forecast within the advice area this afternoon. Some of
these are expected to be severe, bringing large hailstones, damaging winds
and very heavy rainfall.

I sat on the roof and watched for a while, some beautiful deep booms rumbling through the air. Sunrays were beginning to filter through the clouds. I felt so relaxed. Exams over and thunderstorms to watch. As it all cleared out, some developing towers became visible to the N in SE QLD. These looked rather weak however. A cell did develop and head over Coolangatta, and there were a couple other weak pulse cells around there.
Most of the activity was over for Northern NSW though. A very exciting surprise to finish off the week, and a nice treat for finishing my exams!!
---
Radar
From Bureau of Meteorology.
Grafton local scale loop 0250z to 0450z 23/08/2002 (12.50pm to 2.50pm local)
---
Satellite Images
From The Weather Company.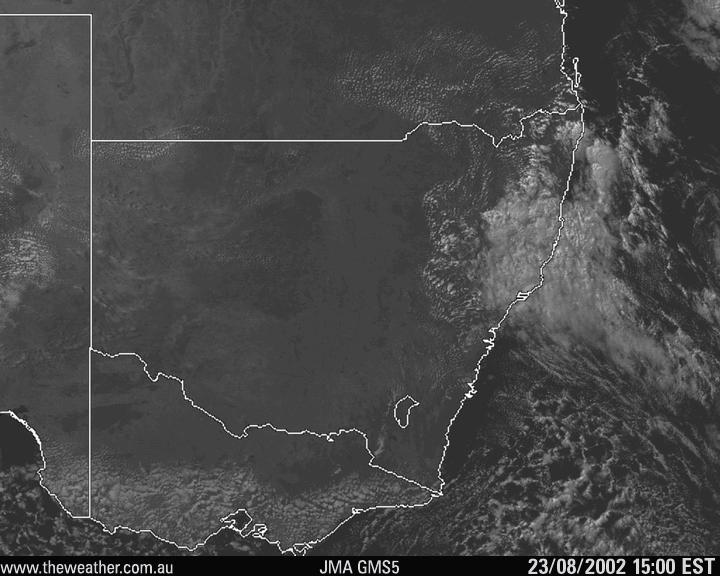 ---
Analysis Chart
From Bureau of Meteorology.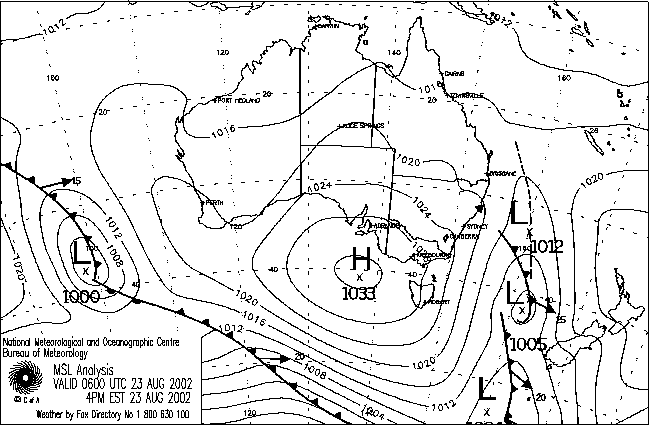 ---