---
Monday 27 May, 2002 - Memorial Day - weak cap and numerous supercells - Big Springs, Texas
It was Memorial Day, so a special breakfast was in order, thanks Kim. But time was critical. I felt I would have liked to leave earlier.
Planned destination, head west through Throckmorton and on to Post south of Lubbock (probably 5 to 6 hour drive). We would be in the general vicinity of the target region and look for any of the complex outflow boundaries and also the warm front. Well, we knew we would pass through some developing convection near the Throckmorton region. This always keeps the mind pre-occupied before the main action. Wind shear was expected to increase during the afternoon (easily sufficient for supercells) with a short wave trough moving in from the west producing good lapse rate potential. The dryline was setting up nearer the New Mexico - Texas border. Moisture was no problem but the mid-level moisture to the south was being picked up by the models and was not to my liking.
The trip out was as expected driving through periods of thunderstorms, a couple of severe ones further south and southwest of the convective system of thunderstorms. We did pass an accident which looked quite serious and most probably attributed to the wet conditions and visibility.
Finally, we saw clear skies after a second batch of thunderstorms. It had a back sheared anvil and was definitely the back end of the severe storms just to our south. Outflow was extending out from this storm system. We continued in warm sunny conditions towards Post. Then the scanner picked up a NOAA message for a tornado watch. Fantastic!!!
Arriving at Post about mid afternoon, we noticed severe storms to our south. There was a tornado warning issued on one of these storms near Colorado City. I knew we were then not going to have the best day's chasing - we were not on time and now in the situation of playing "catch-up" chasing.
This is exactly what happened - as we approached a storm complex nearer Big Spring, we heard tornado warning on a new storm to the southeast. It also had a dangerous storm in the warning which meant it was showing signs of significant rotation on radar. I also pointed out to Matt a storm to the northwest probably near Lubbock. It had a nice foward flank structure. Of course, the hail warnings were for hail sizes up to base ball on our storms. At one stage, we caught a glimpse of the warned storm which had an impressive updraught and a nice rear flank downdraught. We were alluded to the storm to its west which was closer to the dryline and warm front boundary and also with a tornado warning. Once we were very near this supercell we could see it was going to envelope us and had no chance of heading south of the storm. It also turned out this was a left mover - right mover split. We were on the left mover. Again, playing catch-up simply does not work.
Finally after some time in Big Spring, we headed east on I 20 into this storm which had very heavy rainfall. Flash flood watches were issued for a large portion of our region. We came through the other side of the storm only to find this storm had mostly dissipated leaving an anvil shield. We could see an impressive storm to the north (again this turned out to be the Crosbyton event) but could not really make out any more features besides the updraughts and anvil.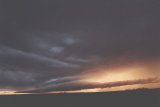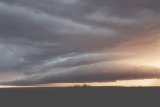 I had had enough. "Let's head south", I told Matthew and see what we can get. We headed south onto route 70. There was evidence of the heavy rains along this route from earlier storm events in terms of fields full of water. Obviously due to the flat country. Finally, in the distance emerged a spectacular shelf like structure. Once we cleared the few hills and trees (yes they were a pain in the but at the wrong time), we got glimpse of structure that at least made this trip worthwhile. I must admit, I finally felt I was in control rather than playing catch-up chasing. It was like taming a wild horse! We observed some calssic high contrast structure of a long lived severe storm event with good, very long inflow, some lightning and great colours with the sun setting. Of course, it had become quite linear.
Due to fuel worries, the storm was going to keep us on the go so we decided to ride the storm out getting blasted by powerful winds, reduced visibility down to almost zero with wind-blown hail and heavy rain. We stayed the night at San Angelo. Hail to the size of golf balls were common on this day. Some reports of hail larger than the size of golf balls are listed with the Storm Prediction Center (SPC).
Tuesday 28 May, 2002 - LP supercells and freak lightning - Odessa to Bakersfield, near Fort Stockton, Texas
After the so called disappointment of Memorial Day, we were much more prepared for chasing on this day. After breakfast, we went to the lcoal library. The models were not looking overly impressive. There was definitely a mismatch between the upper level jet and lower level turning and moisture return. Nevertheless, depending on where the storms would erupt was the key to how significant the supercells would be and decide the strategies of the day. There were complex areas of outflow boundaries expected from the previous storms overnight and also some more that had developed early morning.
We left San Angelo in some light showers and headed for Big Sping quickly making into sunshine. Moisture haze limited our vision with cumulus towers and some altocumulus castellanus observed. Because of the heat expected and the timing for initiation was variable and dependent on several possible factors, we decided to wait it out in the library in Big Springs which was close to the target area anyway.
We remained in the library for at least a couple of hours checking our e-mails whilst also checking the latest satellite imagery, radar and observations to pinpoint the most likely area of initiation in the most favourable region for windshear. A supercell developed to the south looking more like a HP supercell (High Precipitation Supercell) based on radar but quickly right moved towards the Mexico border.
Finally, about 3:00pm, cumulus fields developed within the border region of New Mexico and Texas, northwest of Odessa. This was ideally located and I was hoping would remain developing at this latitude. It was also a region with a better road network.
We decided to head out towards Midland stopping at a rest area. From here we could make out some larger cumulus clusters developing. We decided to head further to get a better contrast out of the haze.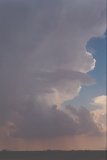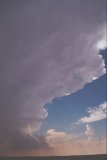 And what a difference it was! There was no stopping us now, it was full steam ahead first stop Odessa.
The anvil was awesome with some hard cumuliform side anvil towers marking the history of each powerful pulse. The tower was also strong and was already exhibiting rotation and obviously was dry enough to be an LP supercell. Finally, we placed ourselves with a clear view of the storm anvil and base hiding the sun in the process. This presented excellent contrast. Umm but this was the weaker left moving type storm - I nick-named it the Aussie LP supercell. It had anti-cyclonic (clockwise) rotation. Oh and there was a tornado watch issued.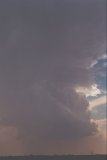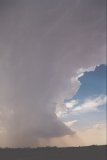 A vehicle pulled up. Oh no. We are perhaps peering and filming into private property - there were lots of oil fields. We would be asked to leave... Not so. In fact, this person happened to stop by and see what we "chasers" were doing - he had not met chasers before - with his luck, he came across two Aussie chasers! I conversed with him for some time about out trip and what we were looking at and Matthew filmed. After about 40 minutes or so, he left. He said he would have liked to do storm chasing - got interested during the time he was in the insurance industry.
---
---