---
Well I suppose this was more of a surprise chase. Why? I was less serious to chase on this day since there was an ASWA meeting and I half heartedly took notice of the conditions that were more ideal further south of Sydney although rapid destabilisation would occur later. Well conditions suggested a jet and better wind shear further south on the Southern Tablelands but less impressive around Sydney. This did reflect a different profile as most outbreaks this seasom: the 850mb level winds were more or less neutral and winds were light to moderate from the northeast down to the surface. The wind profile turned gradually from the northwest aloft within an increase in speed wind shear. The cap strength was sufficiently strong to hold down convection until later. Convergence was more ideal further to the south along the Southern Tablelands. Anything that would come through Sydney would initiate to the south.
In the morning though, conditions were extremely humid with dew points to 22C. There were some altocumulus and castellanus around. Geoff and I packed our gear and headed for the meeting. As the altocumulus cleared, members at the meeting periodically went outside to observe the towering cumulus. When I went outside, I was impressed with the clean development of the cell to the south-southwest. It was about 4pm and the radar was loaded by Mal Ninnes on his laptop. Cells were mostly moving northest to east but I anticipated that the cell now near Appin which was strengthening would move generally north. It had an impressive flanking line that would backbuilding the development.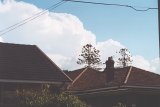 We all loaded into 3 or 4 cars and headed out: destination southwest - Camden?? Well by the time we were about to head for the M5 Motorway, we had lost Matt Smith's car. Dann Weatherhead was following me though.
The cells were certainly impressive with a wall cloud structure coming into view to the southwest under one of the updraughts. When we had a better opportunity to video it, it was less defined. By the time, we had headed to the toll gates near Liverpool, we were observing an incredibly organised base structure and developing wall cloud. The tops were explosive and crisp in the dry atmosphere aloft. Turning south provided the best opportunity to observe the wall cloud. There was inflow into it and the contrast was impressive. It was truly awesome. Although we suspected it, this was the first time we had a supercell confirmed during the chase. You bet - a left mover.
Finally parked on a side road, we noticed excellent upmotion into the base along the inflow tail of the wall cloud. There was evidence of slight rotation in the base as well. Suddenly, lightning bolts and cracking thunder ripped down with increasing frequency - evidence of the strengthening updraughts aloft. Whilst filming, and on the phone, I was amazed at the bolts and was impressed that I was getting most in view of the view finder. Sunddenly, the camera turned off. What?? Battery? No. Oh Shit. I was not filming. I had the video somehow on pause the whole time. Needless to say how disgusted I was. I am glad that David Croan got it the most impressive part of the wall cloud on video. It was time we got back into the car.
David wanted to head off but I thought we would stay a little longer - well it was obvious what I wanted with the hail shafts starting to tilt. But David had something else in mind. It was obvious that this cell and wall cloud had started to gust out but what was also happening was reorganisation. This downdraught was from the south and southeast. Though, since this was occurring along a convergence line, these winds were racing forward only to aid in the development of a second mesocyclone. Yes, slowly but surely, an area of ragged scud cloud to our north was reorganising and concentrated in this area. Unfortunately, through a misunderstanding, we had wasted precious time manourvering the back streets. We did make it back to the Cumberland Highway. Dann and company were still hanging in there.
Curved inflow band which nobody noticed (2.21mb)
Curved inflow band again and a lightning bolt with what seems to be almost instantaneous thunder (3.73mb)
Wall cloud disappears from view (1.79mb)
It was just after 6pm when we were in Smithfield. As we headed further north, critical time was lost through changing traffic lights. Before we could get through this last set of traffic lights at Woodpark, we watched in amazement as a shield of rain completely shielded the now impressingly rotating wall cloud from view. Just like that. It was later discovered that the hook echo region (rear flank downdraught) had enveloped us. We were now in it. Where was Dann's car now?
Incredible downbursts and rain in whiteout conditions - Dann's car parked on the side of the road (2.18mb)
We gradually headed through Merrylands and towards Wentworthville with occasionally violent bursts of rain and wind. The behaviour of the wind and rain was typical of rear flank downdraught behaviour. Trees were down, debri was being being blown against the back windscreen and rain was being driven fowards faster than our vehicle in incredible whiteout conditions. Suddnely a flash directly ahead!!! Powerline sparks. More debri. Traffic lights playing up. As we passed through, another flash - the same power lines sparking overhead.
Incredible downbursts and rain in whiteout conditions and debri - spectacular powerline flashes (2.38mb)
Incredible downbursts and rain in whiteout conditions and more debri (2.68mb)
It was incredible!!! We were moving with this beast as it intensified and tracked in the direction of the Cumberland Highway. It was a matter of time but finally hail. At first 1 cm hail but these gradually in bursts grew larger to about 2cm or so. Heading over the M4 freeway - another massive downburst. I could hardly see!!! The only way of telling where you were was cars right in front or beside us as well as the darker trees. Geoff then warns; "Ths is the Great Western Highway. Be careful!!" Lights out again - nobody game to move. So I carefully proceeded forward as hail continued to spike the vehicle.
Incredible downbursts and rain in whiteout conditions and more debri (2.80mb)
Whiteout conditions and associated gusts buffeted the vehicle in bursts several more times as we neared Old Windsor Road. Which way now? Ummmmm.... We opted for a left turn towards Winston Hills. Diverting around a fallen tree branch, and watching the rain stream sideways now, another flash!! This time power lines or transformer shorting out.
Another flash wires or transformer (2.50mb)
Through Winston Hills, and we knew there was no way of getting ahead. The storm had no speed limits. It ventured north whilst we played catchup - this time along the M2 Motorway. Rain was still very heavy but it seemed that we had lost the influence of the wind flow. We were basically out of the main core and could see mostly clear areas back to the south along the Lane Cove Road. Gradually more anvils appeared to the west and you guessed it an LP (Low Precipitation) storm was situated to the west. It may have developed along the outflow of this beast. So we made our way down to the M4 Motorway. Yes that's right, we had within the space of a couple of hours travelled along a figure 8 journey around the metropolitan area and contibuted to 3 tolls!!!
It was getting late, we were very hyped up. But we had to get back to Burwood so that we could drop David off to his car. Ummmm but how was we to know that we would see Mall Ninnes and fiancee standing on the Great Western Highway inspecting damage. Yes a quick turn around the block and we all met exchanging our stories about this storm. Why not do it on top of the Wentworthville Shopping Mall car park so that we could get a better view of the lightning. After about an hour, we departed and headed back to Burwood. Nobody was heading home until some video was watched of the storms. Paul Yole and Max King has also travelled from the Melbourne ASWA meeting and descended whilst the storm was wreaking havic in the western suburbs. They also showed video of the cells along the trough across the Victorian Border into New South Wales.
This chase was a special one. Well it was another supercell chase. It occurred on the day of our meeting - the first chase that had ended up from a New South Wales ASWA meeting. It was an impressive sight to see the first wall cloud and then the second one. It was equally as impressive but perhaps worrying travelling in the rear flan downdraught region of the storm. This supercell complex had begun it's career developing near Appin and then headed through western central Sydney and then onto areas west of Gosford and persisting through to near Newcastle. It had developed a major hook echo during its most severe phase over the Wentworthville and North Parramatta area. Damage from this storm was incredible notwithstanding many suburbs being without power for at least 3 to 4 days. It was labelled the worst storm in Western Sydney. What made it more surprising was the lack of initial interest from the media until the next evening. I certainly won't be forgetting this storm in a hurry.
If you (or someone you know) have any photographs or video of this storm or any other storm such as damage, the storm structure itself or hail, please feel free to contact Jimmy Deguara. Your contributions are very welcome. Please any photographs or video footage are important so don't discount anything.
---
Radar
From Bureau of Meteorology.
Sydney local scale loop 0650z to 0900z 16/02/2002 (5.50pm to 8pm local)
---