---
Episode 2 - Thursday Saturday 26th May 2001 to Wednesday 30th May 2001
Saturday 26 May 2001 - LP supercells erupt over western Texas and lightning show
Perhaps the only opportunity to chase with Ted Best our host for the trip, we headed out to our target in western Texas - southwest of Childress. I preferred the area to the north of Childress if it fired simply based on the windshear. When towers did go up, it did in both areas. We headed out of town to make our decision. Well, let's say the ones to the southwest won out, and so did David and Ted.
I suppose my reasoning was that we could catch the ones to the southwest. But as we neared, we noted the storm we had been watching had weakened. Lack of contrast and haze had hidden a second cell to the south. The anvil was facing southeast and it soon became evident that this was a right mover. Damn!! It would now become more difficult to catch.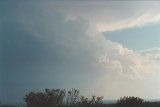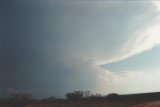 We eventually did catch up. Decision time. Ted did not want to punch through this supercell which had large hail to golf ball size reported. Understandably so. At this point we parted and headed south and gradually south-southwest towards the core. We then realised it was an LP supercell and we were on the wrong side. Unfortunately, the more we headed south, cell development was shifting south-southwest. We were not able to get onto the southern side of the storms. The anvil was extensive, not surprising considering the relatively weaker upper level winds.
So we settled for a spectacular sunset reflection display on the thunderstorm, massive back-sheared anvil shield and mammatus near Lubbock. We eventually headed east to some spectacular lightning activity including anvil crawlers. We stayed the night at Abilene. This system developed into an meso convective system
Sunday 27 May 2001 HP Supercell monster Derecho Event - Woodward to Lawton, Oklahoma
Another Sunday, with no models until 1pm. Worse still, this was the Memorial Day Weekend so libraries in most towns will close over the weekend except major towns and Universities. So again, a rough target area was used as a guide and we headed for Lawton, Oklahoma. What a mistake, we both had forgotten the library did not open Sundays anyway. Damn!! We were on our own.
The Weather Channel had indicated this area, and the NOAA radio had also placed a moderate risk in this area. However, as we neared the region to the northwest of Lawton, we noticed that the wind had turned southwesterly and the cumulus field had decreased. We were absolutely disgusted as we had high hopes of this day. Even the cumulus field further east was not firing. We could see storms in Kansas but that was simply too far.
Finally, we decided to stick to our original plan and head northwest until we hit some development. And this payed dividends!!! As we neared the turnoff to Woodward in northwestern Oklahoma, we could see cirrus, which I felt at least partly was from a developing or distant anvil. The cumulus field to the north was more encouraging as well.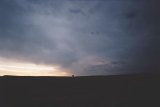 As we neared Woodward, it became obvious that a thunderstorm was in progress. The anvil quickly increased to an altostratus layer, and after some shopping, we headed west. We did not even get a chance to talk to the TV reporter whom we had parked near.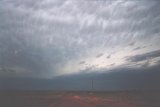 Further west, and the storm complex took shape with a clear thick anvil overhead. There was no shortage of mammatus from the severe hailstorm now affecting nearby counties. A warning was announced for the storm to the north basically for hail the size of dimes and heavy rain. At this stage, there was nothing fancy about this system.
However, the storm to our northwest had begun to drag fresh to strong inflow. Slowly but surely, on the horizon, a gust front formation began to emerge.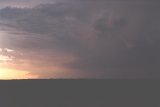 We headed up the dirt road for a better view. The more it approached, the meaner it looked. At times we stood in awe at the shear size of the whole system. The contrast and formation improved dramatically about 7pm and you could now clearly make out two storms including the storm with the warning. David and I thought it was close for comfort so we headed off east.
The storms were heading east-southeast and we knew there were limited roads south as well as our main road that headed southeast past Woodward. The further east we travelled, the more spectacular the storm became. We stopped twice; before and after Woodward to take stills and video of this incredible cloud structure.
Click to view the following videos