---
Date/Time: Monday 14/12/98
Chasers: Paul Graham, David Croan
Location: Western Sydney
Distance: 110km

Storms were on the cards for Sydney on Monday after several days of activity over the nearby ranges. A low pressure trough which had been moving quite slowly for the past few days had been feeding warm moist N-NE air over the region producing some good storms. The previous day saw several pulse storms in the western region of greater Sydney and nearby ranges, some of which the BoM had severe thunderstorm warnings out for. Now we were right on the eastern edge of the trough and the air over Sydney looked to be quite unstable. I phoned Paul Graham to discuss the situation and whether it was worth a chase. He had already checked out the soundings which showed a conditionally unstable ELR and high CAPE with abundant low level moisture. The only thing missing (based on the latest NGP) was the lack of a significant upper level jet. The lack of a decent jet stream was a feature of the past few days where storms were mostly short lived single cells. Nevertheless with such high CAPE severe storms were probable.

I met Paul at 12:45 and we were soon heading westwards. It was very hot and humid as we trudged our way to the top of Rooty (Storm Chaser) Hill and from there we surveyed the situation. There were signs of instability all around; a line of castellanus to the east over Sydney and some large cumulus mostly over the ranges. Unfortunately there was also a lot of gunge in the form of high cloud and moisture haze; in short visibility was awful. Through all of this at about 1:30pm we observed the rear portion of a decent updraft and anvil to our NW, somewhere over the Blue mountains, a nice congestus to the SSW and plenty of cumulus. At this stage we had no idea where to chase. If shear was minimal, any promising cells which we would be tempted to go after might be fairly short lived and would probably have collapsed by the time we got to them. Thankfully, Michael Bath gave us a welcome and timely phone call and run down on the activity as observed on radar: a few cells over the ranges including the one which we were observing and, some distance further west, a rapidly moving N-S line of strong echo's (some red!) extending from Nowra, some 200 km south, up to around Lithgow about 100 km to our west. Michael expected these to move over the Sydney basin by about 3:00 pm. We instantly thought "squall line" and with mixed feelings - while usually very spectacular on approach, being fast moving and expansive they are not usually chaser friendly. To fuel our nervous fires at around 2:20pm Michael also informed us that a severe thunderstorm advice was up for several forecast districts, including the Sydney metropolitan, and mentioned that there was a bow echo in the line around the Camden-Bowral area, about an hour to our south. With about 40 minutes before the expected arrival of the system it was decision time: do we make a dash toward Camden and nearer the bow echo (assuming it was persistent) which would probably be the best position for tornadoes to develop or do we stay put. In the end a decision was made for us as by now there was an ever darkening sky to the west and it was apparent that the line was moving very quickly. Some consolation in that we expected Michael Thompson to be chasing somewhere in that area so we might at least find out what did develop in that region. By about 2:35pm contrast was still very poor and we were unable to observe any features of the approaching line despite it probably being within around 20 km from our location. We had tentatively arranged to meet Jimmy and Michael on the hill at 3:00pm. However, by 2:45pm the northern flank of the line finally emerged and there we observed some nice CG lightning some 15 km to our WNW. We were getting edgy by now and decided that as we would cop it wherever we went, we might as well try and get into position to get some decent photos of the gustfront and base features. .This meant abandoning our plan to remain on rooty hill which would be too dangerous given the storm situation.

We took off heading south along Wallgrove Rd and, as we passed Australia's Wonderland, the gust front was finally visible between trees and hilltops and it was looking nasty. We were on our way heading to the Horsley Hill but decided that it too was probably not the best place to watch a severe squall line in terms of safety, even in a vehicle. At around 14:55 we U-turned then headed back along Wallgrove Rd then left (west) into Old Wallgrove Rd - a deserted back road which took us right into the path of the approaching storm. We kept on driving towards it and by now I was beginning to question my common sense; something to do with us heading at 80 km/h west into the path of a severe storm that was probably moving at about 50 km/h to the east. We eventually made it to the Sydney West power substation with the gustfront about 7km away. The scene here was just awesome and quite eerie; silent, a rapidly approaching dark gust front, green precipitation curtain and intense CGs behind the high voltage towers, but it just did not feel right with all that electricity around. So I immediately U-turned and tried to out run the storm for long enough to get some decent photos. We stopped off along Old Wallgrove Rd nearer to the Wallgrove Rd junction where we at least had two escape routes. The time was now 3:00pm and from here we watched the storm move to within 5 km. The part of the storm to our immediate south looked really intense with pulsating CGs, and low level scud rising up. I suspect that significant hail would have fallen from this region, however, it appeared to be over a sparsely populated area and, not surprisingly, have not heard any reports. We also observed several short protrusions at different points along the bottom of the shelf cloud which looked to be vortices. Being short lived and without video footage to review it would be impossible to call gustnado but they were interesting. We also had a good look for rotation in other regions; it was all very turbulent but a little unorganised.

At this stage the line was within a few kms so all we could do was get the hell out of there and find relative safety which happened to be in the open spaces of the Wonderland Car park. Here we sat out the storm which produced copious amounts of close CG lightning, heavy rain, some small hail and strong winds. I guess we were lucky in that the area which moved directly over us seemed 'relatively' timid but it was fearsome looking enough from a few kms out to prevent us from getting closer to the severe looking region to our S. We again hit the road at 3:25pm but soon gave up the idea of keeping up with this line. At around 3:50pm there was also plenty of action along the northern rear outflow region and we hoped that it might help something fire up behind the line. A large storm had developed to the north but with daylight running out it was too far away to chase. We went back to the Horsley Hill and met up with Jimmy who, with Michael, had also chased the squall line. Unfortunately a cool SE change moved through and the days action for Sydney was now well and truly over. On the way home we observed some debris on the road and some isolated large trees down - probably due to lightning strikes.

On a final note, I wont take a fast moving squall line with a history of severe weather as lightly in future. I say this not only for the weather threat that they pose but also as they tend to make the hunters feel the hunted and errors of judgement (driving or otherwise) are much more likely in these situations.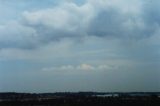 Looking east - castellanus through the gunge over the Sydney metropolitan area at around 1:25pm.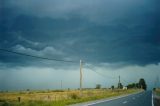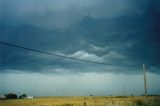 After driving along Old Wallgrove Rd towards the ominous looking squall line, we played it safe by turning back to remain ahead of the storm. These pictures were taken looking SW at 3:00pm and nearer the Wallgrove Rd junction.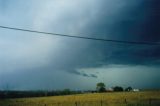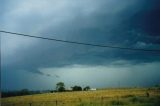 Same time/location but looking south. The part of the storm to the left of the picture was quite severe looking: green precipitation curtain with rising scud, intense CGs and a lot of turbulence along the gustfront.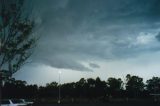 (3:10pm) Shelf cloud moving overhead with nice lowering after having avoided the severe looking section (to the left and out of picture). The region overhead was turbulent but unorganised and no rotation was observed.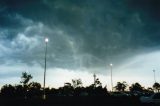 (3:14pm) Under the shelf cloud with close CGs all around.
---
TOP PRIORITY FOR IMMEDIATE BROADCAST

SEVERE THUNDERSTORM ADVICE
BUREAU OF METEOROLOGY
NEW SOUTH WALES REGIONAL OFFICE

Issued at 1352 on Monday the 14th of December 1998

This advice affects people in the following weather districts:

Central Tablelands, 
Hunter,  
llawarra, 
Sydney Metropolitan

Thunderstorms are forecast within the advice area over the afternoon.

Some of these are expected to be severe, bringing large hailstones
and destructive winds.

---