---
[Chase Report by David Croan][Illawarra Chase by Michael Thompson][Photos by Matt Smith]
---
What a great day it turned out to be in Sydney!

I left work just before 3pm in the hope of some action. Earlier, a line of congestus from Bowral to Wollongong (directly south of Sydney area) developed with a large thunderstorm cell on the eastern edge by about 1.30pm. The tower was capped by an extensive pilleus formation, but became obscured by cumulus in the metro area. I was hoping that a trough line was to our south and would move north into the Greater Sydney area, but it was not looking promising on the short train trip home.

Scattered moderate to large cumulus dominated the sky line, the temp was in the mid to high twenties, and the wind a moderate NW-NE. Jimmy picked me up at 3.30pm just as some congestus formed to our immediate SW. It was a dash to get the gear from my place then on to Rooty Hill. Unfortunately, the activity had virtually collapsed by the time we got there, although a distinct line of larger cumulus was evident stretching from the western suburbs to the southern. We waited and hoped that one of the larger clouds would grow.....

At around 4.40pm things started to happen. A large clump of cumulus to our SW began to punch higher. Jimmy wanted hail! We took off! Racing south, then west, then south, then east, then south and east again was made it under the base of the flanking cell of a line of activity stretching to the ESE. Location: Austral (undeveloped area west of Liverpool) Time ~5.20pm. Close CG's crashed around us as precipitaion took over the area. Intense rain reduced visibility to under 50m as we pressed on to the east and south remaining under the rear cell. YES - some hail fell. Small stuff only and it didn't last long, but boy did the rain continue. Roads were awash as probably 30-40mm fell. We ended up and Glenfield as the storm edged clear of us, then headed back west a little to Crossroads (where the SW freeway begins). Time about 6pm.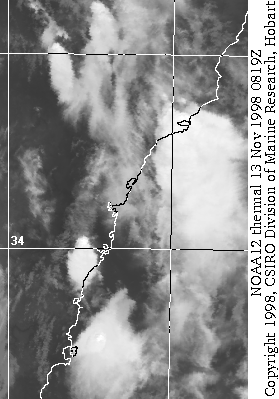 What an awesome sight greated us! A massive updraft boiling overhead, a lowered base with indications of low level rotation, intense lightning, perfect contrast for photos, a rainbow and rain/hail shaft! What more could we ask for except a tornado...being in the exact right location (NW flank) for one to form it was on the cards. We watched in awe as the storm slowly moved away to the ESE, the low level features persisting and a back shearing of the anvil becoming evident. We only moved on after congestus forming to the west started to obscure the view.
On the way back to my place (which is about a 45min drive from where we were) it became apparent that new activity was developing in virtually the same location as where the earlier storm formed. We headed up to Horsley Park Hill only to discover David Croan and Paul Graham in awe of what had just passed to their south. (they had seen us earlier make a dash from Rooty Hill, but we were too fast for them to catch us and remained at Horsley Park Hill). Chaser convergence - the first occurrence????? We watched and chatted as the next storm system organised to our west and SW. Close CG's and a rapidly developing rain shaft approached us around 7pm. The sunset lit everything up specatularly. The main part of the storm passed to our S, however an updraft developing overhead soon started to pelt us with rain and some strong winds as well. Awesome base lowerings occurred as it moved to the east while lightning struck close by. The rain persisted in our location before giving us the opportunity to take in the beauty of the storm edging away. We stayed on the Hill till about 8pm taking the oppotunity for lightning photography.
I'm not sure at what stage either of the storms became severe, but they were not when we encountered them. The first storm had very little wind, but the rain could be classified as severe. The second storm did have strong winds and very heavy rain, but no hail at our location.
---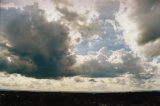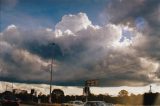 The begining of storm we chased. 4.41 & 4.59pm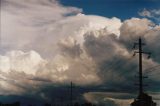 An earlier cell to the SE with pilleus capping. 5.01pm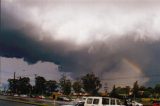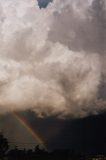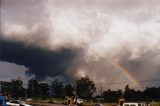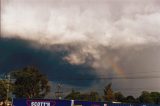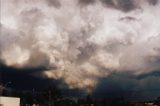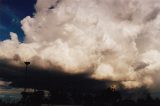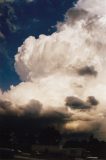 The base and rear flank features of the chased storm. Times from 5.49 to 6.10pm

Very large cells to the far NNW - probaly around 200km away. 6.46pm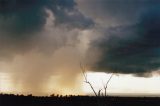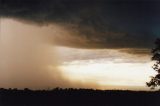 The next storm begins to precipitate then microburst. 6.55 and 7.05pm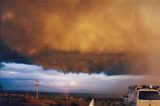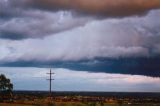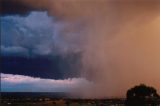 Awesome base features and colour as the cell passes to the east. 7.23pm and panorama at 7.35pm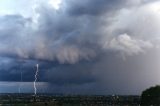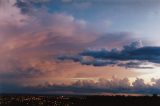 What a way to end a day! 7.50 and 8.05pm
---