---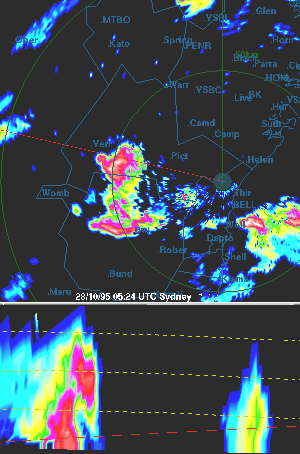 This animation shows a supercell thunderstorm crossing the Sydney Basin on the afternoon of 28 October 1995. The images are from 0520-0720 UTC (3:20pm-5:20pm). Animation steps are 10 minutes apart with colours grading from dark blue (least intense) through to red and white (most intense).

The top image of the pair is a plan (map) view whilst the bottom image is simulated height cross-section along the radial shown by the red line on the plan view. The left-hand side of the simulated cross-section is closest to the radar.

Note the pendant which is evident on the rear northern flank of the uppermost cell. This takes on a hook shape at 0610 UTC. The hook or pendant implies the storm contains a mesocyclone and forms where precipitation from the storm's rear-flank downdraft wraps around the mesocyclone (rotating clockwise, cyclonic in the southern hemisphere). The RHI scan illustrates a Bounded Weak Echo Region on the northern storm flank (notably at 0610 UTC) where the updraft rises strongly into the storm.
Individual Images
Radar image at 05:24 UTC (3.24pm local)
Radar image at 05:34 UTC
Radar image at 05:44 UTC
Radar image at 05:54 UTC
Radar image at 06:04 UTC
Radar image at 06:14 UTC
Radar image at 06:24 UTC
Radar image at 06:34 UTC
Radar image at 06:44 UTC
Radar image at 06:54 UTC
Radar image at 07:04 UTC
Radar image at 07:14 UTC
Radar image at 07:24 UTC
---
[Supercell Chase report] [Video Stills of the Supercell]
---