---
The previous day was very warm to hot with an isolated thunderstorm on the mountains producing an anvil shearing to the south or southeast. It was its structure and brief intense activity that caught my attention, giving hope for good activity the next day. The crisp anvil indicated colder upper air. Further, the surface trough of low pressure was developing and extending its influence south towards central New South Wales.

The morning of Sunday was warm with light northerly winds. There was some isolated altocumulus castellanus mainly to the south. The moisture haze was mainly concentrated to the south.

By around late morning, cumulus began to develop on the mountains. The cumulus formed unusually high narrow towers collapsing and developing over the next hour or so.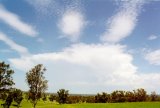 By early afternoon, some cumulus began to dominate developing into large cumulonimbus mainly towards Bowral area. At first, I didn't think it was that far and I also thought it would gradually creep into the Camden district which was within an hour by road.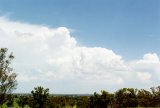 At 1pm, Michael and I decided to give chase heading towards the Camden area. We stopped at a good vantage point near Kemps Creek. From here we could see that the storm was too distant and not heading this way. (Fearing yet another bust chase, we decided it would be better not to waste our time chasing that one). By this time, cumulus towers were developing everywhere, from the Central Coast to the west and south. With a nice shady tree sheltering us from the intense 40 degrees heat, we decided to wait. A large storm could be seen on the western side of the Blue Mountains around 2pm. It was the storm we hoped would head this way and give us our storm chase, with every indication of being severe.
However, another cluster of cumulus began to organise just to our northwest around St Marys. In order to get possible good video footage from beneath the storm, we headed for Erskine Park along Mamre Road, then east along the M4 motorway. By now, we were observing almost explosive development with intense precipitation cascades to the north and several other cells developing.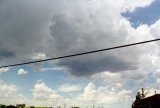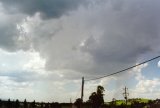 It was a somewhat different experience observing thunderstorms developing from below the base. We continued east trying to catch a promising cell ahead of us but found it just a touch beyond our reach. We exited the motorway at Prospect.
Several gusts of winds from the northwest greeted us as a result of downdraughts. Raised dust made it difficult for photography and video footage so we headed a few hundred metres to the north of the freeway near Home Base at Prospect. Cells to the west continued to develop and the first glimpse of the light green tinge and especially the relatively cold wind caused an adrenaline rush.
Wind squalls and heavy rain drops struck with a vengeance. Swathes of hail up to 2 centimetres soon followed thumping our vehicle. It was awesome and continuous action.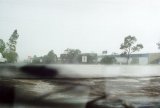 Intermittent patches of hail bursts, 40 knot wind squalls and heavy rain kept us confined to our vehicle for the most part of 20 minutes. It was pointless to move realising that visibility was poor and uprooted trees and snapped branches would have made it dangerous to venture further east into suburban streets. (Based on the observed patterns, the storm cells were still developing and may have been more severe further east).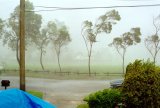 With a forth cell still developing in the line further west, we headed to a friend's place in the eastern part of Prospect (Nairobi Place). Debri from trees littered the roads with small branches and twigs ripped off trees from the earlier cells. After a brief discussion about what had occurred in the area we set up for action from the next cell. Suddenly, a strong microburst hit estimated at 60 knots with heavy drops of rain and tiny hail, bringing down a tree as we watched and snapping branches. One of the most interesting features of this downburst was the contrast with the warm air that followed giving some idea of minor warm or cold frontal boundaries within the storm.
We left this area noting that the major storm to the southwest observed earlier was veering closer. We made our way to Horsley Park and found this storm was still far to the south and west and weakening. The last cell of activity of the storm over Prospect approached within kilometres of Horsley Park driven by outflow winds.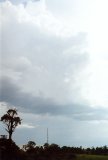 After a brief stop at Kemps Creek where we had watched all this action developing a couple of hours earlier, we decided to call it quits. The amount of debri observed passing through the Rooty Hill area with many large branches snapped and some trees uprooted were indicative of severe microbursts from the earlier storms. It seemed Rooty Hill had more extensive damage than the Prospect region.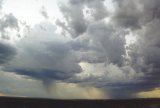 We stopped at Rooty Hill to observe a cell developing to the northwest. Rather than weaken, we noted another cell adjacent to it developing dropping a narrow but intense precipitation cascade and associated microburst.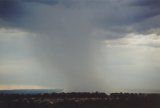 As this cell moved east to southeast and weakened, the other cell now nearing Richmond exploded with activity: lightning and a nice toe-shaped wet microburst spreading to the north of the storm. Activity was everywhere.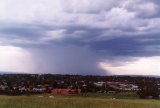 A cell to the northeast with lengthening shelf cloud structure also produced a microburst with small hail.
It was an unfortunate end to this sudden burst of excitement having to retreat due to the approaching storm from Richmond. The photographs and video footage were magnificent though: high contrast between base and precipitation cascade with lightning to boast.
Damage from the storms were reported from Rooty Hill, Doonside, Blacktown, Prospect and Greystenes including snapped branches and uprooted trees, some damage to houses and roofs reported, and windows broken by flying debri.
In the evening another storm developed to the west and gave some very spectacular lightning displays with a light greenish effect before decaying about 10pm to the south.
A great day !! About 70 pictures were taken and a lot of video!
Of course, if anyone has photographs, video footage, newspaper articles or information about this storm (or any storm or tornado) and would like to send it along, we would very much appreciate it.
---