---
Instability was evident from early morning on this particular day. Travelling from my weekday residence at Beacon Hill on the Northern beaches to work at Pymble, I noticed extensive cumulus developmernt, with some towers going up across the metropolitan area.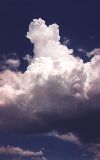 From mid-morning some storms were firing towards the south and south east. During my lunch break, I photograped this cell to the south east while a developing Cb tower brought light rain overhead.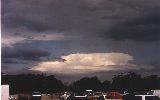 More large cells were developing to the west. This was particularly frustrating since I felt the action was really hotting up, however I simply had to get back to work. Sure enough, the BoM had a severe thunderstorm warning out for the metropolitan area at 2:30p.m. Furthermore, despite the general elevation of the north shore of Sydney, our building is set in a valley, with limited visibility to the west in all but the purchasing section. So I rounded up some purchase orders, paid a visit to that section and, gazing through their window, was greeted by an angry looking storm with a sharp looking shelf cloud and a menacing grey/green rain curtain at about 4:00p.m. Of course I had left my camera in the car (which I simply could not get access to). The most severe part of the storm passed a short distance to the North, although we were hit with strong winds and heavy rain. I got out of work at about 5:00p.m. and attempted to chase this storm through peak hour traffic along Mona Vale road (this is my normal route home in anycase). All this time I was following the rear section and, towards Terry Hills, I got out of the car with the rear rain free base just pulling overhead. The rear section was quite turbulent and I found it most impressive to watch, although at ground level it was calm by this stage. I observed some brief (about 30 seconds) rapid circulation although this was soon immersed in the broader area of more unorganised turbulence.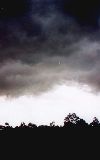 The region which exhibited circulation [clockwise] is at the top centre top
In these situations it is difficult to know what you are looking at (for me at least!) since, with the adrenalin rush, my mind was racing. I was sure it was a wall cloud at the time, but when I look back I suspect it was just the pattern of turbulence - I really don't know. In the past I paid little attention to rear storm structure, so I guess there is no substitute for experience. At this point I decided to head south towards home along the Forest way rather than continue on to Mona Vale. At home I managed this picture of the massive anvil with mammatus, over our house.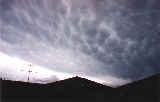 This photo is looking north-east and captures the southwest section of the anvil. Towards the right of the picture at nearby Newport, 3cm hail was falling, suggesting that the storm had intensified further.
---