---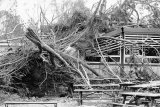 The quiet, tiny township of Tucabia is situated in the vast flood plain of the Clarence River, about 15 kilometres E-NE of Grafton. Spring time is recognised as the stormiest part of the year in this region and has often produced some savage storms.
The storms that approached Tucabia on the 20th November 1993 were just like any other spectacular storms according to locals. Some residents watched as the lightning display approached but then went inside. Although the storm must have been severe with strong winds, very heavy rain and possibly hail, nothing would prepare them for what follow. Around 9pm, residents witnessed a roaring sound approaching from the southwest followed soon after by windows crashing. They immediately took cover and about 20 long seconds later, it was all over.
It was not until residents peered out windows that they noted the devastation caused by the storm: debri in their yards, debri on the roads,...in fact debri everywhere. The clean-up began immediately and carried on into the night and early hours of the morning.
First light exposed the true extent of the overall damage: houses damaged or destroyed, roofs damaged, a boats and horse float had been lifted and dumped elsewhere, broken timber speared into roofs and walls, and trees twisted or snapped. State Emergency Services and others joined in with the clean-up. It would be up to several months after the event that this small township would operate normally again. The memories of the tornado will never be forgotten. In fact, the Tucabia tornado remains as a sort of legend in the Grafton region. Other severe storms in the area are now compared with this storm.
Through conversation with locals, they recalled some very unusual observations.
In one case, two beams of timber became embedded in a wall after passing under a house without hitting brick pylons. Also, a horse was killed after being pierced by a wooden post. Corrugated iron roofs were also pierced by flying wooden beams.
This tornado was rated as an F2 on the Fujita Scale of damage intensity. Thankfully, no lives were lost although there were at least two people injured. The final toll: 8 homes including a church destroyed, 35 homes with serious roof damage, 100 others damaged. The whole storm system lasted 20 minutes and occurred during a period of unstable synoptic weather. I recall a cold front was moving up the New South Wales north coast preceded by hot humid north to northeast winds.
The following includes an extensive photographic archive of the damage in Tucabia including some footnotes.
Debri and damage
Damage to buildings
Buildings destroyed
Large shed destroyed with machinery still inside.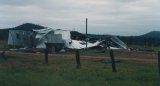 This house which was in construction at the time was flattened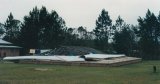 Tree damage
Other unusual observations
Horse float dumped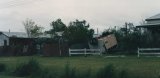 More branches snapped or twisted. Note also the currugated iron sheet imbedded into the ground.
This boat was picked up and dumped in a nearby paddock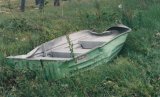 This gives you an indication of what can happen withinin the tornado: debri can often be heard hitting whilst air borne which is what most probably happened with this piece of iron imbedded into the branch.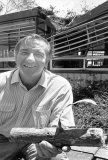 One of the positive stories to have come from this tornado: this young lady and her children now have a new home.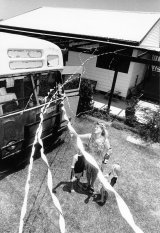 Colour photographs in this issue are supplied coutesy of the Ulmarra Shire Council and the black and white photographs are supplied courtesy of The Daily Examiner Grafton. Many thanks to the Ulmarra Shire Council and The Daily Examiner for the use of these photographs. A special thanks extends to the locals of Tucabia for their patience and help on recalling important events of the tornado. Of course, if anyone has photographs, video footage, newspaper articles or information about this storm (or any storm or tornado) and would like to send it along, we would very much appreciate it.
---