---
The Bureau of Meteorology were forecasting storm for today due to a front that was due to pass through the day before....but was running late. Mid morning was quiet with a little instability as well as being very humid (80%). Mid afternoon, the weather picked up with possible supercells sighted off to the Northwest of Murtoa. (Where I live). The temperature was sitting on 28 degrees and the wind was a gentle breeze with winds picking up and then dying off just as quick.

Around 4:30pm, a cell moved into my neighbourhood with CG bolts dropping to the North, West and South-West of my position. At approximately 5:10pm, a nice rotating wall cloud developed about 500-1,000ft off the ground and had visible rotation in it. It was about this time that I noticed beyond the wall cloud that a funnel had developed about 10 miles to my west and contacted the Bureau with this information.

I ran inside and got my car keys and started heading east along highway 130 towards Rupanyup. After seeing a few more funnel clouds (none of them touched down but provided a good view) I continued east towards Marnoo. The first wall cloud had completely dissipated by now and after a while in Marnoo and surrounding area I thought that the show was over and were preparing to head back home.

On the way though when I were about 5 miles outside of Rupanyup facing west, I sighted a second wall cloud approaching me. This wall cloud was strong in build and stretched a distance of approximately 6 miles from north to the south. I parked the car on the shoulder of the road and started taking photos of the approaching wall cloud. The wall cloud had well defined rotation and was moving to the east at about 40-60 kilometers an hour (24-37 miles per hour). The updraft was quite strong with scud rising from about 200ft upwards at considerable speed.

After the wall cloud had passed over me, I experienced considerable heavy rain for about 15 minutes filling the drainage systems quick and causing minor flooding on the side of the road. I returned home around 7:30pm and watched the lightning which was still quite frequent to the east. (The most frequent lightning during the chase was from both wall clouds). All up, the chase was about 90 kilometers (55 miles) in distance and I considered it to be my best chase yet.

A few days afterwards, I investigated the possible tornado, although no track was found. Local farmer Jim Molyneaux said he believed the storm did drop a tornado. When I asked about this, he said: "It was like a twister. The wind was blowing from the north-west and then suddenly it was coming from the south-east". When he looked outside he had seen trees and boughs flying past but sighted no condensation funnel. Mr. Molyneaux also told me that 15 millimeters of rain fell in 20 minutes with marble-sized hail accompanying it. He said that it had blown a field bin into the air, smashing it against another ripping the side of the bin off as well as field bin lids 'all over the place'. I believe that a weak tornado was present due to the damage of the field bins and Mr. Molyneaux's description of what happened but without visible evidence there is no confirmation of this.

Farmers in a wide area were counting the cost of hail damage to buildings and crops. The latest reports put claims in the 10's of millions dollar mark. Bill and Marie McGennisken of Longrenong, east of Horsham, were counting their blessings after getting warnings of the approaching storm on their UHF radio and were able to prepare for the storm, but still suffered damage from it. Mr. McGinnisken said hail big enough to hole an old rain water tank at the house, had accompanied about 20 millimeters of rain in 20 minutes. He also said that the storm had damaged his own crops, trees were blown over and sent a grain field bin smashing into sheep yards.

Grame Gulline, also of Longrenong, said that all of his crops were hail damaged and that most of them were a write-off. He told me a 'strange' sky with brown clouds preceded a brief dust storm from the west followed by hail and heavy rains.. He said that strong winds bounced hail balls the size of marbles 20 meters along the ground before they came to a stop. Mr. Gulline then showed me one of his canola crops that had been damaged by the hail. The canola stalks were uniformly bent towards the north-east.

The storm also:
Lashed farms north of Horsham with wind, rain and marble sized hail which swept in with a roar from the north-west.
Sent trees and branches falling over the countryside with debris blocking the Melbourne-Adelaide railway line at Dooen
Flattened crops in adjoining districts
Toppled a communication tower at the house of the Dimboola district controller of the State Emergency Service, Russell Mitten.
Started fires around the district with lightning strikes in the Little Desert National Park and the Grampians National park.
Synoptic Charts & Satellite Imagery
These images obtained from James Cook University
Infrared Satellite Images at 2pm and 5pm Local Time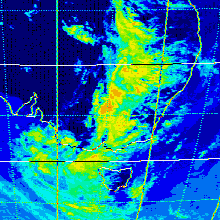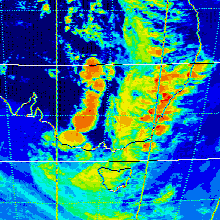 This image obtained from the Bureau of Meteorology
MSL Analysis 2pm Local Time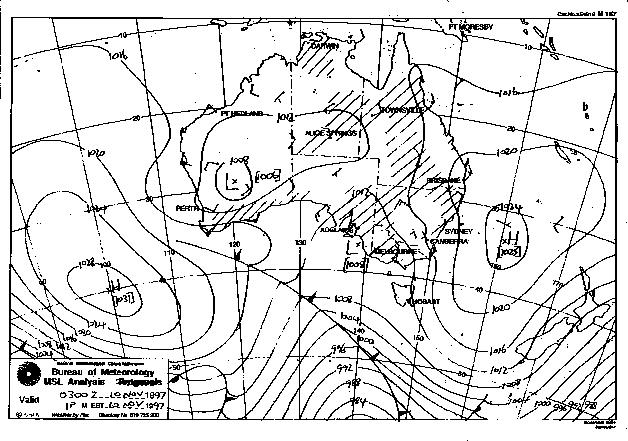 ---