---
After a disappointing Sunday when fast developing cumulus flattened out to form altocumulus, Monday was shaping up to be different. Altocumulus castellanus patches developing from the west and the moisture haze certainly raised my expectations for a chase later.

Large cumulus began to develop around mid-morning.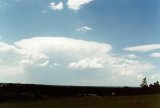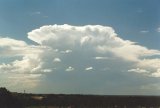 Towards the north, a more developed cumulus began to grow and gradually developed into a thunderstorm with beautiful "crisp" tops. It continued to develop with a back-sheared anvil by noon.
Another cumulus cluster developed to the southwest and west of St Marys. At about 2pm, these developed further and dominated. I had not observed this situation for many years.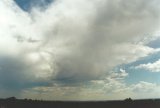 The developing anvil seemed to be dissipating but actually continued to spread out and thicken. (A similar situation occurred in a severe hailstorm outbreak September 1983). It was then that I was convinced this may produce hail. I decided to phone Michael only to leave a short obvious message on the answering machine. It then occurred to me he may be at home. After phoning his home, I was astonished to find not only had he arrived home, he had already left for an observation session. My guess was that it was on Rooty Hill.
I headed for Rooty Hill. He suggested we drop his car off and chase in the one car. After doing this, we decided against going back to Rooty Hill and headed through Mt Druitt and then St Marys. Storms had become very active by this stage and I believe was already producing hail. Our decision was to chase on the northern side which should give us the best view and best chances of good, high-contrast photographic opportunities.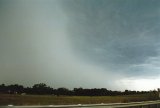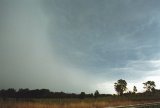 We then headed down the M4 exiting near Glenmore Park. We were greeted with magnificent rain curtains and dark boiling bases with a light green tinge. We drove into the estate only to find a dead end. This meant that the storm would gradually edge closer and we would experience wind squalls with possible hail.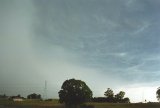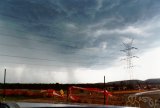 After a short stop and a couple of quick "snaps", we headed out back onto the Northern Road, the M4 and west after experiencing strong winds and large drops of rain. We took the next exit onto Mulgoa Road. We stopped in a park below the spectacular, high contrast boiling bases. The storm was relatively narrow but stretched from north to south. Development continued to the south. We could just make out the back-sheared anvil spreading out westward.
After a few photographs of the curtain and indications of microbursts, my attention suddenly directed to a circulation overhead. I took a photograph of it and Michael also took some video footage.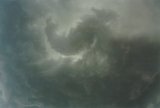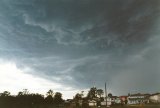 This circulation was only brief but still encouraging.
For a chance of better action, we headed north toward Castlereagh. We took another photograph of the edge of the rain curtain spreading out to the north indicating more microbursts. We were desperately trying to catch the storm by criss-crossing the countryside. But again, the road network simply did not allow us to get there in time so, after passing through steady rain with large drops moving east up to Shane Park, we headed north again for Windsor.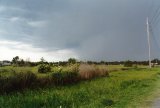 At Windsor, we observed the main storm move to the northeast. It was producing a fresh downdraught despite the storm being at least 15 kilometres away. This downdraught continued for at least half an hour or so.
From a vantage point at Freemans Reach near Windsor, weaker storms with moderate heights began to slowly develop from cumulus clusters to the southwest. After watching these further develop, we decided to travel along Windsor Road to observe some interesting base features and the heavy rain. On the way, Michael and I observed broken branches varying in size and some smaller branches entangled in the power lines. People were cleaning up. The storm had passed through the Box Hill and Rouse Hill region earlier. We passed through some local heavy falls around Parklea and headed home.
Damage from this storm at Schofields, Riverstone, Rouse Hill and Box Hill was indicative of microbursts. Although it seemed isolated, there were several indicators that suggest this storm was severe. The types of damage indicate a sudden squall.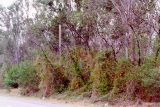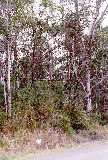 Reports from locals in Schofields indicate it lasted 7 minutes or so. So there was little chance for this storm to inflict extensive damage.
Winds were so strong that rain was described as falling almost horizontally. One person said he was trapped in his car-port and was too afraid to cross 5 metres to his house. The corrugated iron wall (supported by strong hardward and 5cm pipe structure) facing the wind was bending inwards due to the severity of the wind.
One reasonably strong antenna was slightly bent in the direction of the wind.
There were reports of some roof tiles lifted off in this sudden burst.
Three windows including one of our own were blown in.
A very flexible medium sized tree was snapped in half.
Branches of various sizes (small to large) both dead and live were snapped. Not many trees were uprooted but occasionally you would come across clusters of smaller trees exposed to the wind which were down, either snapped or uprooted. The lack of trees uprooted perhaps was due to the dry hard soil. During the time of this storm, rain had not fallen for more than 2 weeks. In fact not much rain had fallen throughout the year.
A few days later, I decided to make a proper assessment of the damage and finally stumbled across an Australian gum tree. Its trunk diameter about 40cm and height 15 to 20 metres. It had been snapped in half with the top half lying on the ground. I photographed both halves as evidence of the severity of this storm.
Of course, if anyone has photographs, video footage, newspaper articles or information and accounts about this storm (or any storm) and would like to send it along, we would very much appreciate it.
Synoptic Charts & Satellite Imagery
These images obtained from the Bureau of Meteorology
Infrared Satellite Image at 11am and 5pm Local Time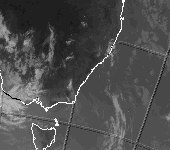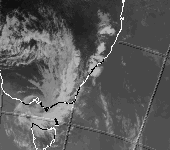 MSL Analysis 2pm Local Time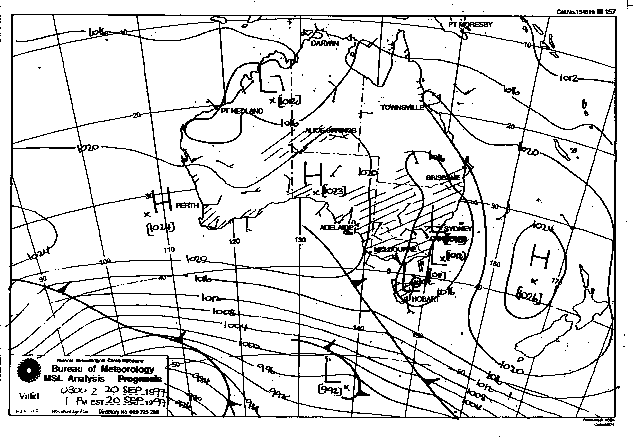 ---