---
The weather patterns leading up to this event were unstable.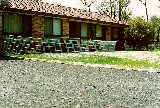 Some thundery showers or thunderstorms the previous day produced some rain and isolated heavy falls mainly on the mountains.

After overnight and morning showers, the morning remained humid and mild with stratus and stratocumulus from the northeast gradually clearing. Cumulus patches developed from the stratocumulus during the morning. Large cumulus developed on the mountains to the west and southwest, particularly near Penrith. Around early afternoon, thunderstorms were already developing and showed signs of becoming severe. A severe thunderstorm warning was issued as thunderstorms dumped hail in a drift of up to 10cm in depth in the Penrith region.

These photographs were taken some time after the hail event. Note the stripped leaves as well as the hail piles.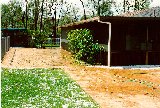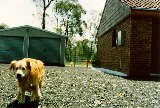 The first storm spotter report was received at 2:25pm. Hail size ranged up to 5cm in diameter and was accompanied by wind squalls.
As thunderstorms approached Londonderry between Penrith and Richmond, one of the local residents described the approaching hail as a "wall of hail". She suggested that the hail could be heard crashing through the trees just before it hit. The hail came down profusely with some damage to the aluminium roofing.This indicates that some larger hail fell during the deluge.
The storm as it passed over the Central Coast region.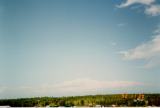 The thunderstorms continued moving northeast through Richmond with weaker cells elsewhere. The storm then headed for the Central Coast region.
Of course, if anyone has photographs, video footage, newspaper articles or information and accounts about this storm (or any storm) and would like to send it along, we would very much appreciate it.

---