---
The weather patterns leading up to this major event were unstable. Slow moving active thunderstorms had already produced flash flood events mainly in the central suburbs.

The morning was mild with altocumulus tufts from the north to northwest with some stratocumulus patches. Storms developed from around midday; mainly in the region to the northwest, west and southwest of Sydney. After finishing work for the day, we headed home. But for some reason and through shear coincidence that day, my brother had to shop around for some boats parts in the Wentworthville area!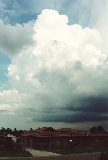 I carefully examined the large cumulus and cumulonimbus developing hidden amongst layers of stratocumulus and altocumulus. In fact, these lower layers and the glare of the sun seemed to diminish the true extent of what was approaching. We arrived home around 4:30 to 5pm and I immediately grabbed the camera. Fortunately, Michael had taken photographs of this storm.
Around 5pm, the cumulonimbus approached and began to build into three almost vertical columns to the south east of my vantage point at Schofields. They continued to develop growing to unusually enormous heights. The unusual characteristic of these cells was that their height far exceeded their base width and yet they did not collapse nor lean forward in the middle layers! I took at least 3 photographs of these cells only to find out in disgust later there had been no film in the camera.
As the precipitation cascade broke through the dark stratocumulus bases, I immediately concluded that hail was falling. Gradually, these three dominant cells combined into one major hailstorm with huge hail developed. It produced a major downdraught of cool air from the southeast with spits of rain. The storm then began to moderate in terms of intensity as it moved northeast with a nice back-sheared anvil lit up by the setting sun. Storm hit Wyong and coast during evening and developed in a band to to the north of Schofields.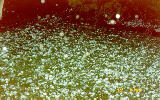 It was during the evening that a relative of our friends came over for a visit. Knowing he lived in the area affected, we sarcastically asked him if he had received any rain. He looked at us in awe. He seemed shocked that we had not received more than a couple of drops of rain.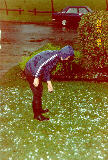 He began to describe in detail the ferocity of the storm and associated damage. His description of the base ball sized hail seemed unbelievable at first and it was not until I watched media reports of the widespread damage to roof tiles, windows and cars that I realised severity of this storm.
The suburbs worst affected were Pendle Hill, Toongabbie, Wentworthville and to a lesser extent but still suffering significant damage was the Prospect region.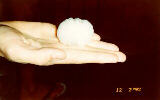 This hailstone is probably about 4cm in diameter.
The larger hail varied from 4.5 to 7cm with some deep hail drifts. Very heavy rain and strong winds also caused problems such as flash flooding due to the slow movement of this storm system. Reports suggest it lasted between 20 to 30 minutes. The damage bill was estimated at $150 million. The area resembled a tent city as tarpaulins were laid on top of most roofs that had been damaged by the hail. Obvious signs of the event were the trees stripped of their leaves.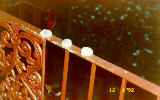 All hail photographs are courtesy of Peter Brien and family.
Of course, if anyone has photographs, video footage, newspaper articles or information about this storm (or any storm) and would like to send it along, we would very much appreciate it.
---