---
The first severe thunderstorm advice for New South Wales was issued at 6.35am by the Bureau of Meteorology. An active line of storm cells was sweeping through the southern districts of the state after battering Victoria and South Australia during the night before. By 9.55am severe weather advices were issued for the entire state of NSW.

A complex region of low pressure with multiple centres and trough lines developed and intensified during the day. Distinct cloud bands were aligned northwest - southeast in the southern and northern regions of NSW during the morning. By afternoon these had become bands of active storm cells and advanced eastwards, while a third line of storms developed in between.

Severe weather mainly in the form of violent squall lines affected most regions of the state during the afternoon and early evening. Winds were measured up to 111km/h. Small hail affected some districts including Lake Cargeligo and Young, however damage was mostly attributed to the wind. Damage to rural buildings and trees were the main casualty. Rainfall was mostly between 10 and 25mm - heavier falls did not occur as the storms were moving quickly in a south-southeasterly direction.

One man was killed at Tea Gardens in the Hunter district after a tree fell on his car.
Synoptic Charts & Satellite Imagery
These images obtained from the Bureau of Meteorology
MSL Analysis 8 am Local Time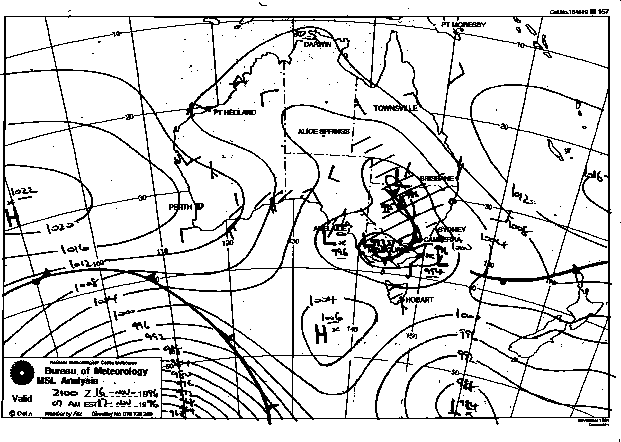 MSL Analysis 2 pm Local Time
Infrared Satellite Image at 11 am and 5pm Local Time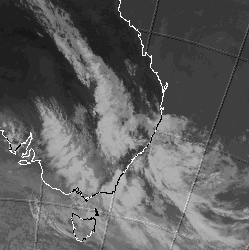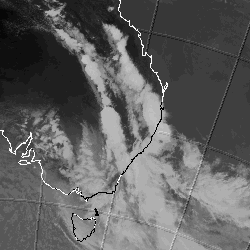 ---