---
A few lines of thunderstorms formed ahead of a cold southerly change and moved across NSW in the afternoon/evening of 8 February 1996. Initial reports of gusty winds, reaching 41kt were received from Cobar at 2.50pm. The Lightning Detection System indicated only a few lightning strokes extending from Tibooburra to Forbes at that time. These storm lines propagated eastwards at approximately 70km/h with individual cells moving southeastward with speeds exceeding 100km/h. They intensified over the elevated terrain of Central West Slopes and Plains and Central Tablelands. Particularly heavy storms were reported from Dubbo with wind gusts reaching 63kt at 5.19pm and possibly stronger winds afterwards. Winds exceeding the severe weather criteria were also reported from Mt. Boyce 54kt at 6.43pm followed by 72kt at 6.48pm and Mudgee 52kt at 6.45pm. At Blaxland 15mm fell in 5 minutes at 7.08pm. First reports of storms in the Sydney area were at 6.20pm in the southwest. The last storm cleared the coast about 9.15pm.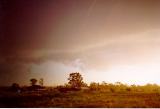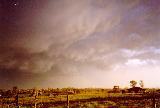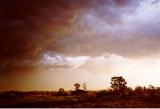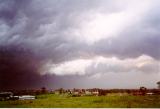 Turbulent skies near Schofields.
An early report from SES indicates that 550 requests for assistance were received. The following areas were worst affected: Dubbo, Bathurst and Campbelltown. At Dubbo 20 people were injured by debris, one seriously, 100 houses were blown off stumps or lost roofs.
Warning/Forecast Summary
The first Severe Thunderstorm Advice issued at 3.05pm was valid until 9pm and it covered the following districts: Central West Slopes, Central West Plains northeast of Condobolin and Upper Western west of Tibooburra/Cobar. The second advice was issued at 4.35pm for Central Tablelands and Southern Tablelands northeast of Yass/Braidwood. It was valid until 10pm. The third advice was issued at 5.05pm for Sydney Metropolitan and Illawarra and was valid until 10pm. The last advice was issued for Hunter at 7pm and was valid until 1am.
The Severe Thunderstorm Warnings were issued at 5.40pm, 6.50pm and 8.25pm and successively covered the Greater Sydney Area starting from south and southwest and extending northeastward. These warnings were finalised at 8.05pm, 8.30pm and 9.20pm again from south to north.
Synoptic Charts
Synoptic Charts provided by the Bureau of Meteorology
MSL Analysis 10 am Eastern Standard Time
MSL Analysis 1 pm Eastern Standard Time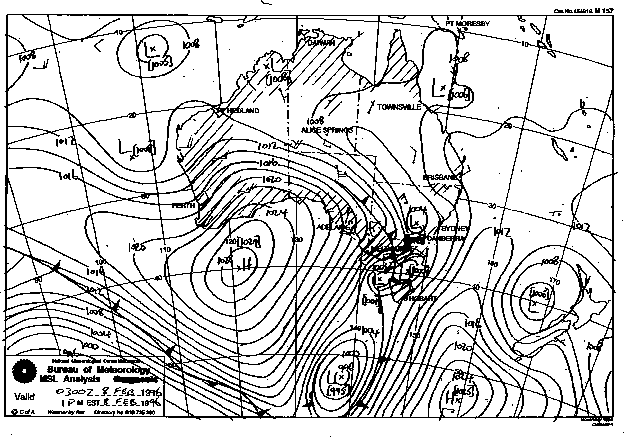 MSL Analysis 4 pm Eastern Standard Time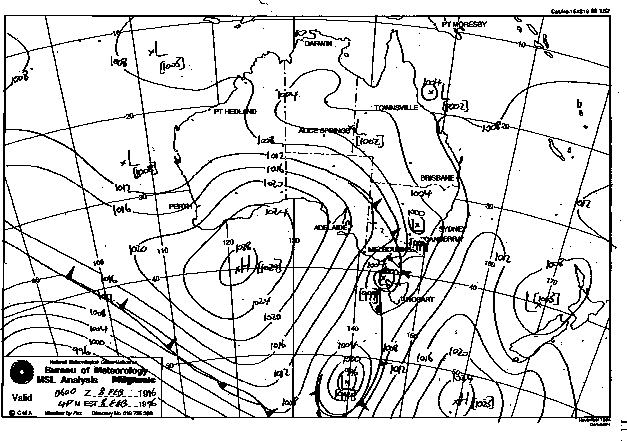 ---