---
The previous few days produced sultry and very uncomfortable conditions. The days were quite similar with persistent altocumulus and cirrostratus. Some large cumulus also developed. However, the 2nd of January produced widespread cloud that increased by mid-morning. Large cumulus and the reminance of cumulonimbus type clouds developed to the northwest with stratocumulus bases. Some light rain developed as the first band of large cumulus activity approached from the northwest. However, I knew what was going on. As this band passed to the southeast, it began to produce large drops of rain and eventually heavy rain, particularly to the southwest around late morning.

Another band developed almost overhead with heavy drops of rain heard thundering roofs a few hundred metres away. Again, this was brief but increased to heavy rain within a few kilometres of Schofields. Up to this stage, no lightning or thunder was observed. However, despite the fact it was a low contrast day, I decided to chase in order to verify whether other areas really had received heavy rain. Heavy runoff was observed from Quakers Hill onwards. However, another storm band was developing rapidly at the northwestern rear of this band and looked more organised as well as severe. Whilst travelling through Blacktown, I decided to turn towards the storm heading for Doonside. Visibility was reduced significantly once in the storm with heavy rain and strong winds. I took shelter at a local service station since there was danger of trees falling onto the road.

After taking a few photographs of creeks that were close to overflowing, I headed home.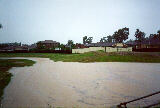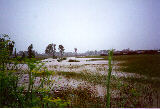 Some flash flooding near Oakhurst. Photos by Jimmy Deguara
Media Reports
Torrential rain falling at up to 150mm/hour fell in a large area of Sydney. Flash flooding was reported in many areas, stranding mororists and flooding homes and shops. The severe storms moved in from the WNW at 1.45pm, peaking at Homebush Bay just after 2pm. Intense rainfalls recorded included 67mm in 75 minutes at Bankstown, 71mm in 58 minutes at Homebush Bay, 50mm in about an hour at Oakhurst.
The areas worst affected by the flooding were Alexandria, Bankstown, Botany, Canterbury, Georges River, Homebush, Lansvale, Lidcombe, Mascot, Milperra, Northmead, Padstow, Redfern, Revesby and Strathfield.
Click here to view the rainfall isohyet map of Sydney for the 24 hours to 9am 3rd January 1996 (by Michael Bath)
Synoptic Charts
Synoptic Charts provided by the Bureau of Meteorology
MSL Analysis 7 am Eastern Standard Time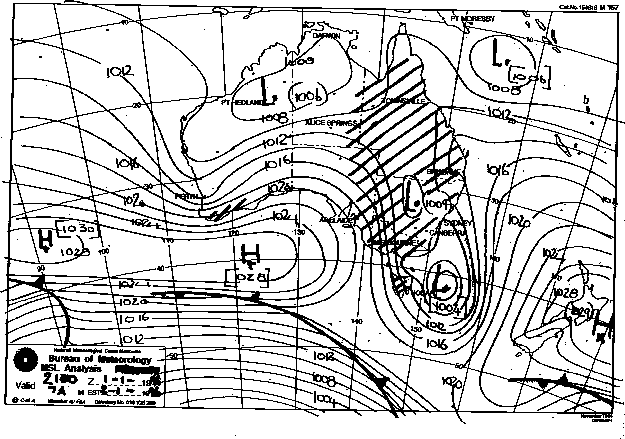 MSL Analysis 10 am Eastern Standard Time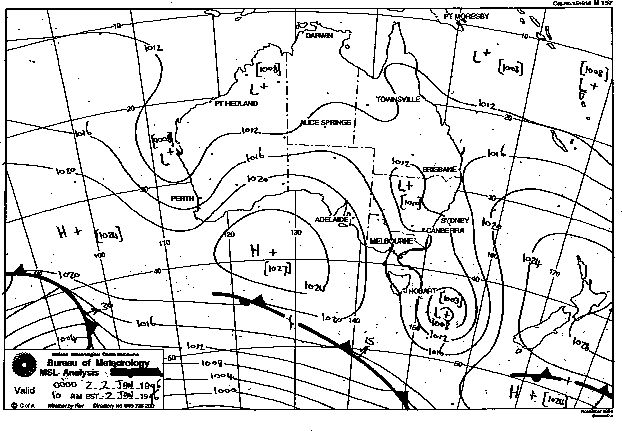 MSL Analysis 1 pm Eastern Standard Time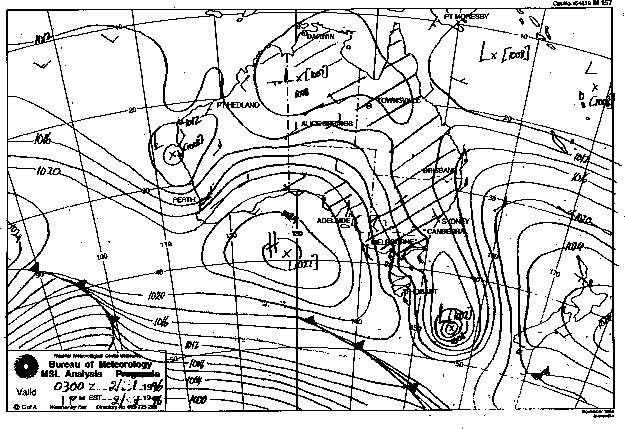 ---